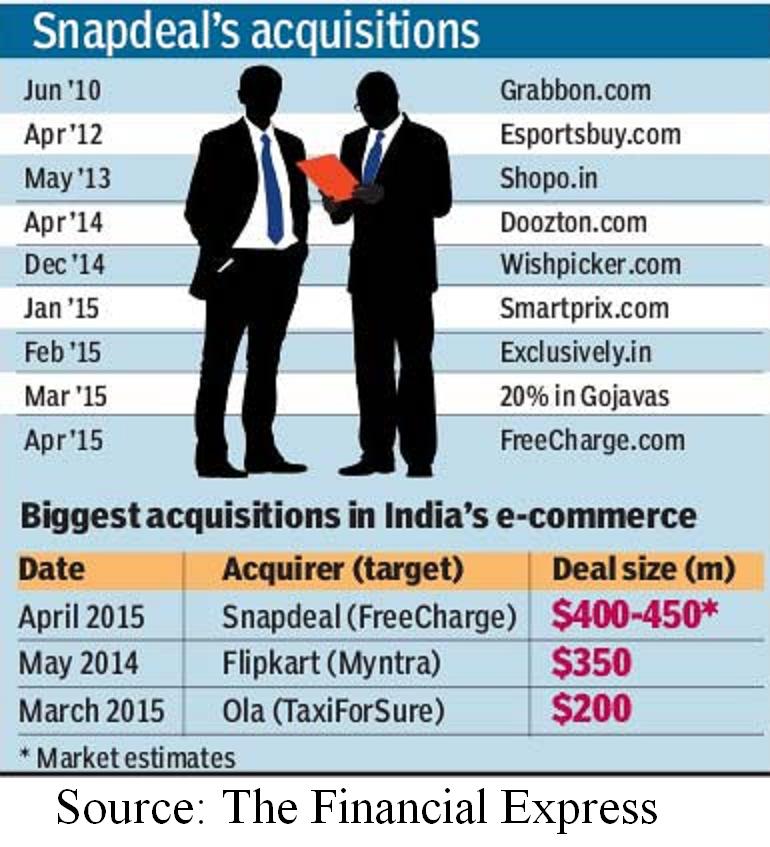 【Bangalore】Leading online marketplace Snapdeal on the 8th of April announced the acquisition of startup mobile transactions platform Freecharge in a cash-and-stock deal, touted as the biggest deal in India's consumer internet space. Though Snapdeal didn't divulge the deal size, industry sources pegged it at $400 million.
 Snapdeal arms itself with fresh ammunition to battle rivals for leadership in the online retail sector. FreeCharge, an online platform where users can pay their mobile, DTH and utility payments across most major operators, will continue to function as an independent platform with all aspects of its shopping experience remaining unchanged. The company was founded in 2010 by Kunal Shah and Sandeep Tandon.
○Amazon to open Fulfilment Centre in Telangana next month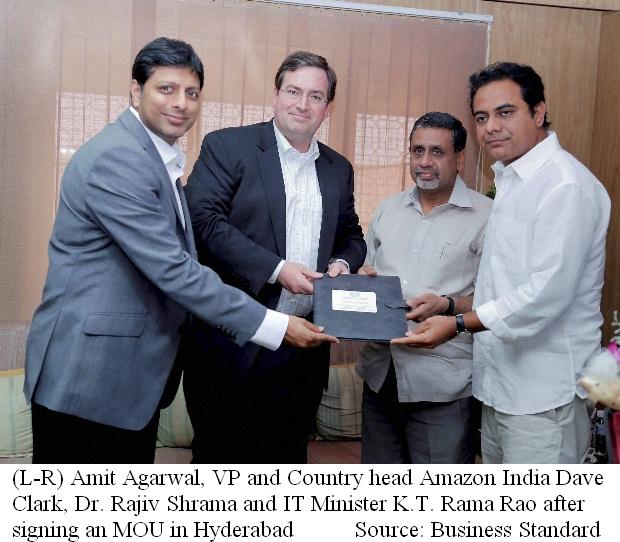 【Bangalore】Global e-commerce major Amazon on the 8th of April announced it will open a 2,80,000-square-feet fulfillment centre near Kottur of Telangana state, on the outskirts of Hyderabad. The fulfillment centre, which will be operational from May, is the company's largest infrastructure investment in any Indian state, Amazon Seller Services said in a statement.
 Amazon operates a total of over 1 million square feet of warehouse space in nine states. These warehouses are located in 11 centres in the country, including Delhi, Chennai, Jaipur, Ahmedabad, Gurgaon, Mumbai and Bangalore.
○Amazon's investment in Karnataka on hold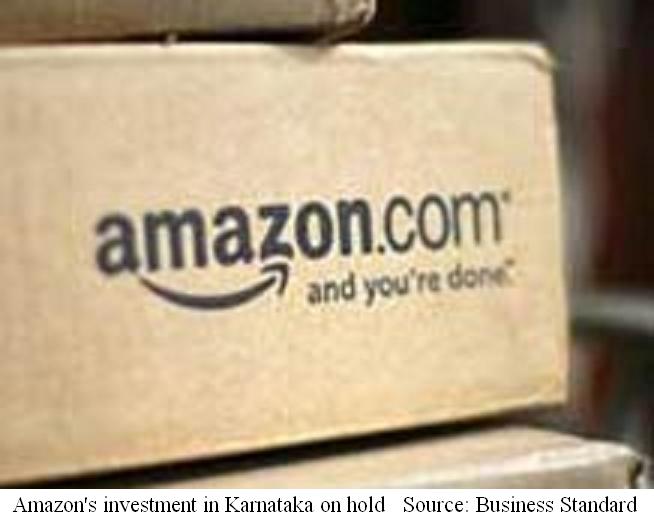 【Hyderabad】With Amazon choosing neighbouring state Telangana over Karnataka to set up its largest fulfilment centre in the country, the US-based firm, which has been facing taxation issues in Karnataka, said it has put its proposed investments in the state on hold till the matters are resolved.
 The e-commerce major last year had announced investment of $2 billion in the country. Amazon's warehouse in Karnataka has been partially shut for some time now due to issues raised by the state's tax regulator.
○FirstCry raises $36 m in round led by NEA, Valiant Capital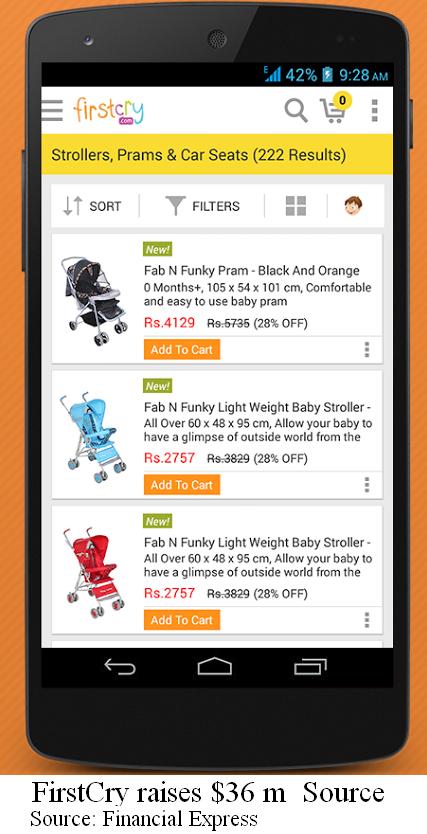 【Pune】Brainbees Solutions, which owns the FirstCry.com brand, has raised $36 million in a Series D round led by Valiant Capital Partners and New Enterprise Associates (NEA).
 FirstCry has expanded to become the segment's biggest mutli-channel brand in India. Existing investors IDG Ventures India, Vertex and SAIF Partners also participated in the round.
 Brainbees was founded by serial entrepreneurs Supam Maheshwari and Amitava Saha, who had previously built and sold Brainvisa Technologies. "We plan to use the funds to focus on expanding our leadership across all channels — online, mobile and offline — as well investing in the growth of our private label business," Supam Maheshwari, founder & CEO of Brainbees, said.
○E-retail in India set to cross $16 bn in FY16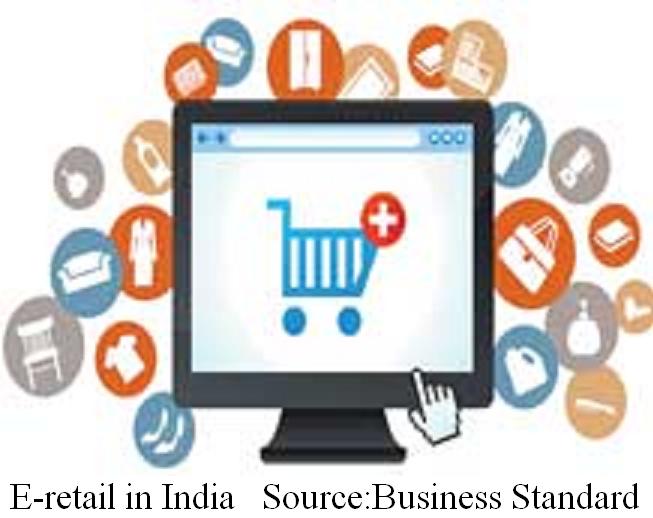 【Bengaluru】Encompassing an increasing range of economic activities such as retail, travel, tourism, food and beverages, e-commerce has emerged as India's new sunrise industry. The industry is set to cross $16 billion by the end of 2015, according to an Assocham-Deloitte joint study released on the 8th of April.
 The 'Future of e-Commerce: Uncovering Innovation' study reveals that the digital commerce market in India has grown steadily from $4.4 billion in 2010 to $13.6 billion in 2014 and likely to touch the $16 billion mark by the end of 2015 on the back of the growing Internet population and increased online shoppers.
【News source】
Snapdeal buys $400-mn FreeCharge voucher; Kunal Bahl calls it 'game-changing partnership'
Snapdeal buys Freecharge, tops m-commerce segment
Snapdeal buys Freecharge in biggest startup M&A
Snapdeal gets FreeCharge to rev up mobile biz
Amazon's warehouse near Hyderabad to be its biggest infra investment in India
Amazon to open Fulfilment Centre in Telangana next month
Amazon's investment in Karnataka on hold
FirstCry raises $36 m in round led by NEA, Valiant Capital
E-retail in India set to cross $16 bn in FY16
SEAnews eBookstore
SEAnews eBookstore(GoogleE)
Readers' Voice
Your Comments / Unsubscribe
Please do not directly reply to the e-mail address which is used for delivering the newsletter.
SEAnewsFacebook
SEAnewsGoogle