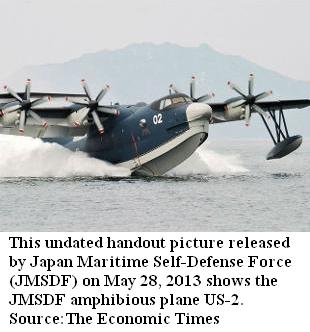 【New Delhi】India and Japan are set to firm up an agreement to jointly produce amphibious military aircraft during the upcoming visit of Japanese Prime Minister Shinzo Abe, in what could be the first defence deal between the two countries.
 The US 2 amphibious aircraft, that has applications for search and rescue, surveillance as well as intelligence gathering, will be produced in India not only for domestic orders but will also be pitched jointly for exports in the region and beyond. Besides the US 2 programme, the two sides are also expected to firm up a larger umbrella agreement to promote the joint development and production of military systems in support of the Make in India initiative.
○Tricolour upside down as Modi,Abe shake hands before bilateral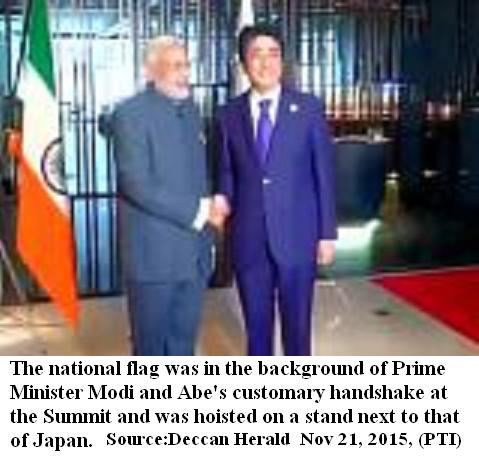 【Kuala Lumpur】In an embarrassment for India, the tricolour was seen hoisted upside down during Prime Minister Narendra Modi's photo-op with Japanese counterpart Shinzo Abe before bilateral talks on the sidelines of the ASEAN Summit.
○Hollande's takeaway will be Rafale deal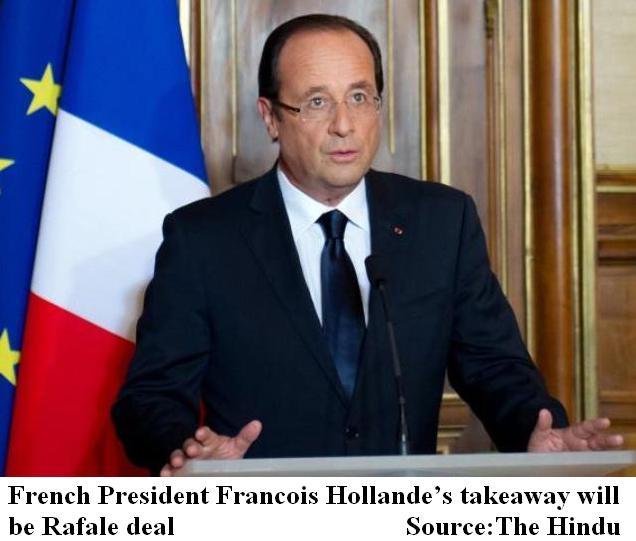 【New Delhi】After an impasse over technicalities, India and France are working to finalise the agreement for the direct purchase of 36 Rafale fighter jets before the visit of French President Francois Hollande to India as the chief guest of the next Republic Day parade here.
 "Negotiations are in an advanced stage and both sides are working to reach an agreement before the visit," a Defence Ministry official told The Hindu. Last week, Defence Minister Manohar Parrikar said the deal was "in the final stages of price negotiations" and issues such as the 50 per cent offset clause had "almost been sorted out". The offset issue had been one of the major sticking points in the negotiations.
【News source】
India, Japan to finalise aircraft pact during Shinzo Abe's India visit
Tricolour upside down as Modi,Abe shake hands before bilateral
Hollande's takeaway will be Rafale deal
SEAnews eBookstore
SEAnews eBookstore(GoogleE)
Readers' Voice
Your Comments / Unsubscribe
Please do not directly reply to the e-mail address which is used for delivering the newsletter.
SEAnewsFacebook
SEAnewsGoogle
SEAnews world circulation