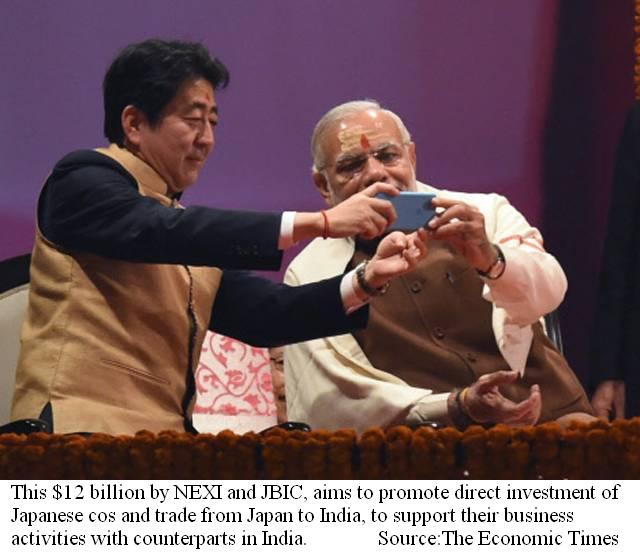 【New Delhi】Japan on December 12 committed itself to billions of dollars of investments in India, including a $12-billion loan at negligible interest for the much touted "Bullet Train" and another $12 billion for " Make in India" initiative.
 "Today, we have scaled new summits in our shared journey," a visibly pleased Modi told the media after his delegation-level talks with the visiting side, led by Japanese PM Shinzo Abe. The Indian side was particularly elated with the package for the high-speed train between Mumbai and Ahmedabad, as it comes with an interest of a mere 0.1 %, a duration of as many as 50 years and a moratorium on repayments up to 15 years, the Economic Times reported.
According to the Hindu's report, Japan has long been a significant investor in India's infrastructure sector. Of late, there have been consistent efforts by both New Delhi and Tokyo to transform this economic momentum into a "special strategic and global partnership".
 Japanese Prime Minister Shinzo Abe's three-day visit to India this month, during which both sides agreed to major deals, including the introduction of Japan's bullet train technology in India and an agreement on nuclear partnership, clearly sets the stage for elevated bilateral ties in the future. The potential of Indo-Japanese economic partnership is huge. Despite India being one the world's largest economies, it accounts for only about 1 per cent of Japan's imports, exports and direct investments abroad.
 Tokyo, which considers itself a champion of non-proliferation, had suspended much of its aid after India's nuclear test. The civil nuclear cooperation deal, however, can be seen as a Japanese seal of approval to India's status as a nuclear-armed state.
○Modi-Abe summit: Shaping the Indo-Pacific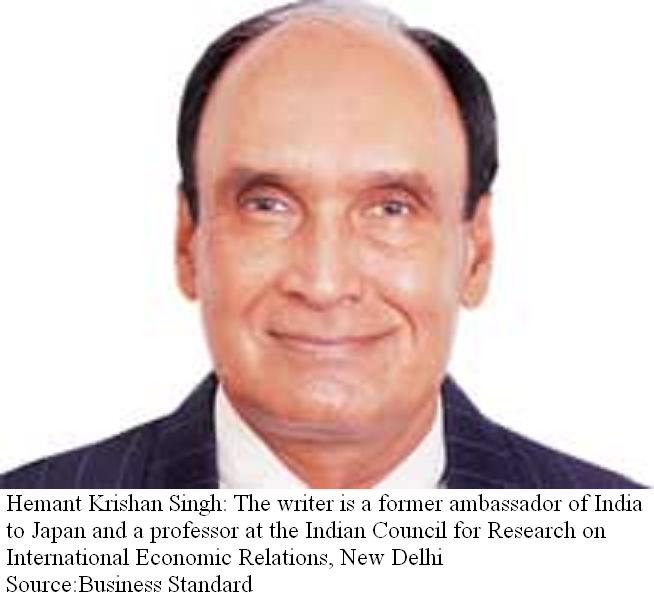 【New Delhi】At their bilateral summit in Tokyo a year ago, Prime Ministers Narendra Modi and Shinzo Abe had laid the foundations of an entente among Asia's leading democratic powers and pledged to together "shape the course of their countries and the character of this region and the world in this century".
 Since then, regional strategic competition has deepened and security concerns have grown amidst unilateral assertions of hegemonic power.
 At their summit meeting in New Delhi on December 12, 2015, Modi and Abe have responded decisively to this growing challenge by announcing a multi-sectoral and action-oriented partnership for peace and prosperity of the Indo-Pacific, reflecting the broad convergence of their nations' long-term political, economic and strategic goals.
○'Indo-Japan partnership to counter balance China'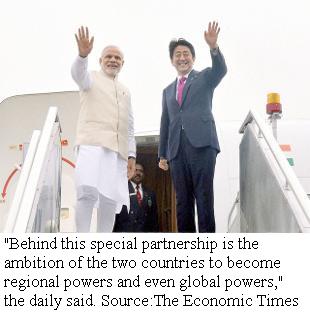 【Beijing】The 'Special Strategic Global Partnership' struck by India and Japan during the recent visit of Japanese Prime Minister Shinzo Abe to India is aimed at counter balancing China to emerge as regional powers, a state-run Chinese daily said.
 "Behind this special partnership is the ambition of the two countries to become regional powers and even global powers. It also reveals their intention to counterbalance a rising China," an article in the state run Global Times said.
 "The Japan-India 'Special Strategic Global Partnership' is becoming a reality. However, such special partnership seems to be fragile, given China's firm economic ties with both, the two's different preferences for strategic security and economic technologies and the gambling mentality of the leaders from both sides," it said.
【News source】
Japan's $12 billion 'Make in India' fund to push investments
Cautious cooperation with Japan
Modi-Abe summit: Shaping the Indo-Pacific
Indo-Japan partnership aimed at counter balancing China: Chinese daily
SEAnews eBookstore
SEAnews eBookstore(GoogleE)
Readers' Voice
Your Comments / Unsubscribe
Please do not directly reply to the e-mail address which is used for delivering the newsletter.
SEAnewsFacebook
SEAnewsGoogle
SEAnews world circulation