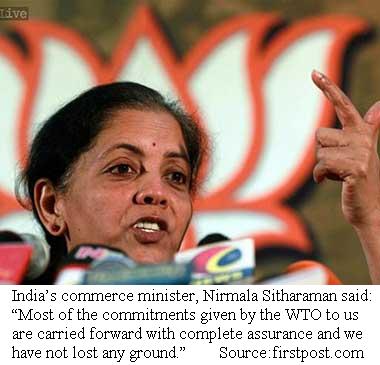 【Nairobi】Although trade ministers from five countries including India, the US, the EU, Brazil and China are holed up with World Trade Organisation (WTO) Director General Roberto Azevedo and Kenyan Trade Minister Amina Mohamed to reach a breakthrough on the two crucial issues of agriculture and the future of Doha, Indian Commerce & Industry Minister Nirmala Sitharaman said on December 18 night that India was continuously engaged with other countries on all issues at the ministerial, but was disappointed that there is little focus on issues of its interest such as the special safeguard mechanism (SSM) for poor farmers and a permanent solution on public stockholding.
 Earlier in the day there were rumours floating that India was getting isolated in its demands on agriculture and the Doha agenda and the Africans were not supporting the country. Sitharaman rubbished the rumours and said that there were "no differences" between the two. Kenyan Minister Mohamed also said at a press conference that there were no differences between India and Africa and all were working towards a deal.
○India EU summit in first half of 2016: EU ambassador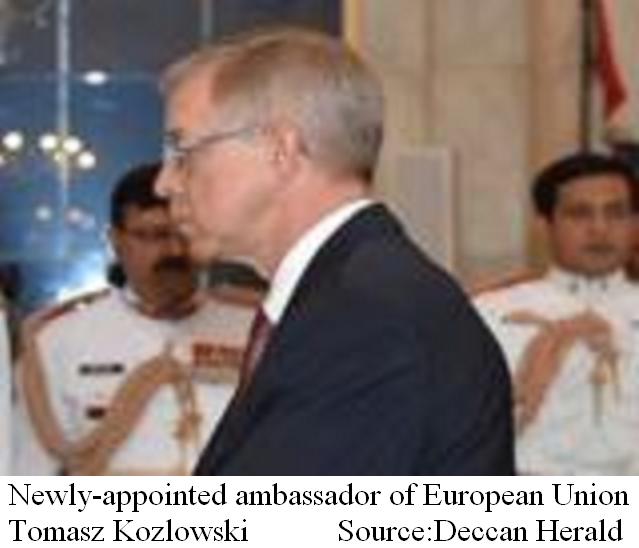 【New Delhi】India and the European Union will hold their long-pending summit in the first half of next year and resume negotiations on a free trade agreement, in efforts to bring back the relationship back on track.
 Newly-appointed ambassador of European Union Tomasz Kozlowski said the issue of European Union restricting sale of around 700 generic drugs clinically tested by India's GVK Biosciences does not stand any more and both are now set to open a "new page" in their ties. FTA talks between the two sides will be held in January.
【News source】
India invited for meeting called by WTO chair to generate political inputs
Nairobi WTO: Why Nirmala Sitharaman's defensive statement is a clear letdown for India
India EU summit in first half of 2016: EU
SEAnews eBookstore
SEAnews eBookstore(GoogleE)
Readers' Voice
Your Comments / Unsubscribe
Please do not directly reply to the e-mail address which is used for delivering the newsletter.
SEAnewsFacebook
SEAnewsGoogle
SEAnews world circulation