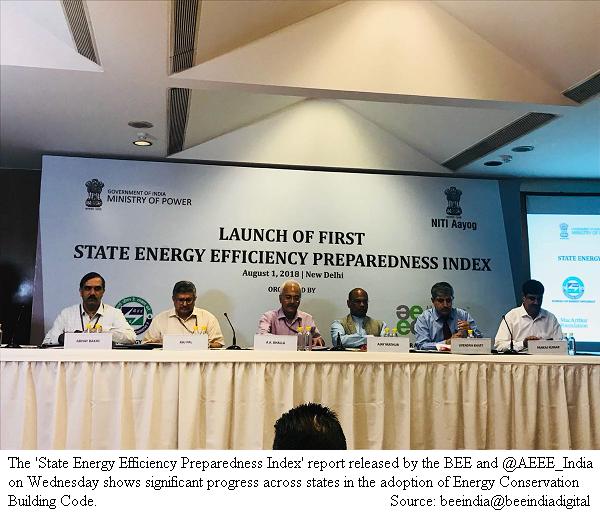 【New Delhi】Andhra Pradesh, Kerala, Maharashtra, Punjab and Rajasthan have done exceedingly well in adopting energy efficiency measures in the first ever serious attempt to map energy efficiency attained by the States.
 Kerala, with 77 points, leads among the States and Union Territories, followed by Rajasthan (68) and Andhra Pradesh (66.5) in the first edition of the State Energy Efficiency Preparedness Index, brought out jointly by the Bureau of Energy Efficiency (BEE) and NITI Aayog.
 These three States together with Maharashtra and Punjab — also scored above 60 — were designated as Front Runner States in the survey, which assessed State policies and programmes aimed at improving energy efficiency in five key sectors such as buildings, industries, municipalities, transportation, agriculture and electricity distribution.
○Tamil Nadu's renewable energy capacity is the highest in India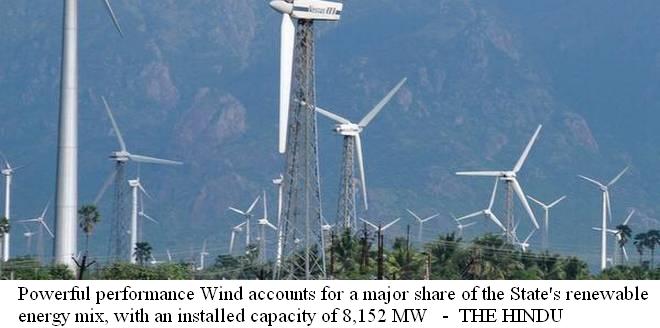 【Chennai】As of March 31, 2018, Tamil Nadu's total renewable energy installed capacity was 11,113 MW, the highest in the country.
 Wind accounts for a major share of the State's renewable energy mix, with an installed capacity of 8,152 MW. With more than 8 GW of capacity, Tamil Nadu, at one-fourth of the total, has the highest wind power capacity in the country. Globally, Tamil Nadu is in the 10th position in terms of wind power installed capacity.
 The State had a total solar installed capacity of 2,034 MW as of March 31, 2018. The State government had set out a 'TN Vision 2023' plan, under which it seeks to add 10,000 MW of renewable energy capacity, including 5,000 MW solar power.
【News source】
Kerala is the most energy-efficient State
Electrifying performance in renewable power
○One world:The aim of SEAnews