◆Budget 2019 may focus on long-term agricultural measures to double farmers' income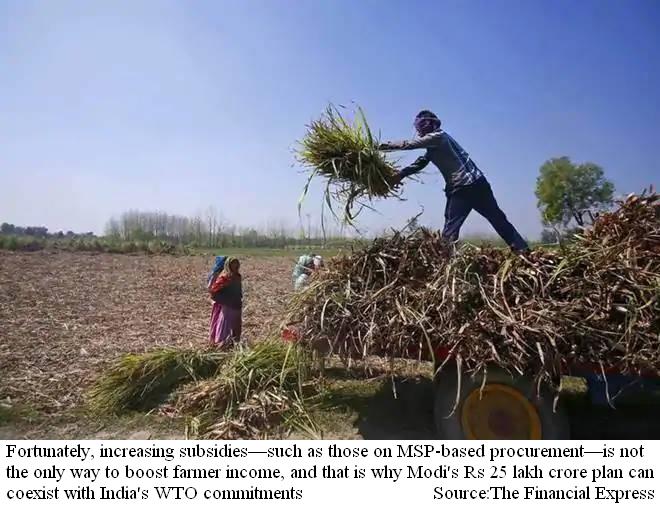 【New Delhi】The coming Union Budget 2019 may see a plethora of measures for the agriculture sector. In order to achieve the objective of doubling farm income by 2022, the government also needs to provide an incentive to agri term loans for investment purpose in the upcoming budget, the report said. The capital formation in agriculture has significantly stagnated, SBI said in its research report Ecowrap.
 However, after the government announced its Rs 25-lakh-cr plan, a host of countries have begun asking whether or not this will affect India's WTO commitments that put a cap on how much farm support the government can give. Right now, India has breached WTO norms of 10% subsidy/support in crops like wheat and rice.
 It is true, as Icrier professors Anwarul Hoda and Ashok Gulati point out, that the WTO is not taking into account inflation since the agreement was signed—once this is done, India's support levels fall dramatically, from 26% to 2.9%, but till the WTO accepts India's interpretation, the argument is moot.
○Digital tech to help in doubling farmers' income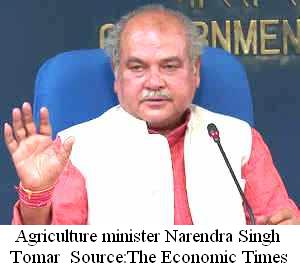 【New Delhi】The use of digital technology is set to play a transformational role in modernizing and organising agricultural activities in a bid to double the farmers' income by 2022. Agriculture minister Narendra Singh Tomar informed Rajya Sabha that the deployment of technologies like artificial intelligence, big data analytics, block chain technology and internet of things (IoT) are important for the success of schemes.
 The Government has constituted an Inter-Ministerial Committee to examine issues relating to doubling of farmers' income and recommend a strategy to achieve that goal by the year 2022.
 He said that farmers are being informed through Kisan Suvidha mobile application about critical parameters like weather, market prices, plant protection, input dealers, farm machinery, Soil Health Card; Cold Storages & Godowns, Veterinary Centres and Diagnostic Labs. "With market information, farmers are better informed about markets to sell produce, informed decisions to sell produce at the right price and right time," he said.
 He said that Indian Council of Agriculture Research (ICAR) has also compiled more than 100 mobile apps developed by ICAR, state agricultural universities (SAU) along with Krishi Vigyan Kendras (KVKs:Agriculture Science Centers) and uploaded on its website. These mobile apps developed in the areas of crops, horticulture, veterinary, dairy, poultry, fisheries, natural resources management and integrated subjects, offer valuable information to the farmers, including package of practices, market prices of various commodities, weather related information, advisory services among related issues.
 Tomar said that the ministry has launched e-National Agriculture Market initiative to provide farmers information on nutrient status of their soil along with recommendations on appropriate dosage of nutrients to be applied for improving crop productivity and soil fertility.
【News source】
Budget 2019 may focus on long-term agricultural measures to double farmers' income: SBI research report
Double farm incomes by investments, not subsidies
Digital tech to help in doubling farmers' income
○One world:AD-SEAnews
Your Comments / Unsubscribe
SEAnews Twitter
SEAnews Messenger
SEAnewsFacebook
SEAnews eBookstore
SEAnews world circulation