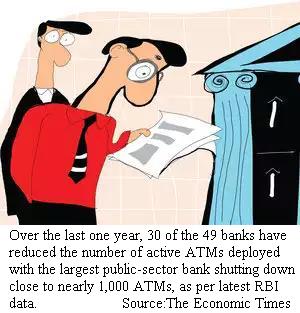 【Mumbai】A high-level Nandan Nilekani-led panel has suggested the RBI rope in local business correspondents and local retail stores to act as cash points in semi-urban centres.
 With banks already cutting down on their ATM deployment, such a model may replace teller machines as the primary source of cash in semiurban centres, say bankers and industry experts.
 The Cash In Cash Out (CICO) network proposed by the committee is a network of cash disbursement points where a customer can seamlessly convert digital money to physical cash using interoperable mechanisms such as QR code and Aadhaar-enabled payment channels. The proposed model is among the key recommendations pushed by the committee to achieve New Delhi's vision of a digitally-driven, cashless economy.
 "In my sense, the CICO model would leverage three crore PoS retail points for cash out facilities. ATM wouldn't be the primary source of CICO as most of these machines are deployed at major cities. The next stage of financial inclusion would be led by local kirana stores and business correspondents," said Deepak Sharma, chief digital officer, Kotak Mahindra Bank.
○RBI study moots boost to acceptance infra for digital payments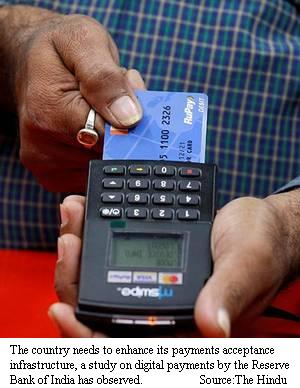 【Mumbai】While there has been robust growth in the volume of retail electronic transactions amid a strong regulatory framework, the country needs to enhance its payments acceptance infrastructure, a study on digital payments by the Reserve Bank of India has observed.
 While the report acknowledged that the growth in the volume of payment systems transactions had been strong and steady, the relatively high level of cash in circulation offered scope for a higher level of digitisation of payments, it said. "There is an increase in Point of Sale (PoS) terminals, including mobile terminals, which, however, may not be enough to cater to the large population," the report said.
 The report observed low digital payment of utility bills, despite the existence of the Bharat Bill Payment System (BBPS), an integrated interoperable bill payment system which started live operations from October 12, 2017.
 The report also said digital communications infrastructure in the form of a robust mobile network is growing strongly, though broadband infrastructure "lags behind."
 The report highlighted that the last few years since demonetisation have witnessed a sea change in the payments landscape, with large growth in digital payments.
 In 2018-19, the volume growth of retail electronic transactions was 95%, compared to 51% in the previous year, mainly due to to the steep growth in the use of the Unified Payments Interface (UPI), the report said.
○Banks use cash recyclers, wait for hike in interchange fee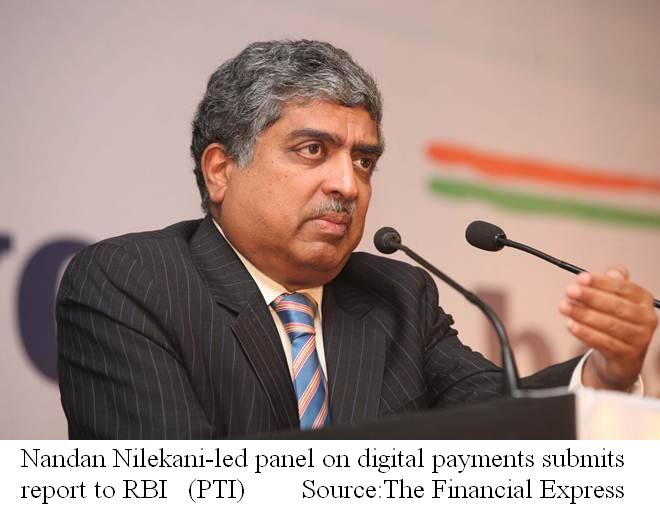 【Mumbai】Cash recyclers are becoming an alternative for banks as they struggle to upgrade ATMs in line with new norms and remain hopeful of an increase in the interchange fee.
 "Interchange fee may be hiked by about Rs 2 per transaction from the current Rs 1.5. With the General Elections now over, it is expected that the Reserve Bank of India and the Finance Ministry will work on this issue," said a person familiar with the development, pointing out that with costs are running high and there has been muted growth in the number of ATMs in the last one year.
 The RBI had directed banks and white-label ATM operators to implement anti-skimming and white-listing solutions by March 2019, and also upgrade all ATMs with supported versions of the operating system by June 2019. Meanwhile, the Ministry of Home Affairs had last year announced new security norms for loading and transportation of cash for ATMs.
 "The interchange fee for recyclers is much lower. Many banks, especially large PSU banks, are replacing ATMs with these as they lead to efficiency in operations as well," said the cash logistics player.
 Significantly, the report of the Nandan Nilekani-led committee on deepening digital payments has also highlighted the muted growth in ATM infrastructure due to high costs. According to the RBI data, the total number of ATMs in the country as on April 2019 was 2.07 lakh as against 2.08 lakh in March 2017. In contrast, the number of people who use digital payments at least once in a month stands at 100 million currently, according to the Committee. The committee has predicted the number to go up three times by 2021. While India ranks as a 'leader' in regulation of costs of payments systems, number of ATMs deployed and availability of alternate payment systems, it is categorised as 'weak' when it comes to the share of cheque volume relative to all payment instruments, share of card payments, and digital payment of utility bills, according to the RBI's report.
【News source】
RBI formed panel suggests roping in local retailers to act as cash points
RBI study moots boost to acceptance infra for digital payments
India and e-commerce: It's now or never
ATM upgrade: Banks use cash recyclers, wait for hike in interchange fee
About 100 mn people make ePayments once a month, claims Nandan Nilekani-led panel
Digital payments have still a long way to go, says RBI
Nandan Nilekani-led panel on digital payments submits report to RBI
○One world:The aim of SEAnews
Your Comments / Unsubscribe
SEAnews Twitter
SEAnews Messenger
SEAnewsFacebook
SEAnews eBookstore
SEAnews world circulation