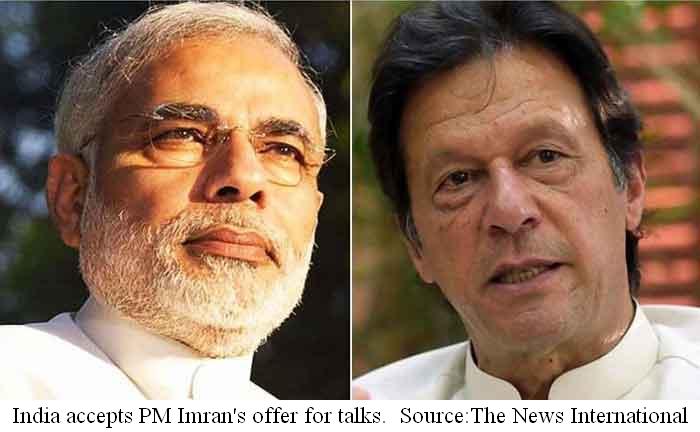 【Islamabad】Indian PM Narendra Modi has accepted PM Imran Khan's offer for resumption of talks between the two countries on all issues including Kashmir, sources told Geo News on June 20.
 According to the TV report, Pakistan had reiterated its offer of a composite dialogue for a lasting peace in the region in a congratulatory letter written to Indian prime minister earlier this month.
 PM Imran and Foreign Minister Shah Mehmood Qureshi, wrote to their counterparts that talks between the two nations are the only solution to help both countries' people overcome poverty and that it is important to work together for regional development.
 Both Indian PM and his External Affairs Minister Subrahmanyam Jaishankar, accepted Pakistan's offer for a comprehensive dialogue between the two neighbours. India wanted peace and prosperity in the region, the letter said and stressed that terrorism should be given special focus in talks.
○No request for talks with Pakistan: India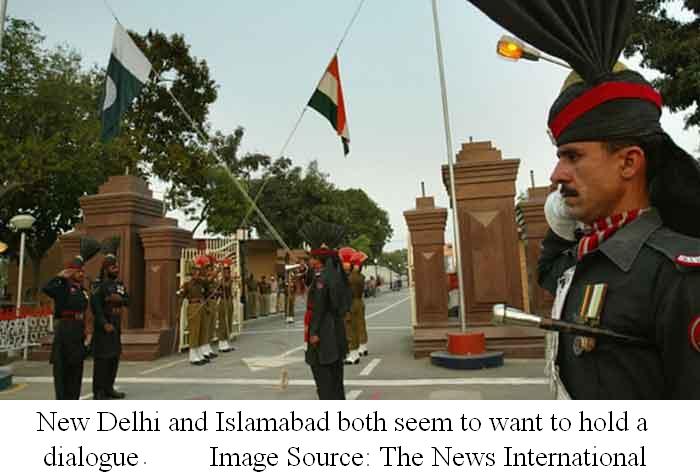 【Islamabad】Responding to media queries relating to Prime Minister Modi's response to Imran Khan's congratulatory message on the grand win in general elections, India's Ministry of External Affairs (MEA) on June 20 morning made it clear there was no request made to the Pakistan side for talks.
 The government rubbished reports in Pakistani media that Prime Minister Narendra Modi had written to his Pakistani counterpart Imran Khan, wishing to resume talks between the two countries.
 "The Indian response is as per the established diplomatic practice and the Indian side highlighted that New Delhi seeks normal and cooperative relations with all neighbours, including Pakistan."
 Both Modi and the new external affairs minister S Jaishankar, in response to the congratulatory messages from Khan and Pakistan Foreign Minister SM Qureshi, had urged Islamabad to create an environment free of terror and highlighted in their individual responses that India seeks normal and cooperative relations with all neighbours, including Pakistan.
 Earlier, the Government of Pakistan had received a positive response from India after Pakistan had extended an offer to resolve reconcilable problems between the two countries.
 According to sources, Pakistan had offered talks on the resolution of all problems, including that of the disputed Kashmir region. In response, Indian PM Modi and his minister for external affairs in their letters responded positively on the proposal for peace talks with Pakistan. The letters stated that India was ready to hold a comprehensive and concrete dialogue between the two countries, sources added. PM Imran and Qureshi will soon respond to the letter from their counterparts.
○India proposes meeting with Pakistan on Kartarpur Corridor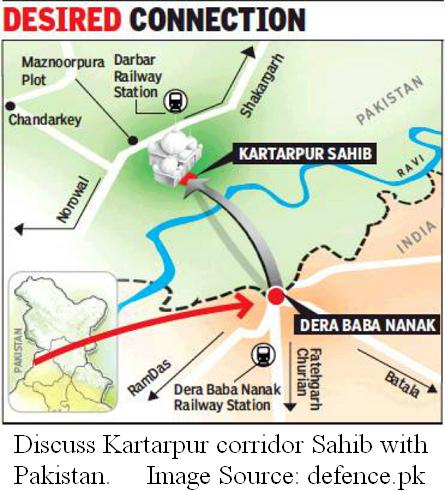 【New Delhi】India has proposed a meeting with Pakistan in the second week of July to finalise modalities and infrastructure requirements to open the Kartarpur Corridor (Sikh's pilgrimage route), state-run broadcaster -- All India Radio (AIR) said on June 30.
 "India has proposed July 11-July 14 to Pakistan to hold a fresh round of talks on the Kartarpur Corridor," the broadcaster said. Quoting its sources in foreign ministry, the broadcaster said it shows India's commitment to the corridor.
 The first meeting to finalise the modalities for the corridor took place on the Indian side of the Attari-Wagah border on March 14.
 However, on March 29, New Delhi conveyed its strong concerns to Islamabad over the presence of some members in a committee appointed by Pakistan on the project.
 India had also postponed a previously-agreed meeting onthe project, which was to be held on April 2 on the Pakistani side.
 The corridor will provide a passage to Sikh pilgrims to visit the holy site. Pilgrims will be able to visit the holy shrine throughout the year. Opening of the corridor and having smooth access to the Sikh shrine in Pakistan is a long-pending public demand of Sikhs from the Indian side.
【News source】
India accepts PM Imran's offer for talks: sources
No request for talks with Pakistan: India
India proposes meeting with Pakistan on Kartarpur Corridor
○One world:AD-SEAnews
Your Comments / Unsubscribe
SEAnews Twitter
SEAnews Messenger
SEAnewsFacebook
SEAnews eBookstore
SEAnews world circulation