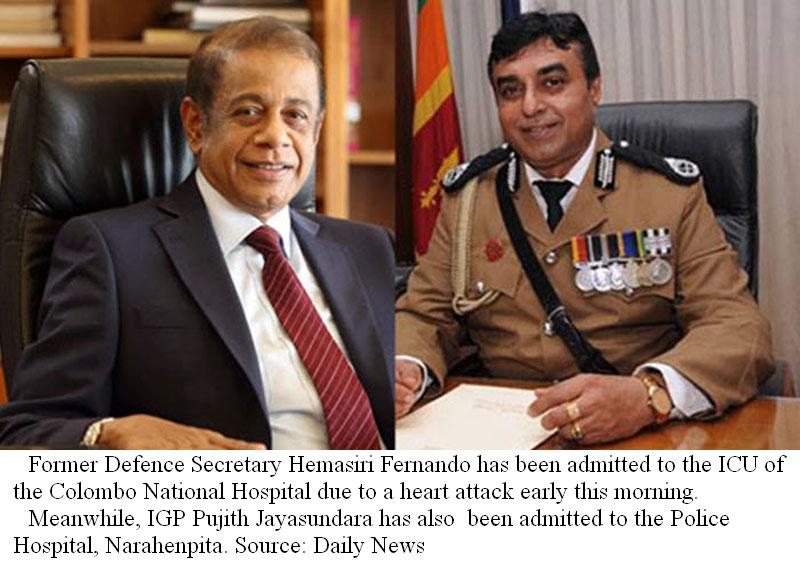 【Colombo】Sri Lanka's suspended police chief and former Defence Secretary were on July 04 arrested by the Criminal Investigation Department for their alleged failure to prevent the Easter Sunday bombings that claimed nearly 260 lives.
 The arrest of Inspector-General Pujith Jayasundara and former Defence Secretary Hemasiri Fernando comes a day after the Attorney-General termed their alleged failure to act on security warnings a "crime against humanity". "The two officials should be brought before a magistrate for their criminal negligence to prevent the April 21 attacks," Attorney-General Dappula de Livera told the acting police chief in a letter.
 Earlier, the state prosecutor named nine senior police officers as suspects, who needed to be prosecuted for their "role" in the security lapses. Following the attacks, Mr. Jayasundara was sent on compulsory leave when he refused to take responsibility and step down as ordered by President Maithripala Sirisena. Mr. Fernando resigned. On July 03, both Mr. Jayasundara and Mr. Fernando were undergoing treatment at two different hospitals, when the police arrested them, according to police spokesman Ruwan Gunasekera.
 In June, Mr. Jayasundara and Mr. Fernando testified before a parliamentary panel probing the blasts and pointed to the serious gaps in acting on intelligence. Confirming that intelligence on a possible attack was available since April 9, they said it was shared among top police and defence officials, on the eve and morning of the bombings.
 Meanwhile, addressing an event to mark the National Drug Prevention Week, Mr. Sirisena said: "The hand of international drug dealers is behind the Easter Sunday
○CJ nominates seven-judge-bench to hear Easter Sunday FR petitions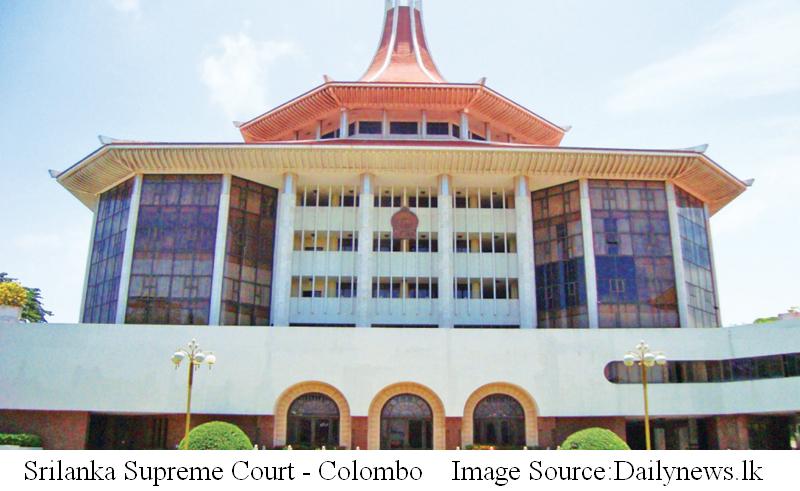 【Colombo】The Chief Justice on July 08 nominated a fuller bench comprising seven judges of the Supreme Court to hear several Fundamental Rights petitions filed over the Easter Sunday terror attacks.
 Accordingly, these petitions will be heard before a seven-judge-bench comprising Chief Justice Jayantha Jayasuriya, Justice Buwaneka Aluwihare, Justice Sisira de Abrew, Justice Priyantha Jayawardena, Justice Prasanna Jayawardena, Justice L.T.B. Dehideniya and Justice Murdu Fernando on July 12.
 The Attorney General, the Bar Association of Sri Lanka (BASL) and several other parties had filed motions seeking a fuller bench in respect of these petitions since these applications are of public importance.
 Nine Fundamental Rights petitions including a petition filed by a father of two deceased children who died during Easter Sunday attack are to be taken up for hearing on the next date.
 In his petition, petitioner Saman Nandana Sirimanne, the father of late Medha Sathsarani Sirimanne, 21, and late Imesh Thiwanka Sirimanne, 19, who met an untimely death at the explosion that took place on the April 22, 2019 at the Shrine of St. Anthony Church, Kochchikade filed this FR petition seeking an order to investigate and prosecute the Inspector General of Police and former Defence Secretary under the Penal Code.
○Sri Lanka situation 'extremely worrying', say OIC envoys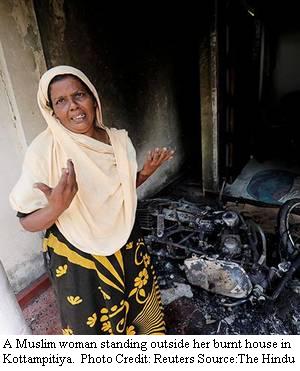 【Colombo】Communal violence targeting Muslims in Sri Lanka has regional and global security implications, envoys of the Organisation of Islamic Cooperation (OIC) countries in Sri Lanka have cautioned, urging the government to take "every measure necessary" to prevent such incidents.
 "The developing situation over the past few days has been extremely worrying with regards to the safety and protection of the Sri Lankan Muslim community, including some foreign Muslim refugees. The lives and livelihoods of Muslims, including their local stores and large business establishments, are threatened by the prevailing conditions with unforeseen, dangerous consequences," they said in a joint statement on June o4.
 Further, they sought "swift and stern judicial" action against perpetrators of communal violence, regardless of their "religious and political influence" in Sri Lankan society.
 Their message comes a day after all nine Muslim Ministers stepped down from their positions, in the wake of a fasting Buddhist monk's demand that three prominent Muslim politicians — a Minister and two Governors — resign over Easter bombings. Scores of people marched in support of the monk, until he called off his hunger strike on Monday evening.
 Speaking at the ceremony earlier, President Sirisena had said "the country will be doomed" if conflicts arise due to different ethnicities.
【News source】
Sri Lanka's suspended police chief, ex-Defence Secretary arrested
CJ nominates seven-judge-bench to hear Easter Sunday FR petitions
Sri Lanka situation 'extremely worrying', say OIC envoys
○One world:AD-SEAnews
Your Comments / Unsubscribe
SEAnews Twitter
SEAnews Messenger
SEAnewsFacebook
SEAnews eBookstore
SEAnews world circulation