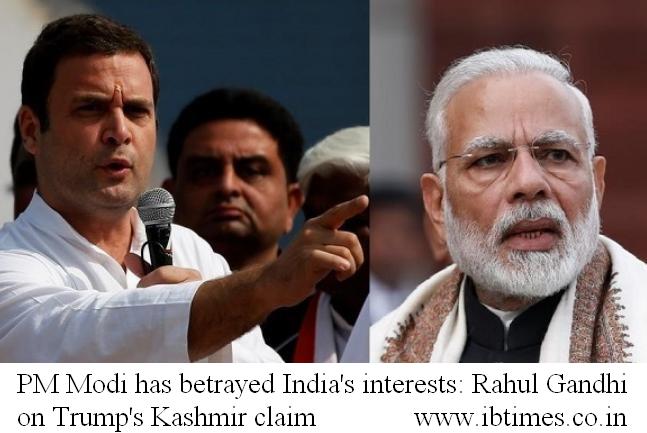 【New Delhi】If what Trump claims is true, Modi has betrayed India's interests, Congress leader Rahul Gandhi said, a sentiment backed by several Opposition leaders who spoke out in Parliament and outside.
 "I would like to categorically state that no such request has been made by the Prime Minister to the US President," External Affairs Minister S Jaishankar said after Congress and other opposition parties raised the issue of the claim made by Trump in his meeting with visiting Pakistan Prime Minister Imran Khan in Washington on July 22. The External Minister made a statement on the floor of both Houses of  Parliament and strongly rejected Trump's comment during a meeting with Pakistan Prime Minister Imran Khan in Washington. Opposition parties were, however, not satisfied and wanted Modi to come to both the Houses and clarify.
 The US president's remarks "relate to a meeting between him and PM Modi, wherein our PM had asked him to mediate", Congress' chief spokesperson Randeep Surjewala said in a tweet. "Why is PM 'mum' on what transpired between the two heads of states, more so when it affects our sovereignty?" Surjewala asked. Opposition leaders met in his colleague Ghulam Nabi Azad's chamber in Parliament and called for suspension of all business. They also sought an explanation from the PM in both the Houses on Trump's statement.
○Sonia Gandhi back at Congress helm as interim president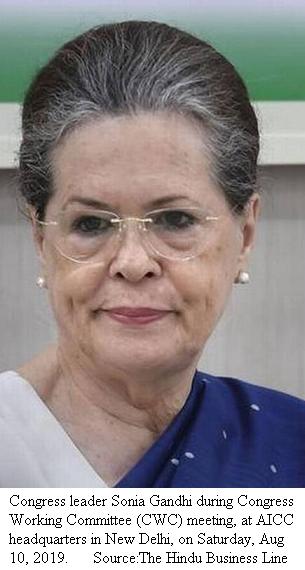 【New Delhi】The Congress Working Committee has decided to make United Progressive Alliance (UPA) chairperson Sonia Gandhi as the interim president of the party until the All India Congress Committee (AICC) elects a new president in place of the outgoing chief Rahul Gandhi.
 "The CWC unanimously resolved that Rahul Gandhi should continue as Congress President, as desired by all who were consulted today, and requested him to accept this decision. However, Rahul Gandhi declined to withdraw his resignation. Consequently, the CWC unanimously resolved to request Sonia Gandhi to take over as Interim President pending the election of a regular President by the AICC," a resolution passed at the meeting said.
【News source】
PM Modi has betrayed India's interests: Rahul Gandhi on Trump's Kashmir claim
Kashmir Arbitration Offer By US India denies, Pakistan welcomes
A pictorial diary of Prime Minister Imran Khan's inaugural visit to the United States
Sonia Gandhi back at Congress helm as interim president
○One world:AD-SEAnews
Your Comments / Unsubscribe
SEAnews Twitter
SEAnews Messenger
SEAnewsFacebook
SEAnews eBookstore
SEAnews world circulation