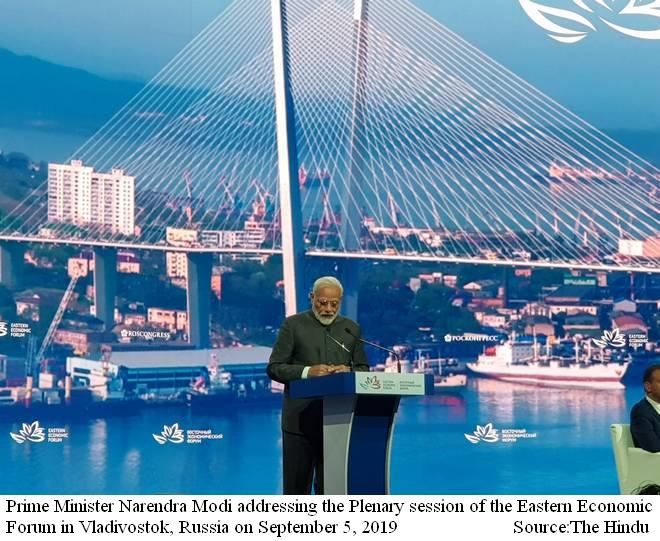 【Vladivostok】Prime Minister Narendra Modi on September 05 said India will walk shoulder-to-shoulder with Russia in its development of the Far East and announced a $1 billion line of credit for the development of the resource-rich region.
 Addressing the plenary session of the 5th Eastern Economic Forum here, Mr. Modi said the friendship between India and Russia was not restricted to governmental interactions in capital cities, but was about people and close business relations.
 "India was the first country to open a Consulate in Vladivostok. My government has actively engaged East Asia as part of its 'Act East' policy. I firmly believe that today's announcement will add a new dimension to the economic diplomacy of the two countries," Mr. Modi said at a packed house in Vladivostok. Indian firms have invested over $7 billion in taking stake in Russian oil and gas fields. India ventured into Russia when its flagship overseas firm ONGC Videsh (OVL) in 2001 acquired a 20 per cent stake in Sakhalin-1 oil and gas field in Far East Russia. OVL later bought Imperial Energy, which has fields in Siberia, as also stakes in Vankor oilfield in eastern Siberia. Indian Oil Corporation (IOC) and its partners have picked up 29.9 per cent stake in a separate Taas-Yuryakh oilfield in East Siberia. Then Russian oil firm Rosneft in 2017 bought Essar Oil, which operates in Vadinar oil refinery in Gujarat and some 5,500 petrol pumps, for USD 12.9 billion.
【News source】
India extends $1 billion line of credit for development of Russia's Far East
○One world:AD-SEAnews
Your Comments / Unsubscribe
SEAnews Twitter
SEAnews Messenger
SEAnewsFacebook
SEAnews eBookstore
SEAnews world circulation