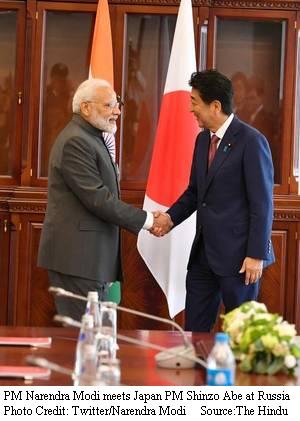 【Vladivostok】Prime Minister Narendra Modi on September 05 met his Japanese counterpart Shinzo Abe and the two leaders pledged to deepen the robust bilateral ties in a number of areas, including in economic and defence sectors.
 Discussed deepening multi-faceted ties in economic, defense and security, start-up and 5G areas and exchanged views on regional situation," External Affairs Ministry Spokesperson Raveesh Kumar said in a tweet.
 Following his meeting with Abe, Modi will hold bilateral talks with Prime Minister of Malaysia Mahathir bin Mohamad and President of Mongolia Khaltmaagiin Battulga.
○India, Japan to hold 2+2 dialogue on Indo-Pacific cooperation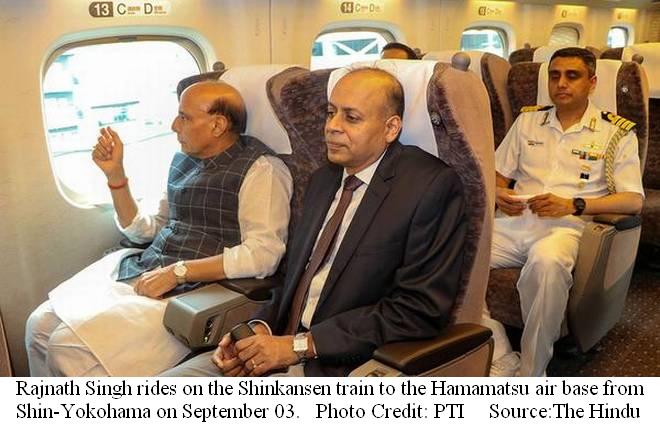 【New Delhi】India and Japan have decided to hold their first Foreign and Defence Ministerial Dialogue (2+2) ahead of the Japan-India annual summit this year for "advancing cooperation towards peace and prosperity of the Indo-Pacific region".
 Accord on the meeting was reached by Defence Minister Rajnath Singh and his Japanese counterpart Takeshi Iwaya at the India-Japan annual defence ministerial dialogue, the Defence Ministry said on September 03.
 "The Ministers recognised that peace and stability of the Indian and Pacific Oceans are crucial for ensuring prosperity of the Indo-Pacific region and the entire world, and had a frank exchange of views on the current security situation in the Indo-Pacific region, including developments on the Korean Peninsula and in the South China Sea," the Defence Ministry said in a statement.
 The Ministry said that the two Ministers "shared their intention that Japanese Maritime Self Defence Force (JMSDF) and Indian Navy will make efforts towards participating in multilateral exercises including participation as observers."
 Mr. Singh is on a two-day visit to Japan, during which he also met Japanese Prime Minister Shinzo Abe. He will proceed to South Korea from Japan.
【News source】
PM Modi meets Japanese PM Shinzo Abe in Russia
India, Japan to hold 2+2 dialogue on Indo-Pacific cooperation
○One world:The aim of SEAnews
Your Comments / Unsubscribe
SEAnews Twitter
SEAnews Messenger
SEAnewsFacebook
SEAnews eBookstore
SEAnews world circulation