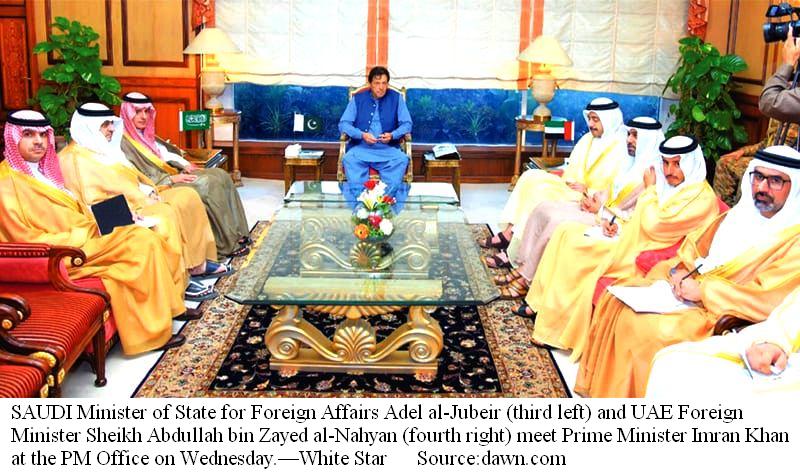 【Islamabad】Prime Minister Imran Khan on September 4 apprised the visiting foreign ministers of Saudi Arabia and the United Arab Emirates (UAE) of the situation arising from New Delhi's illegal and unilateral actions in occupied Kashmir, stating that the international community has the responsibility to urge India to halt and reverse its illegal actions and aggressive policies and postures.
 Mr Khan, according to a handout issued by the PM Office, underscored that India's actions were a clear violation of the United Nations Security Council resolutions and international law. There was a genuine fear of a false flag operation to divert the world's attention from India's illegal actions and intensified repression of Kashmiris, he told the visiting dignitaries. "India's actions have created grave risks for peace and security in the region.
○Two held in London after Indian mission damaged in Kashmir protest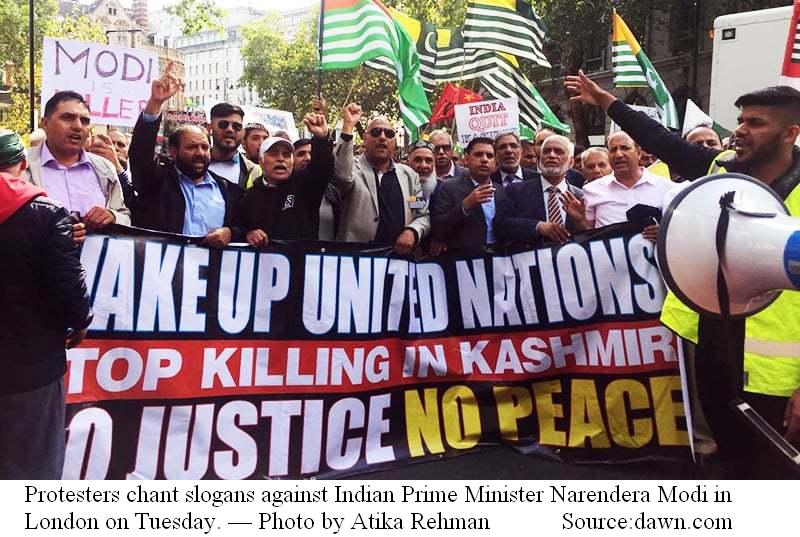 【London】Two people were arrested in connection with a demonstration outside the Indian High Commission in London's Aldwych area on September 3 (Tuesday).
 The rally, billed as the "Kashmir freedom march", was staged to show solidarity with the people of India-held Kashmir at the 30-day mark since Article 370 was revoked in the valley and a curfew was imposed.
 A spokesperson for the mayor of London told Dawn: "The Mayor supports the right to peaceful and lawful protest. He condemns the violence and unlawful activity by a small minority which has taken place outside the Indian High Commission in London."
 The mayor's statement comes a day after the massive anti-Modi march was held from Parliament Square to Aldwych, where Pakistani and Kashmiri protesters shouted slogans condemning Indian atrocities in held Kashmir and demanding an end to the occupation of the valley.
 The protest was organised by the Jammu and Kashmir Liberation Front (JKLF).
 Tuesday's protest came two weeks after a Kashmir freedom protest was held outside the Indian HC on Aug 15. A clash between Indian and Pakistani protesters resulted in four arrests, the Met Police had then said. The Jammu and Kashmir Liberation Front's UK president Tahseen Gilani said the protest was largely "peaceful and successful", but that the security volunteers did stop political figures from Azad Jammu and Kashmir making speeches and pushed back when they resisted.
【News source】
World has responsibility to stop Indian aggression: PM
Two held in London after Indian mission damaged in Kashmir protest
○One world:AD-SEAnews
Your Comments / Unsubscribe
SEAnews Twitter
SEAnews Messenger
SEAnewsFacebook
SEAnews eBookstore
SEAnews world circulation