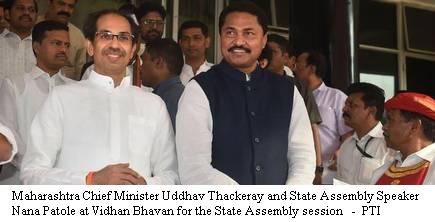 【Mumbai】Uncertainty looms large over the future of Uddhav Thackeray-led Maharashtra Vikas Aghadi (MVA) government even as it has proven its majority in the State Assembly pushing the BJP to the Opposition benches.
 In the first Assembly session, CM Uddhav Thackeray was seen struggling to modify his saffron agenda as he shared power with the Congress and the NCP, while the BJP leaders vouched to turn on the tables and bounce back to power.
 The MVA on Saturday (November 30) showed its strength on the floor of the House with the support of 169 out of 288 members in the State Assembly. On Sunday, the MVA candidate Nana Patole was elected unopposed as the Speaker after the BJP withdrew its candidate from the fray.
 Chief Minister Uddhav Thackeray said. "Hindutva was (our agenda), it is (our agenda) even today." He added, "My Hindutva believes in keeping the word.. it is not (like BJP's Hindutva) just say Jai Shri Ram and don't keep the promise". Uddhav was referring to Shiv Sena's claim that BJP had promised to share the post of CM with Shiv Sena but later refused that it had made any such promise. He also said and hoped that former Chief Minister Devendra Fadnavis and his old friendship would not suffer because of the new political equations. He said that it is a strange situation where old friends for 30 years stand divided and political foes are friends.
 "I am here as the Leader of the Opposition… but nothing is impossible in politics. If Shiv Sena, Congress and NCP can come together, anything is possible. People have elected the BJP as single largest party and have given a mandate (to form the government). Political arithmetic prevailed over merit. It is not chemistry, but numbers that are important in the democracy," said Devendra Fadnavis, speaking in the Assembly after being elected as the Leader of the Opposition.
 BJP State wing President and MLA Chandrakant Patil announced in the House that Fadnavis will not occupy the seat of the Leader of the Opposition for long and he would soon become Chief Minister. He said that the BJP was not against CM Uddhav and Shiv Sena but against the Congress and the NCP.
【News source】
Uncertainty looms over future of new Maharashtra government
○One world:AD-SEAnews
Your Comments / Unsubscribe



width="200" border="0">


SEAnews Messenger
SEAnewsFacebook
SEAnews eBookstore
SEAnews world circulation