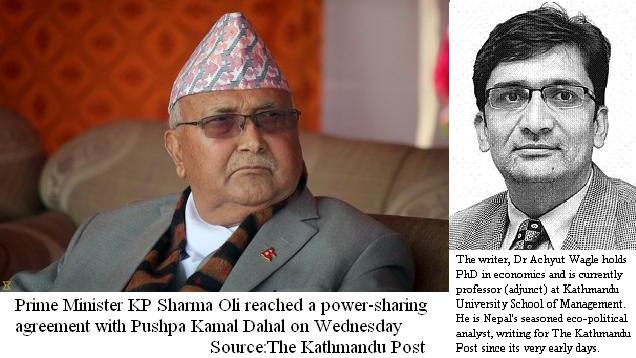 【Kathmandu】The shake-up had become inevitable, primarily for two reasons: to address Nepal Communist Party (NCP) chair Puspa Kamal Dahal's discontent over Prime Minister KP Sharma Oli's monopolisation on the exercise of power and, to mask the dismal performance of the majority government.
 Dahal had started to publicly mention how Oli had agreed, in writing, to hand over the prime ministership to him halfway through the five-year term of the current federal parliament. But, by placating Dahal with the executive chairmanship (emphasis on the executive) Oli's chicanery effectively removes all possible irritants for the next three years. Dahal's rechristening, for all practical purposes, is unlikely to make any fundamental difference in his ability to wield real political muscle in state affairs. First, as the universal experience has it, there is hardly any role for the ruling party itself, once periodic elections are over and a government is formed thereof. Second, Nepal's own history shows how it has always been suicidal to have two different personalities run the party and the government. Third, the communist ideology and power culture only recognise one all-powerful leadership that invariably controls both the party and the government. Needless to say, the person who heads the government with national assets at his disposal is always far more powerful than any party chief. All these realities are only likely to render Dahal nothing more than a complain machine. But for now, Dahal also seems to have accepted the status quo given the weaker political clout of his faction in the united NCP.
 The very rationale of the cabinet reshuffle by Oli is being questioned harshly on social media. In fact, Oli needed some scapegoats for the sheer underperformance of his government. The economy is in tatters, almost irreversibly. The ruling and opposition parties have together pushed the transitional justice agenda to the backburner. Federalism as a national political system has been fragmented and rendered dysfunctional. And, large-scale corruption has paralysed critical policy formulation, management decisions and project implementation.
【News source】
Prime Minister has used a cabinet reshuffle to mask his government's incompetence
○One world:AD-SEAnews
Your Comments / Unsubscribe



width="200" border="0">


SEAnews Messenger
SEAnewsFacebook
SEAnews eBookstore
SEAnews world circulation