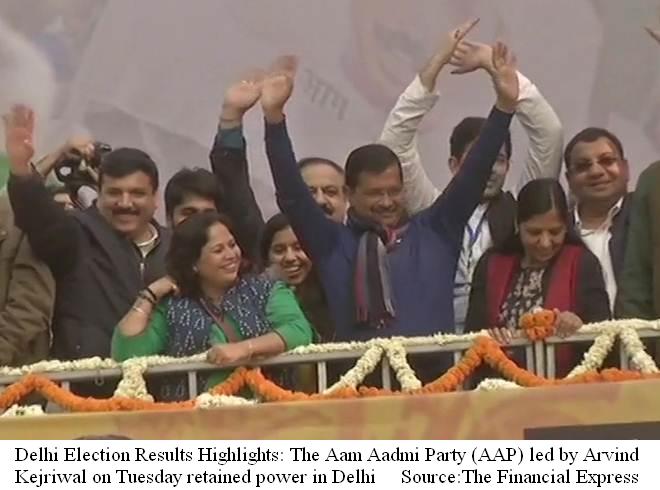 【New Delhi】The Arvind Kejriwal-led Aam Aadmi Party (AAP) is all set to form the government in Delhi for the third time, with a brute majority, winning 62 of the 70 Assembly seats but a marginal dip from the 67 seats it won in the 2015 Assembly elections.
 The Bharatiya Janata Party won just eight seat, five more than what it had got in 2015. The Congress, which ruled the national capital between 1998 and 2003, once again failed to open its account.
 AAP has received 53.56% per cent of the total votes counted so far as against 54 per cent in 2015. BJP has increased its vote share to 38.78% at 3 p.m. from 32 per cent. The Congress is in third place with a vote-share of 4.25%.
 Prime Minister Modi congratulates AAP for its stunning victory. "Congratulations to AAP and Shri @ArvindKejriwal Ji for the victory in the Delhi Assembly Elections. Wishing them the very best in fulfilling the aspirations of the people of Delhi," he said in a tweet.
○Modi's BJP defeated in Delhi state election amid outcry against divisive laws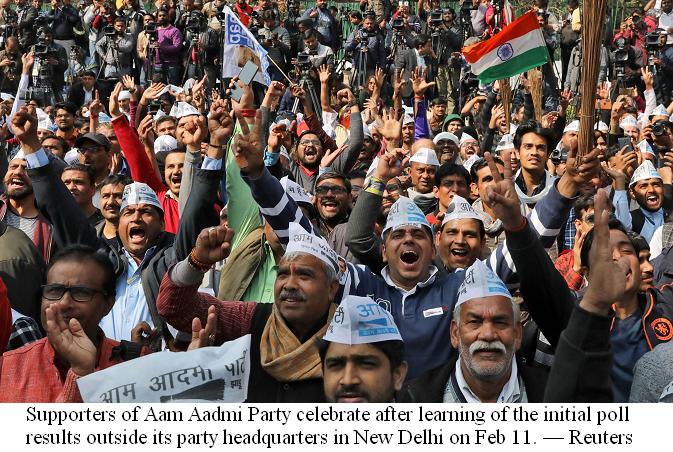 【New Delhi】India's ruling party was projected to lose a key state election on February 11, the vote count showed, in its first electoral test since deadly anti-government protests erupted nearly two months ago.
 The Bharatiya Janata Party (BJP) led by Prime Minister Narendra Modi won a bigger majority in a general election in May, but it has lost a string of state elections since then.
 The protests, in which at least 25 people have been killed, erupted across the country in December last year, after the BJP passed a new citizenship law critics say violates India's secular constitution and discriminates against minority Muslims.
 In counting for state polls held in India's capital New Delhi, data from India's Election Commission showed the liberal Aam Aadmi Party, led by the city's chief minister, Arvind Kejriwal, leading 57 out of 70 seats.
 The BJP ran a campaign accusing protesters of supporting Pakistan and was projected to win 13 seats, up from three in 2015 but far below its own expectations. The party's local chief Manoj Tiwari had predicted it would win a majority.
 The Congress — the main opposition at national level — was projected to win no seats in Delhi on Tuesday, data showed, reflecting the deep decline in its fortunes.
【News source】
Delhi Election 2020 Result Highlights: Wishing them the very best', PM Modi tweets congratulations to AAP on poll victory
Delhi Assembly election results 2020 | As it happened
Delhi Assembly election results: It is victory of people of Delhi, says Arvind Kejriwal
Delhi Election Result 2020 Live: AAP holds on to its vote share; BJP's second-best show, Cong's worst
Modi concedes defeat in key New Delhi election
○One world:AD-SEAnews
Your Comments / Unsubscribe



width="200" border="0">


SEAnews Messenger
SEAnewsFacebook
SEAnews eBookstore
SEAnews world circulation