【Hyderabad 】Dalit Ambedkarite ideologist organisation, Bhim Army chief Chandrashekhar Azad was on January 26 detained in Hyderabad while he was on his way to take part in an anti-CAA and NRC event.
 He was in the city to address a gathering on Citizenship Amendment Act, National Register of Citizens and National Population Register. Police said they had not granted permission for the programme to be held.
【New Delhi】Bhim Army chief Azad arrived in Delhi on January 27 morning after he was "forcibly sent" to the airport by the police in Hyderabad, where he was detained ahead of a protest against the Citizenship (Amendment) Act. He also claimed that his supporters were thrashed by cops before he was detained on Sunday.
 In a tweet in Hindi, Azad wrote, "Dictatorship is at its peak in Telangana. Peoples' right to protest is being snatched. First, we were thrashed with sticks, then I was arrested and now I have been brought to the airport and being sent back to Delhi." In the tweet, he also tagged the office of Telangana Chief Minister K Chandrasekhar Rao and said " Bahujan society will never forget this insult. Will be back soon."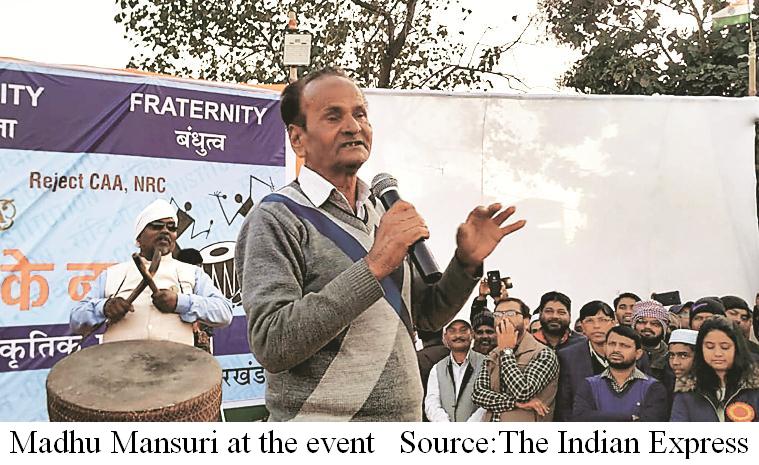 ○Folk singer named for Padma Shri at protest against CAA
【Ranchi】Madhu Mansuri, a folk singer from Jharkhand who will be conferred with Padma Shri this year, on Sunday put his weight behind the protests against the new citizenship law.
 The cultural programme, Ek Shaam Samvidhan Ke Naam, was held to "celebrate constitutional values" in support of the anti-CAA protests.
【News source】
Bhim Army Chief detained in Hyderabad ahead of anti-CAA event
Chandrashekhar Azad arrives in Delhi after Hyderabad Police 'forcibly sent' him back over anti-CAA protest
Folk singer named for Padma Shri at protest against CAA
○One world:AD-SEAnews
Your Comments / Unsubscribe



width="200" border="0">


SEAnews Messenger
SEAnewsFacebook
SEAnews eBookstore
SEAnews world circulation