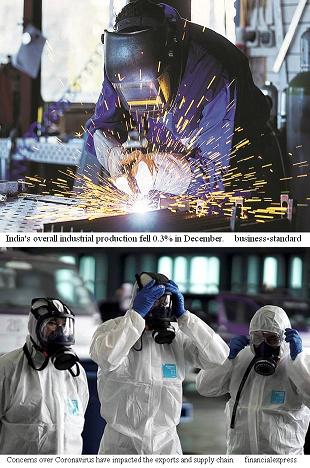 【New Delhi】The strong manufacturing sector expansion seen in India at the start of the year was maintained in February, with the growth rates for factory orders, exports and output dipping only marginally from January's highs, according to IHS Markit India Manufacturing PMI report.  However, coronavirus outbreak may hurt exports, supply chains, in coming months, says expert
 At 54.5 in February, the headline seasonally adjusted IHS Markit India Manufacturing PMI held close to January's near-eight-year high of 55.3. This signalled robust improvement in operating conditions across sectors.
○Weak demand, virus outbreak in China bring down two-wheeler sales in February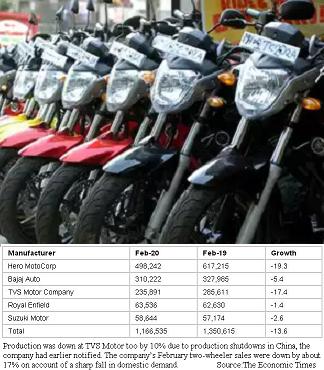 【Mumbai】Two-wheeler makers registered a sharp decline in sales in February amidst weak consumer sentiment and the outbreak of Covid-19 coronavirus in China further affecting production and aggravating the situation.
 The largest two-wheeler maker in the country, Hero MotoCorp saw its sales decline by almost 20% as the company sells primarily in the domestic market where demand has taken a severe hit due to a wider economic slowdown and sharp price hikes for vehicles due to regulatory interventions.
○Commercial vehicles continue to slip, top cos see decline in February sales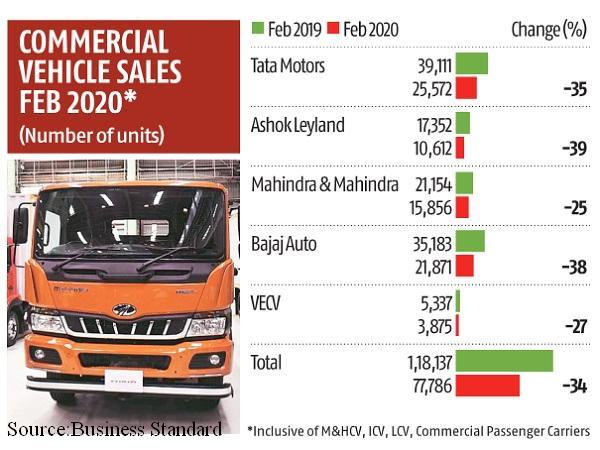 【Chennai】The commercial vehicles (CV) industry continues to be in doldrums, with sales falling for more than one and a half years. Top CV makers' cumulative sales dropped by nearly 35 per cent in February 2020 compared to February 2019.
 Industry representatives have said the situation is unlikely to improve soon as India's economic activity is yet to pick up due to less business activity and consumer spending.
 Sales of companies are under pressure due to axle load norms, liquidity crunch, goods and services tax (GST), BS-IV inventory correction and economic slowdown, among other factors.
 However, tractor sales head north. Mahindra & Mahindra's (M&M's) farm equipment sector reported 21 per cent growth in domestic tractor sales in February 2020 to 21,877 units from 18,105 units, a year ago. Domestic tractors sales of Escorts grew 16.3 per cent in February to 8,049 units from 6,918 units during the same period last year. Exports grew 71.4 per cent to 552 units from 322 units.
 Rajesh Jejurikar, president, farm equipment sector, M&M, said the tractor demand trend is expected to strengthen. This will be on the back of a robust rabi output and prevailing crop prices. Also, the increase in rural and agri spending by the government should augur well for the industry.
○OECD slashes India's FY21 growth forecast to 5.1% on coronavirus woes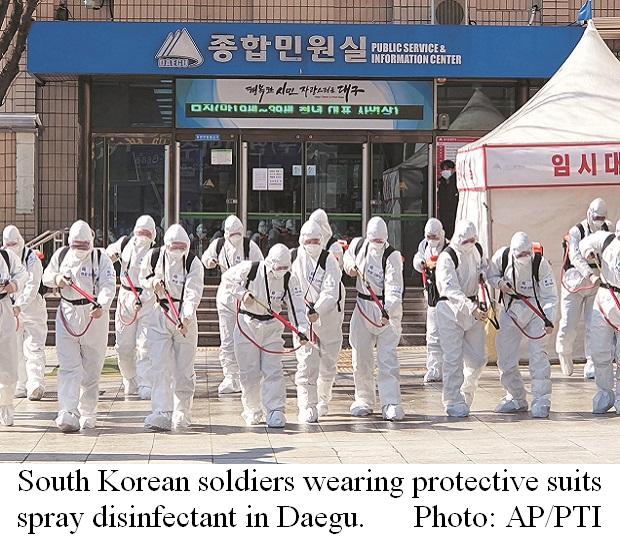 【Paris】The Organisation for Economic Cooperation and Development (OECD) on March 02 lowered India's GDP growth forecast to 5.1 per cent, from its earlier projection of 6.2 per cent, for 2020 on concerns over the impact of deadly coronavirus on the domestic as well as the global economy.
 According to the latest OECD Interim Economic Outlook Forecasts, India's real GDP growth is expected at 5.1 per cent during the fiscal year starting April 1, 2020, and improve to 5.6 per cent in the following year. The latest projection for 2020-21 is 1.1 percentage point lower than the November 2019 forecast. The OECD has projected India's growth at 4.9 per cent for the financial year ending March 2020.
○Feb unemployment rate hits 4-month high of 7.78% as slowdown persists: CMIE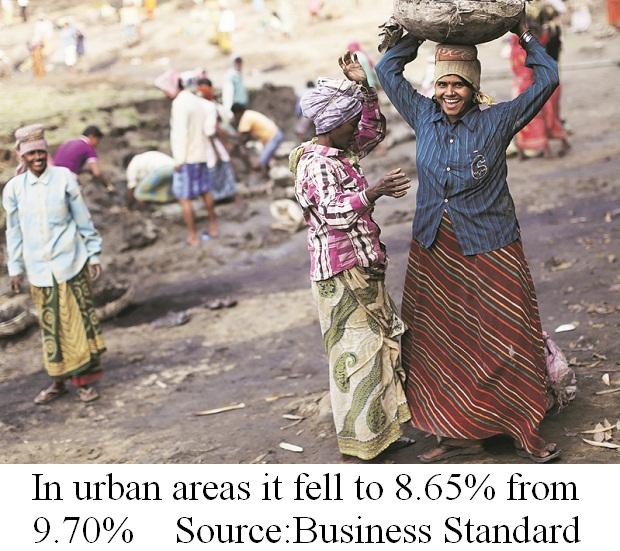 【New Delhi】India's unemployment rate rose to 7.78% in February, the highest since October 2019, and up from 7.16% in January, according to data released by the Centre for Monitoring Indian Economy (CMIE) on March 02, reflecting the impact of a slowdown in the economy.
 In rural areas, the unemployment rate increased to 7.37% in February from 5.97% in the previous month, while in urban areas, it fell to 8.65% from 9.70%, the data released by CMIE, a Mumbai-based private think-tank showed.
【News source】
At PMI of 54.5, manufacturing activity remains strong in February
Manufacturing PMI eases a tad in February
Coronavirus impact: Feb manufacturing PMI slips marginally to 54.5
Weak demand, virus outbreak in China bring down two-wheeler sales in February
Commercial vehicles continue to slip, top cos see decline in February sales
OECD slashes India's FY21 growth forecast to 5.1% on coronavirus woes
Feb unemployment rate hits 4-month high of 7.78% as slowdown persists: CMIE
○One world:AD-SEAnews
Your Comments / Unsubscribe



width="200" border="0">


SEAnews Messenger
SEAnewsFacebook
SEAnews eBookstore
SEAnews world circulation