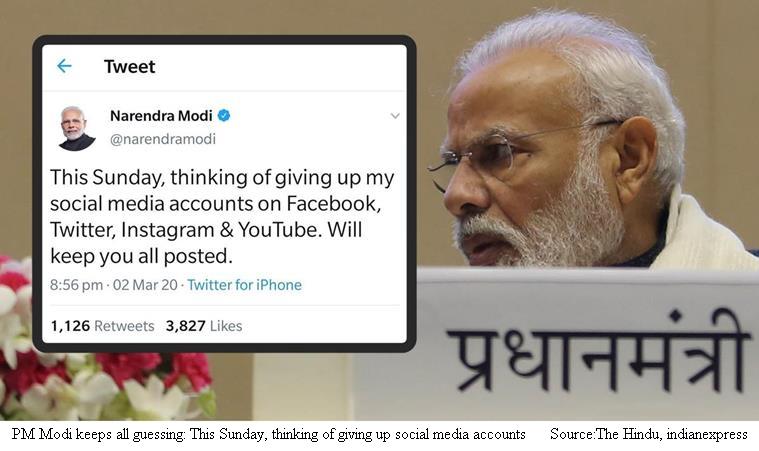 【New Delhi】Prime Minister Narendra Modi triggered a flurry of speculation after he took to Twitter late on 02 March evening to say that he was considering giving up his social media accounts on Twitter, Facebook and Instagram & YouTube from Sunday(08 March).
 Speculation ran rife on social media over why Mr. Modi, one of the first among politicians to unleash the power of social media in India and one of the highest followed leaders the world over, would announce such a thing. Thus, it immediately set off a hashtag #NoSir to persuade him not to do so.
 Mr. Modi has around 53.3 million followers on Twitter and by 35 million on Instagram.
On Facebook, he tops the list of world leaders with 44 million people liking his page.
 Congress leader Rahul Gandhi was also quick to react to Mr. Modi's announcement, tweeting: "give up hatred not social media". The opposition Congress has been protesting in Parliament the government's handling of the Delhi riots and demanded the resignation of Union Home Minister Amit Shah.
○North East Delhi riots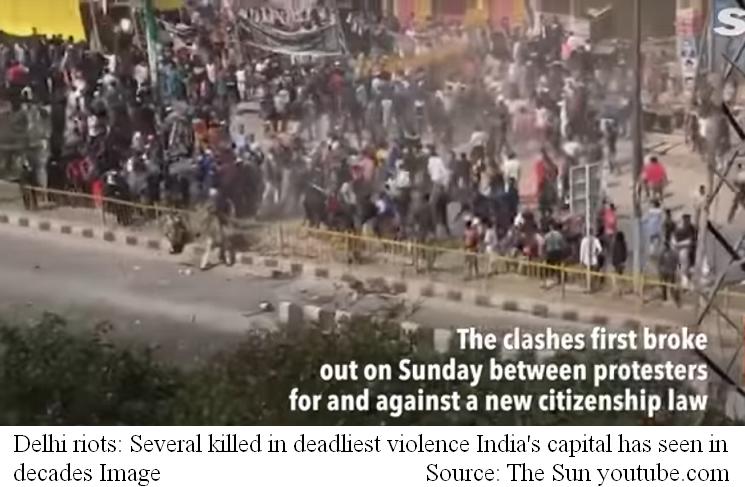 The North East Delhi riots are a series of riots and violent incidents that began in the Jaffrabad area of North East Delhi on the night of 23 February 2020.
 In what has widely been described as a pogrom, mobs of Hindu nationalists attacked Muslims and vandalized Muslim properties and mosques. During the riots, 53 people were killed, most of whom were Muslim, and at least 350 people were injured. The properties destroyed were disproportionately Muslim-owned and included four mosques, which were set ablaze by rioters. The Indian government swiftly characterised the violence to be spontaneous.
 Earlier, in Jaffrabad, a sit-in by women against India's Citizenship (Amendment) Act, 2019 had begun on a stretch of the Seelampur–Jaffrabad–Maujpur road. On 23 February 2020, Bharatiya Janata Party (BJP) leader Kapil Mishra demanded the Delhi Police to clear roads that had been occupied by protesters, and threatened to forcefully end the protests if the police failed to do so. By the next day, rioters wearing helmets and carrying sticks, stones, sabres or pistols and the saffron flags of Hindu nationalism had begun to rush violently into the neighbourhood, while the police stood passively by. The Delhi Police, which is controlled by the Central Government, moved into the area in strength on 26 February 2020. Three days after the violence had begun, Prime Minister Narendra Modi made an appeal for peace on Twitter. (Wikipedia)
○Seven women achievers to handle PM Modi's social media accounts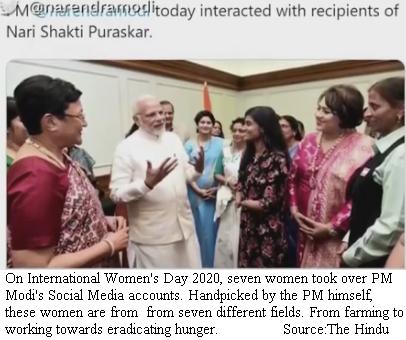 【New Delhi】Prime Minister Narendra Modi on March 08 announced that seven women achievers will share their lives' journeys and interact with the people through his social media accounts on the occasion of International Women's Day.
 "Greetings on the International Women's Day! We salute the spirit and accomplishments of our 'Nari Shakti (Woman's power)'. As I'd said a few days ago, I'm signing off. Throughout the day, seven women achievers will share their life journeys and perhaps interact with you through my social media accounts," the Prime Minister tweeted.(In fact gibberish! Probably only this day he signed off?)
【News source】
Thinking of giving up my social media accounts, says Narendra Modi
Thinking of giving up my social media accounts, tweets PM
PM Narendra Modi mulls giving up social media on March 8
'No Sir' trends on Twitter over PM Modi's cryptic tweet
PM Modi keeps all guessing: This Sunday, thinking of giving up social media accounts
Is PM Modi going to give up social media accounts? Curious tweet suggests so
PM quitting social media or taking a day off to let women do the talking?
India's Modi announces to 'quit social media'
Give up hatred, not social media accounts: Rahul Gandhi to PM Modi
2020 Delhi riots
Women's Day: Seven women achievers to handle PM Narendra Modi's social media accounts
Watch | The women who took over PM Modi's social media
○One world:AD-SEAnews
Your Comments / Unsubscribe



width="200" border="0">


SEAnews Messenger
SEAnewsFacebook
SEAnews eBookstore
SEAnews world circulation