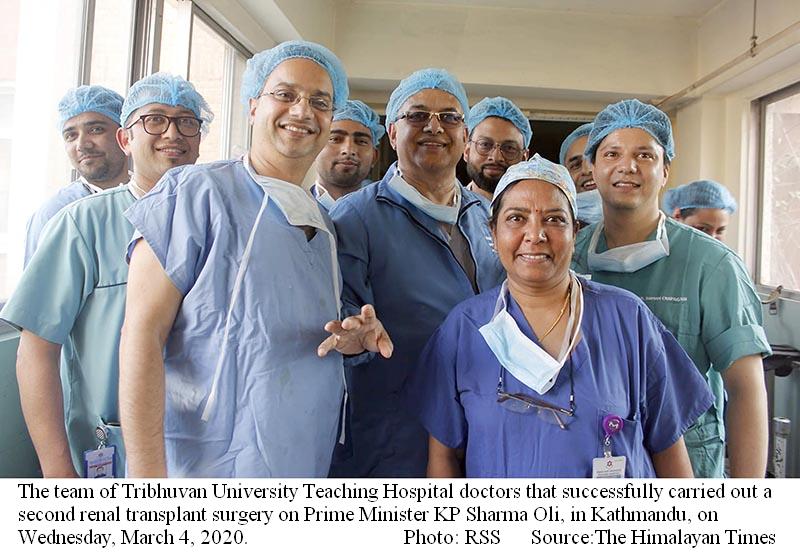 【Kathmandu】Prime Minister KP Sharma Oli underwent successful kidney transplant surgery at Tribhuvan University Teaching Hospital, Maharajgunj, on March 04.
 The new kidney placed on the left side of the urinary bladder has given a new lease of life to the country's executive head, who had been on dialysis for over six months after the kidney transplanted 12 years ago started malfunctioning. The surgery was performed by a team of nine Nepali doctors. Two Indian doctors, including Senior Kidney Transplant Surgeon Anant Kumar, were on standby during the surgery.
 The PM was admitted to the hospital on March 02 after his niece, Samikshya Sangraula, who is in her thirties, agreed to donate her kidney. The organ was extracted on March 03 from Sangraula's body. Her health is normal, according to doctors.
○Well-wishes pour in as PM Oli undergoes second renal transplant surgery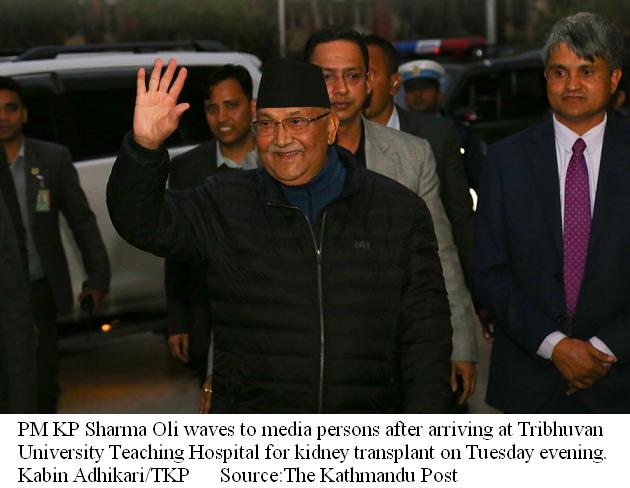 【Kathmandu】Well-wishers have extended their support and best wishes to Prime Minister KP Sharma Oli for a successful surgery and speedy recovery.
 His Indian counterpart Narendra Modi was one of the first international political figures to send his best wishes to PM Oli. Modi initially tweeted his message while he later sent a written note to Oli through the Embassy of India in Kathmandu on March 03. Oli then took to Twitter to thank Modi for his gesture.
 Likewise, Pakistan's Prime Minister Imran Khan offered best wishes for Prime Minister KP Sharma Oli's health. Similarly, Bhutan's Prime Minister Dr Lotay Tshering and Japanese Ambassador to Nepal Masamichi Saigo wished him good health.
【News source】
Prime Minister Oli gets new kidney, faring well
PM's condition stable, under observation for post-op treatment: TUTH
PM Oli's kidney transplant successful
After successful kidney transplant, Oli recovers at Teaching Hospital
PM Oli, donor shifted to post-operative ward
Well-wishes pour in as PM Oli undergoes second renal transplant surgery
○One world:AD-SEAnews
Your Comments / Unsubscribe



width="200" border="0">


SEAnews Messenger
SEAnewsFacebook
SEAnews eBookstore
SEAnews world circulation