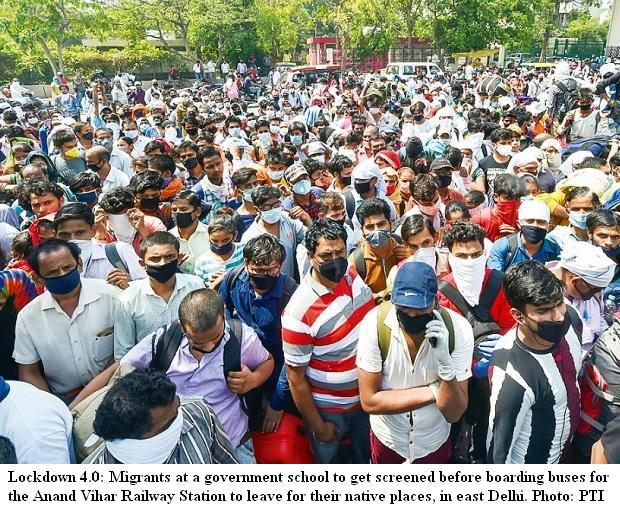 【New Delhi】States scrambled to make the full use of the Centre's green light on lifting lockdown restrictions but opted for amber in inter-state transport, as the number of Covid-19 positive cases nearly touched the 100,000-mark.
 Delhi implemented most of the demands made to the Centre in a letter to Prime Minister Narendra Modi on 14 May. However, Delhi's border with Uttar Pradesh and Haryana remained closed for the most part. Long queues of vehicles were seen at check posts as many people wanting to attend offices arrived at the borders early on Monday.
 Maharashtra, one of the worst hit states, said it was making no changes, and would take advantage of the Centre's offer of relaxation later.
 State-run road transport was resumed in Andhra Pradesh, Karnataka, Kerala (where inter-state and inter-district bus services remain suspended). In these states, shops, businesses and offices, including barber shops, were allowed to open. Karnataka even allowed salons and spas to operate, but retained restrictions on movement of people from other states.
 Construction activity was already permitted in the city outside the containment zones. Barbershops and beauty parlours can operate without air conditioning and can offer hair cutting, hair dressing, and shaving services. Across India, by no means is life normal. But it seems to be getting there.
○Economy is poised to recover, says FM Sitharaman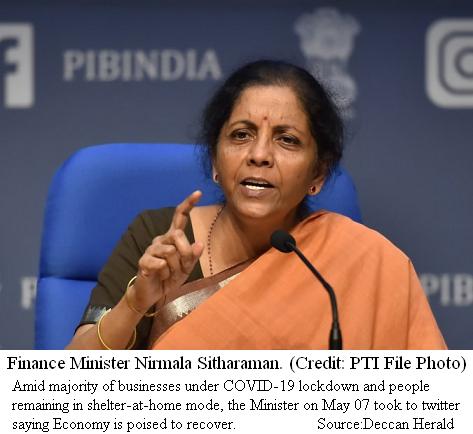 【New Delhi】Amid majority of businesses under COVID-19 lockdown and people remaining in shelter-at-home mode, Finance Minister Nirmala Sitharaman on May 07 took to twitter saying Economy is poised to recover.
 Her optimism stemmed from the fact that public sector banks have sanctioned loans worth Rs 5.66 lakh crore to MSMEs, retail, agriculture and corporate sectors.
 "During March-April 2020, PSBs sanctioned loans worth Rs 5.66 lakh cr for more than 41.81 lakh accounts. These borrowers are from MSME, Retail, Agriculture & Corporate sectors, waiting for disbursal soon after #lockdown lifts. Economy poised to recover!," the finance minister said in a series of tweets.
 Finance Minister's remarks came in the midst of gloomy prognoses about India's economy, with many an economist fearing extended lockdown could end the financial year 2020-21 with a 1% contraction in GDP.
【News source】
Delhi to Andhra, states take slow and steady steps to exit lockdown
Economy is poised to recover, says FM Nirmala Sitharaman
○One world:AD-SEAnews
Your Comments / Unsubscribe



width="200" border="0">


SEAnews Messenger
SEAnewsFacebook
SEAnews eBookstore
SEAnews world circulation