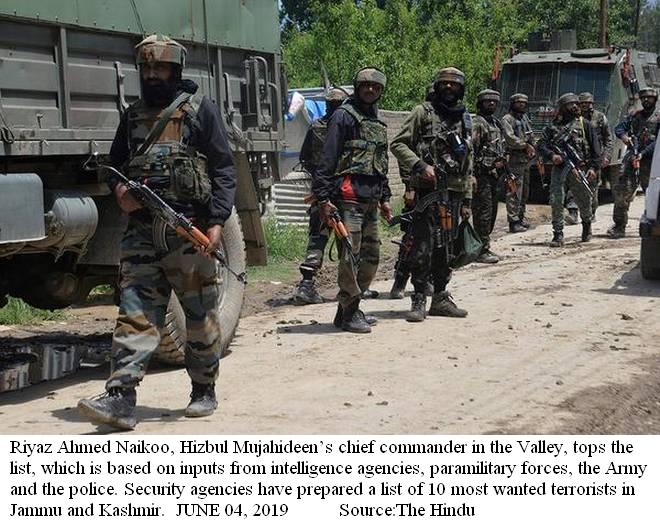 【Chandigarh】The Punjab police on May 07 said it has traced the inter-State links of slain Hizbul Mujhahideen commander Riaz Ahmed Naikoo with the arrest of two accomplices of his close associate Hilal Ahmed Wagay in Amritsar.
 Dinkar Gupta, DGP, said the duo were arrested on April 6 and were traced through investigations into the trail of Hizbul terrorist Hilal Ahmed Wagay, who was nabbed from Amritsar recently, where he had come to collect money on the instructions of Naikoo. The duo have been identified as Bikram Singh alias Vicky and Maninder Singh alias Mani, both residents of Amritsar. "The police seized 1 kg heroin along with Rs32 lakhs in Indian currency from them unveiling Pakistan-sponsored conspiracy to smuggle narcotics and weapons into the State," said Mr. Gupta.
 Naikoo, commander of the banned terrorist organisation Hizbul Muzahideen (HM), was gunned down by security forces in South Kashmir on April 6.
○Kashmiris are martyred in fake encounters and phoney cordon-and-search operations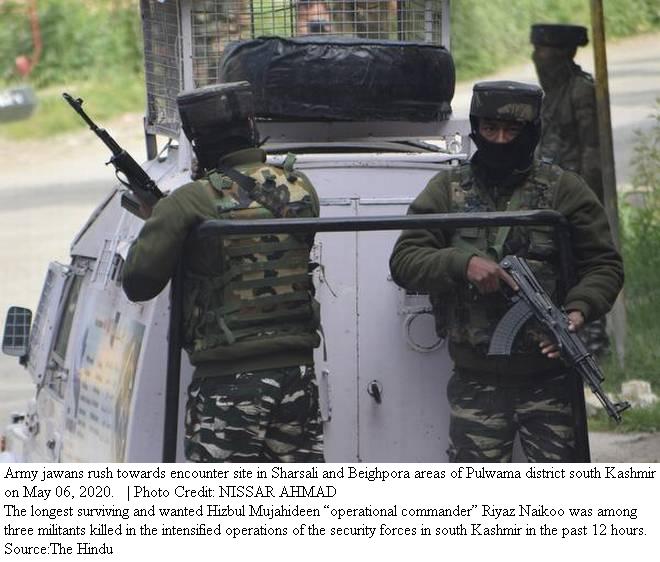 【Islamabad】Ayesha Farooqui, the Foreign Office spokesperson Pakistan at the weekly media briefing on May 7, commenting on 277th day of the continued oppression, inhuman lockdown, and military siege faced by the innocent people in the Indian Occupied Jammu and Kashmir, pointed out that despite the surge in COVID-19 cases in IOJ&K, Indian occupation forces were continuing their relentless campaign of oppression and brutalization of the Kashmiri people.
 "Innocent Kashmiris are being martyred in fake encounters and phoney cordon-and-search operations. In an inhuman practice, even the mortal remains of those martyred are not being handed over to the families. The Indian occupation forces have again completely shut down Internet services in the IOJ&K after the life of another local Kashmiri resistance fighter was taken in a so-called "encounter." Thousands of Kashmiri men, women and children are taking to the streets to protest against Indian brutalities and to let the world community know that they reject illegal Indian occupation", she said.
【News source】
Inter-State links of slain Hizb commander traced, say Punjab police
China, US, EU step up funding to Pakistan
○One world:AD-SEAnews
Your Comments / Unsubscribe



width="200" border="0">


SEAnews Messenger
SEAnewsFacebook
SEAnews eBookstore
SEAnews world circulation