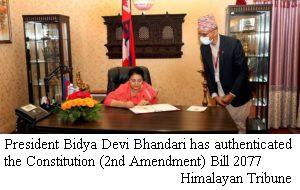 【Kathmandu】Nepal President Bidya Devi Bhandari has authenticated the Constitution (2nd Amendment) Bill 2077, after the Bill was passed by both the houses of the federal parliament.
 With this authentication, the map in the coat of arms has also changed and areas of Limpiyadhura, Lipulekh and Kalapani have been constitutionally incorporated into the map of Nepal.
 The Bill to amend the constitution had been unanimously passed by the House of Representatives on June 13 and the National Assembly on June 18.
○India and Nepal's relation came under strain after a new road inaugurated by India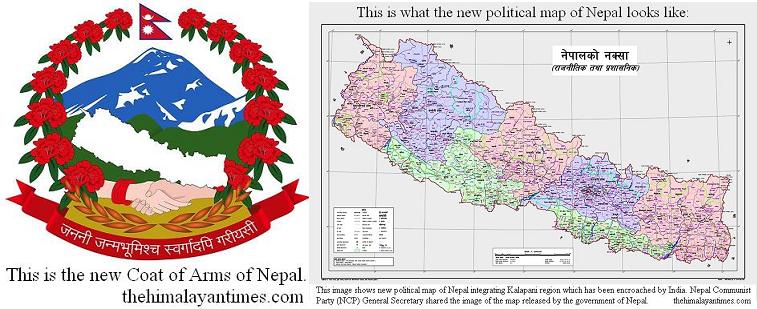 【Kathmandu】The ties between India and Nepal came under strain after Indian Defence Minister Rajnath Singh inaugurated a 80-km-long strategically crucial road connecting the Lipulekh pass with Dharchula in Uttarakhand on May 8. Nepal reacted sharply to the inauguration of the road claiming that it passed through Nepalese territory. India rejected the claim asserting that the road lies completely within its territory.
 Nepal last month released the revised political and administrative map of the country laying claim over the strategically key areas. India has been maintaining that these three areas belonged to it. India sternly asked Nepal not to resort to any "artificial enlargement" of territorial claims after Kathmandu released the new map.
 Prime Minister K P Sharma Oli earlier this month said that his government will seek a solution to the Kalapani issue through diplomatic efforts and dialogue on the basis of historical facts and documents. "We have told (them) that we want to resolve this through diplomatic talks … And the solution is that our land should be returned to us," Oli said in parliament on June 10. There was no immediate comment from India on Oli's latest statement. But New Delhi rejected Nepal's map when it was published in May, calling it a "unilateral act" that was not based on historical facts or evidence.
【News source】
President Ratifies Constitution Amendment Bill
Nepal parliament to vote on new map in land dispute with India
Nepal parliament unanimously endorses second amendment, map updated
Nepal Parliament's session begins; likely to pass bill to redraw political map
India responds, says Nepal's move violates agreement to resolve issue through diplomatic efforts
Intensify diplomatic efforts, says Congress
Nepal gets a new political map, Coat of Arms
○One world:AD-SEAnews
Your Comments / Unsubscribe



width="200" border="0">


SEAnews Messenger
SEAnewsFacebook
SEAnews eBookstore
SEAnews world circulation