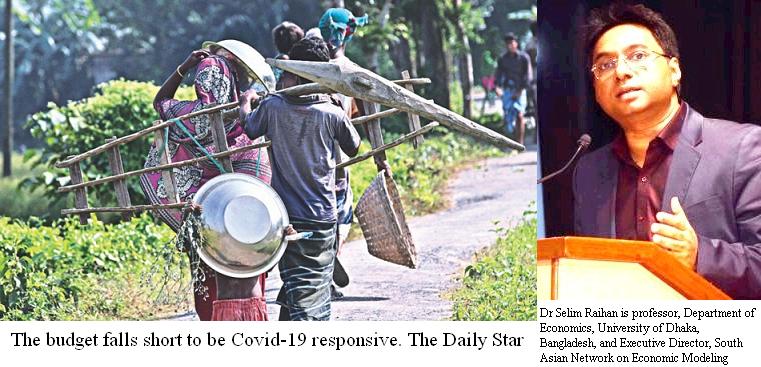 【Dhaka】The fundamental objective of the budget for the next financial year (FY21) should have been to resolve the unparalleled health and economic threats raised by the Covid-19 pandemic, and to restore economic stability. Though the budget has acknowledged the context, it falls short to be a Covid-19 responsive budget.
○Health sector
 The total allocation for health budget increased by 14 percent to Tk 292.47 billion in FY21 from Tk 257.33 billion in FY20. The proposed increase in health budget is necessary but seems inadequate given the ongoing health hazard. However, there is a provision of a block allocation of Tk 100 billion, which is proposed to fulfil emergency requirements. This allocation should be used judiciously.
○Social safety net
 The increased social-safety net allocation is expected, but the allocation should have been increased more. The question remains, how much allocation was effectively increased for the poor and vulnerable population. A huge number of people have slipped below the poverty line in the current crisis and many more will follow in the coming days; huge numbers have lost their jobs too. In particular, therefore, when measures such as lockdown zoning are undertaken, initiatives must be taken to include this newly poor population in the social protection coverage and provide them with food and cash assistance. Therefore, a mere increase in allocation (also inadequate) will not be enough.
○Revenue target
 Given the current crisis, it is quite impossible to meet even the revenue target set in the revised budget. Furthermore, the very high target that has been proposed for the next fiscal year is not realistic at all. Therefore, other financing options should be explored. However, due to unrealistic revenue targets, exploring other options for financing might get dissuaded. The option of borrowing from international organisations with flexible conditions and low-interest rates should be explored vigorously.
○The stimulus package
 At the beginning of the crisis, the government announced stimulus packages. The stimulus package will, however, be operated largely through the banking sector, which is itself in crisis, as we know. The budget should have had a guideline for the operation of the stimulus packages through such a crisis-ridden banking sector.
○GDP growth rate
 Targeting a Gross Domestic Product (GDP) growth rate of 8.2 percent in the next fiscal year (FY21) indicates that economic growth has been expected to quickly take up the normal pace and the economy will experience a strong rebound. However, such an assumption is highly questionable.
○In conclusion
 What we needed was a mid-term "recovery plan" under which the proposed budget for the FY21 should have been formulated. There was a need for undertaking out-of-the-box measures, go beyond the usual thinking and a strong political will. Though some reflections of political will are visible in the proposed budget, there is a lack of coherence and a clear guideline on how such will can be translated into proper actions.
【News source】
The budget falls short to be Covid-19 responsive
○One world:AD-SEAnews
Your Comments / Unsubscribe



width="200" border="0">


SEAnews Messenger
SEAnewsFacebook
SEAnews eBookstore
SEAnews world circulation