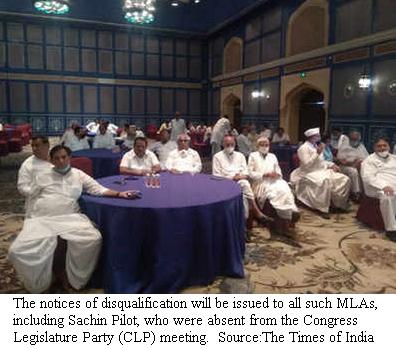 【Jaipur】Rajasthan Speaker has issued notices to Sachin Pilot and 18 other rebel Congress MLAs after the party sought their disqualification from the state assembly.
 Sacked deputy chief minister Sachin Pilot and the other MLAs were asked to respond to the notices by Friday. The notices were issued on July 14 (Tuesday). The MLAs had defied a whip and did not attend its legislature party meetings held on Monday and Tuesday.
 Rebel Congress leader Sachin Pilot on Wednesday categorically denied that he was joining the BJP and maintained that he continued to be a legislator from the Congress. "There seems to be a planned effort to tarnish my name and image," he says.
 In the 2018 Legislative Assembly elections, Pilot won from the Tonk seat, after defeating Yunus Khan by a margin of 54,179 votes. It was speculated that Pilot, who was considered instrumental in the Congress's victory in the state, would be given the post of chief minister. However, on 17 December 2018, he was sworn in as Deputy chief Minister of Rajasthan under Ashok Gehlot. On 13 July 2020, Pilot's office issued a statement saying that the government of chief minister Ashok Gehlot was in a minority. (English Wikipedia)
 Sachin Pilot sprang a surprise Thursday by reaching out to senior party leader and former Union minister P Chidambaram even as he approached the Rajasthan High Court to challenge the disqualification proceedings initiated against him and 18 other MLAs. Pilot spoke to Chidambaram, a permanent invitee to the Congress Working Committee, over phone in a reach-out that came days after the Congress stripped him of the posts of Deputy Chief Minister and president of the Rajasthan PCC.
 "I just reiterated that the leadership had publicly invited him to meet with it, and all issues can be discussed. I advised him to seize the opportunity," Chidambaram told The Indian Express.
【News source】
19 rebel MLAs face disqualification from assembly, Rajasthan Speaker issues notices
Rajasthan political crisis | Sachin Pilot says he is not joining BJP
Rajasthan political crisis: In surprise move, Pilot speaks to Chidambaram
Rajasthan HC to take up Sachin Pilot's plea against disqualification today
○One world:AD-SEAnews
Your Comments / Unsubscribe



width="200" border="0">


SEAnews Messenger
SEAnewsFacebook
SEAnews eBookstore
SEAnews world circulation