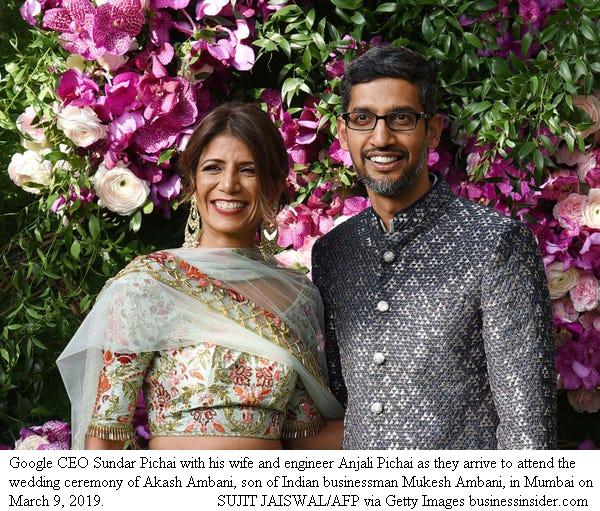 【New Delh】Alphabet Inc. Chief Executive Officer Sundar Pichai made the announcement at the annual Google for India event via video conference and said, "Google Will Invest $10 Billion over the next five to seven years to help accelerate the adoption of digital technologies in India." "This is a reflection of our confidence in the future of India and its digital economy," he said of the India Digitization Fund.
 The $10 billion will be invested in partnerships, operations, infrastructure, the digital ecosystem and equity investments. Google said the effort will focus on several key areas: Enabling affordable access and information for every Indian in their own language, including Hindi, Tamil and Punjabi; Building new products and services that are relevant to India's unique needs; Empowering businesses as they continue or embark on their digital transformation; Leveraging technology and artificial intelligence for social good, in areas like health, education, and agriculture.
 Google's own estimates suggest that the number of local language users in India will cross 536 million in the next four years, contributing 35 per cent of the $4.4 billion digital advertising spend in the country.
 According to KPMG's India's Digial Future (2019) report, the primary language of media and entertainment consumption in India will be in local languages by 2030 even though the use of English for professional and social mobility has been increasing.
 From Kerala to Kashmir, one of the most stubborn stumbling blocks to digital inclusion has been the glaring absence of accessible local language tools. Even though India's villages have seen a growth in the number of smartphones bought, vernacularly-educated rural population still finds it difficult to use the devices to their optimum levels courtesy the unavailability of user-friendly programs in local languages. Similar issues dog the growth in voice-assisted computing, which is still loitering around in urban centres in India.
 That said, Google must shed some of its inhibitions and work with local developer communities by encouraging and incentivising them to work towards collective good and not exactly bring out products that will help the company and data-gorging partners profit beyond limits as many fear would happen.
○Google tax row: US technology companies want action against India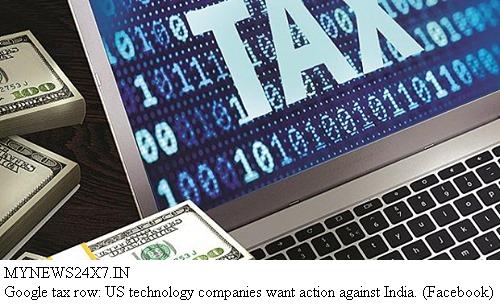 【New Delh】The Internet Association, representing Google, Amazon, Facebook, and eBay, has pressed for action against India for digital services tax, arguing that the 2 per cent equalisation levy was unreasonable and discriminated against US companies.
 The body said this in its comment to the US Trade Representative (USTR) on Section 301 investigation, launched last month.
 However, IBM, the US Chamber of Commerce (USCC), and the Consumer Technology Association (CTA), which has Adobe, 3M, and Accenture as members, have opposed retaliatory tariffs, arguing that they will hurt American companies, and has urged the USTR to work towards a multilateral solution on the issue.
○Google confirms it's investing $4.5 billion in India's Jio Platforms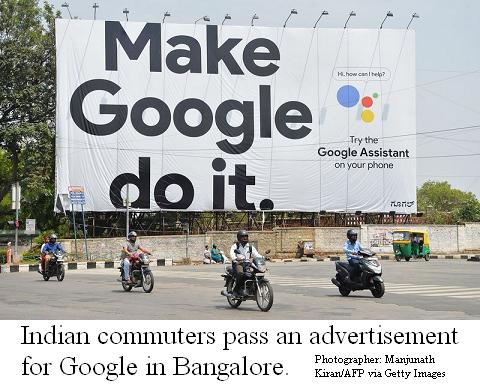 【London】Google confirmed on July 15 it's investing $4.5 billion into Indian digital services firm Jio Platforms in exchange for a 7.7% stake in the company, which is valued at $65 billion.
 The investment confirmed by Google VP Sameer Samat in a blog post, comes less than four months after Facebook said it was pumping $5.7 billion into Jio Platforms. Owned by Mukesh Ambani's Reliance Industries, Jio Platforms operates the Jio Infocomm telecom network, which has amassed over 388 million 4G subscribers since launching in 2016. Today it is India's top telco, and also has several apps and other services in e-commerce and broadband.
 Jio Platforms is at the centre of the Indian tycoon's ambition to transform his energy conglomerate into a homegrown technology behemoth — something on the lines of China's Alibaba Group Holding.
 Ambani, India's richest man, is in the process of trying to sell approximately 20% of Jio Platforms to raise cash for debt-ridden parent company Reliance Industries, which is heavily involved in oil and petrochemicals. Investors have snapped up around $20 billion worth of equity in Jio Platforms in recent months. Intel said it was investing $250 million into Jio Platforms earlier this month (July) and two days ago Qualcomm announced that it intends to invest $97 million. Other U.S. investors like KKR, General Atlantic, Silver Lake and Vista have pumped billions into Jio Platforms. Last month, UAE sovereign wealth fund Mubadala revealed it was investing $1.2 billion in the company, while Saudi Arabia's Public Investment Fund put in $1.5 billion. Facebook's investment was the company's biggest deal since its $19 billion WhatsApp purchase.
【News source】
Google's India Digitisation Fund can give vernacular computing a boost
CEO Pichai Says Google Will Invest $10 Billion in India
Google tax row: US technology companies want action against India
US technology companies opposes Digital Tax by India government, want action
Google tax row: US technology companies want action against India
Google confirms it's investing $4.5 billion in India's Jio Platforms four months after Facebook's bet on the company
Google is investing $4.5 billion in India's mobile internet giant Reliance Jio and the 2 will make a new affordable Android phone
Google is in advanced talks to invest $4 billion in Jio Platforms
Pakistan back in China's Belt and Road game with projects worth $11 bn
○One world:AD-SEAnews
Your Comments / Unsubscribe



width="200" border="0">


SEAnews Messenger
SEAnewsFacebook
SEAnews eBookstore
SEAnews world circulation