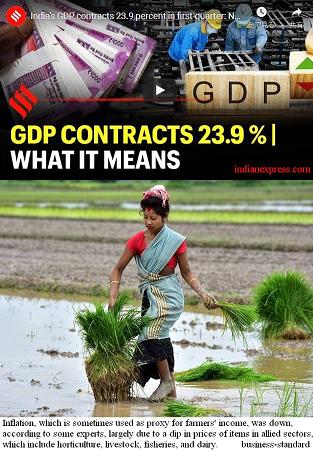 【New Delhi】The economy of India - the world's fastest-growing large economy until a few years ago - contracted by 23.9 per cent in April-June -- the worst performance since quarterly measurement began in 1996 and probably the first contraction since 1980 and worse than what was expected by most analysts. The Indian economy has shrunk, in absolute terms, back to the size it had last seen 22 quarters ago when Prime Minister Narendra Modi took charge of governing the country.
 The two growth engines, consumer spending and investments contract massively as govt-led spending lifts GDP from falling further. On supply side, only agriculture shows growth, industry contracts 40%, according to data released by the National Statistical Office on August 31.
 April-June 2020 is the third straight quarter where the country's farm sector output has grown at a higher rate than overall GDP in "real" terms. But it also marks the fifth consecutive quarter of agricultural growth surpassing the growth of the economy as a whole in "nominal" terms, i.e. at current prices unadjusted for inflation. The gross value added (GVA) from agriculture, forestry & fishing grew by 3.4 per cent at constant prices in April-June 2020 over April-June 2019. This was as against a 22.8 per cent year-on-year decline in overall real GVA for the quarter. GVA is basically GDP net of all indirect taxes and subsidies on goods and services.
 India's macro-economic scenario in the post-Covid era represents a severe contraction of economic activity. The challenge facing the nation is unprecedented in many ways. Coupled with the uncertainty caused by a pandemic that is still taking a growing toll, more gathering clouds and a global scenario that is equally dismal, the nation has to brace itself for a long grind. Collapse in investment and consumption has led to a huge growth contraction. Though Govt sees V-shaped recovery, a V-shaped recovery seems like a tall order.
【News source】
First economic contraction in 4 decades: India GDP shrinks 23.9% in Q1FY21
GDP contracts by record 23.9% in Q1
Q1 GDP shocker shows India must brace itself for a long grind
India GDP growth contracts 23.9%: What is the economics behind the math?
At -23.9% in Q1, worst-ever GDP contraction as lockdown bites
India's recovery to take time after economy shrinks 24% in June quarter
Only farm sector output sees growth, outpaces overall GDP for 3rd straight qtr
Agriculture clocks growth rate of 3.4% in Q1 despite GDP contraction
India's GDP shrinks to 2014 level when PM Narendra Modi took reins
○One world:AD-SEAnews
Your Comments / Unsubscribe



width="200" border="0">


SEAnews Messenger
SEAnewsFacebook
SEAnews eBookstore
SEAnews world circulation