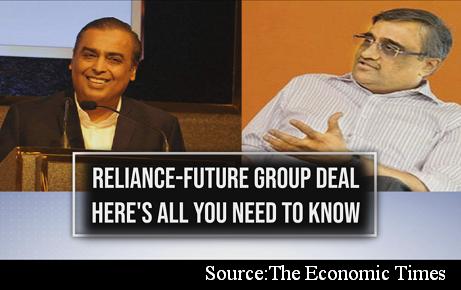 【New Delhi】The oil-to-telecoms group controlled by India's richest man, Mukesh Ambani, announced late on August 29 that it will acquire Future Group's retail and wholesale business as well as its logistics and warehousing operations.
 The deal dovetails perfectly with its strategy to become a dominant player in retail — offline and online and pitches the conglomerate as an even more formidable force in India, making its retail arm more attractive to the potential investors it seeks to woo. Reliance wants to build scale and consolidate its position in modern retail. Mukesh Ambani has already announced it is looking for strategic investors.
 Kishore Biyani, after having sold his retail and supply chain businesses to Reliance Retail, will be left with food and grocery (FMCG), and garments manufacturing, besides the insurance joint venture with Italy's Generali. As a ballpark estimate, the footprint of Future Group will shrink by around 80 per cent in revenue and nearly 90 per cent in operating profit. Biyani will become one the largest suppliers of packaged foods, groceries, and garments to Reliance Retail once the deal is through.
 "The market should not be concentrated in few hands. Such a scenario always leads to monopoly and consequently unfair domination by the large player(s). We vehemently oppose deep discounting and predatory pricing. It will severely impact the small reta­ilers," said Praveen Khandelwal, secretary general of Confederation of All India Traders (CAIT).
 Reliance Retail may rationalise the workforce that will be added following the acquisition of the Future group's retail, logistics, warehousing and wholesale assets in a near Rs 25,000-crore transaction. As a result, up to 15 per cent of Future Retail's employees could be staring at job losses.
【News source】
After Jio juggernaut, Reliance Future-proofs retail arm to woo potential investors
Ambani-Biyani deal: RIL spreads wings to become a dominant player in retail
Ambani-Biyani deal: Future Group's footprint to shrink by 80% in revenue
Reliance Retail-Future Group deal: Traders worried over retail mkt monopoly
Ambani-Biyani deal: Retail arm leads Future firms' rally on bourses
Post RIL deal, Future Retail could shed up to 15% staff
Reliance Retail likely to cut down on back-end staff after Future deal
○One world:AD-SEAnews
Your Comments / Unsubscribe



width="200" border="0">


SEAnews Messenger
SEAnewsFacebook
SEAnews eBookstore
SEAnews world circulation