◆PM Oli holds telephonic conversation with Bangladeshi counterpart Sheikh Hasina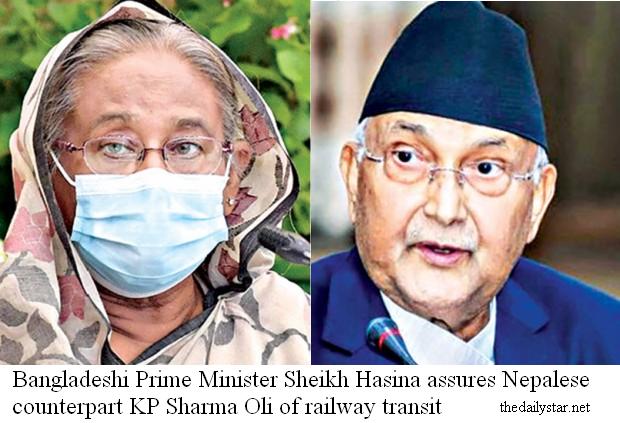 【Kathmandu】Prime Minister KP Sharma Oli and his Bangladeshi counterpart Sheikh Hasina held a telephonic conversation on September 1.
 The Ministry of Foreign Affairs stated that PM Oli called the Bangladeshi Premier and extended congratulations on the occasion of birth centenary of Bangbandhu Sheikh Mujibur Rahman on behalf of the people of Nepal and the government. During the conversation, PM Oli also thanked Bangladesh government for supplying 5,000 vials of Remdesivir injection and other essential medicines and medical logistics for COVID-19 management to Nepal.
 The two leaders also exchanged views on various matters of common interests, including cooperation in power generation, grid connectivity and power supply from Nepal to Bangladesh, promotion of barrier-free and balanced trade between two countries, improved transit facility for Nepal through Bangladesh, enhanced connectivity, promotion of tourism among others, the statement issued by MoFA reads. On the occasion, the two leaders also shared views on enhancing regional cooperation for economic development and prosperity.
○Dhaka assures Kathmandu of railway transit
【Dhaka】Prime Minister Sheikh Hasina on September 1 assured her Nepalese counterpart KP Sharma Oli of providing rail transit to his country. The Nepalese premier expressed gratitude to Hasina in this regard.
 "Nepalese Prime Minister KP Sharma Oli phoned Prime Minister Sheikh Hasina around 5:00pm and asked for 50,000 tonnes of fertiliser from Bangladesh," PM's Press Secretary Ihsanul Karim said. The Bangladesh PM agreed to provide the fertiliser to Nepal, he added. During the 20-minute telephonic conversation, the two leaders put emphasis on further boosting bilateral relations and cooperation in different sectors, the press secretary said. They hoped that the preferential trade agreement (PTA) between the two counties would be signed to boost trade and commerce. Hasina congratulated Sharma Oli for successfully combating the novel coronavirus in his country, Ihsanul said.
【News source】
PM Oli holds telephonic conversation with Bangladeshi counterpart Sheikh Hasina
Dhaka assures Kathmandu of railway transit
○One world:AD-SEAnews
Your Comments / Unsubscribe



width="200" border="0">


SEAnews Messenger
SEAnewsFacebook
SEAnews eBookstore
SEAnews world circulation