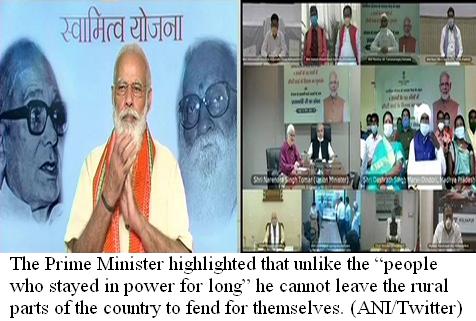 【New Delhi】Prime Minister Narendra Modi on October 11 launched the 'Survey of Villages and Mapping with Improvised Technology in Village Areas' (SVAMITVA) scheme and hailed it as a "historic move" that will transform villages in rural India. Through this scheme Modi said, no bank can deny loans to people with proper documents.
 Through a virtual video conference, PM Modi interacted with the beneficiaries of the scheme and said that it will enable people in rural areas to use property as a "financial asset" for taking loans.
 The beneficiaries of the new scheme would include 1 lakh property holders who would get "property cards" by their respective state governments, a statement by the PMO said. Modi said that "today, nearly two crore poor families in the villages have got pucca houses."
 Prime Minister Narendra Modi attacked the Opposition which he said was advocating the interests of middlemen and peddling "lies" about his government's efforts to introduce lasting reforms in agriculture and rural development.
○Shiv Sena to contest around 50 seats in Bihar: Anil Desai

【Mumbai】The Shiv Sena is going to contest around 50 seats in the upcoming Bihar Assembly polls, party MP Anil Desai said on October 11.
 Talking to PTI, Mr. Desai said the Shiv Sena does not have an alliance with any party for polls in the eastern state. Elections for the 243-member Bihar Assembly will be held in three phases on October 28, November 3 and November 7 and the counting of votes will take place on November 10.
○DMK forms 8-member panel for preparing election manifesto
【Chennai】Dravida Munetra Kazhagham (DMK) on October 11 announced an eight member committee to prepare the party's election manifesto for the upcoming assembly elections next year.
【News source】
PM Modi launches property cards scheme, calls it a 'historic move' to transform villages
PM Modi says Opposition advocating interests of middlemen, peddling 'lies' about agri reforms
PM Modi launches physical distribution of property cards under SWAMITVA scheme
How SVAMITVA scheme aims to transform rural India
Having property ownership rights big step towards making country 'aatmanirbhar': PM Modi
Shiv Sena to contest around 50 seats in Bihar: Anil Desai
DMK forms 8-member panel for preparing election manifesto
○One world:The aim of SEAnews
Your Comments / Unsubscribe



width="200" border="0">


SEAnews Messenger
SEAnewsFacebook
SEAnews eBookstore
SEAnews world circulation