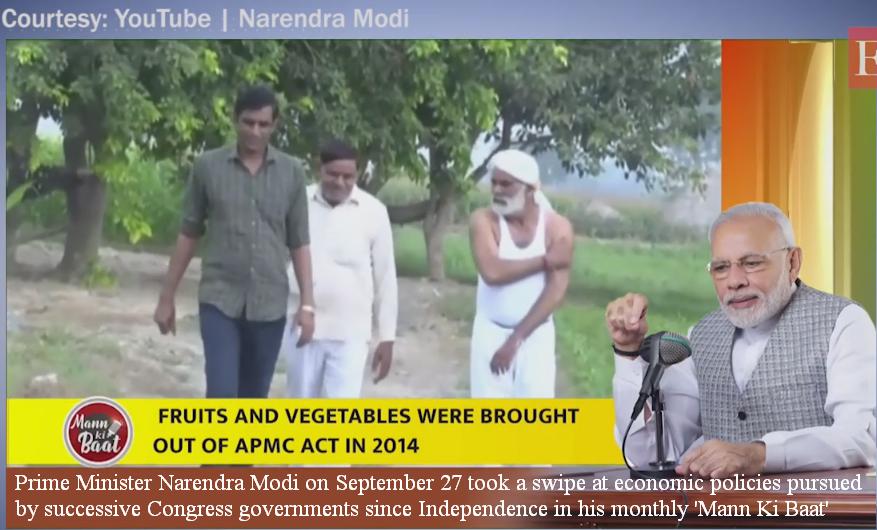 【New Delhi】Prime Minister Narendra Modi on September 27 took a swipe at economic policies pursued by successive Congress governments since Independence in his monthly 'Mann Ki Baat' broadcast. Had the country followed the essence of Mahatma Gandhi's economic philosophy, there would not have been any need for the 'Aatmanirbhar Bharat' campaign as India would have become self-reliant much earlier, he said.
 Amid protests by a section of farmers against farm reform bills, Prime Minister Modi said on Sunday that a large number of peasants have benefitted since fruits and vegetables were brought out of the APMC Act in some states a few years ago and asserted that grain-producing farmers will now have the same freedom.
 He cited example of Haryana, Maharashtra, Tamil Nadu and Uttar Pradesh farmers as to how farmers in these states benefited a lot after fruits and vegetables were in 2014 brought out of the Agricultural Produce Market Committee Act, allowing them to sell their produce outside government-controlled mandis (rural markets). "Now they have got freedom to sell not only fruits and vegetables but whatever they produce; paddy, wheat, mustard, sugarcane, anywhere they get a better price," he asserted.
 The prime minister made no direct mention of the farm bills brought by his government and passed by Parliament or of the opposition-led protests against them. Critics have called these measures as "anti-farmers".
○Govt looks to implement all 4 labour codes by December: Gangwar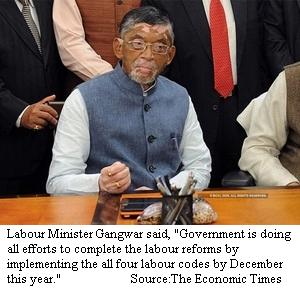 【New Delhi】The government is aiming to implement all the four labour codes in one go by December this year and complete the final stretch of labour sector reforms, Union minister Santosh Gangwar has said.
 Parliament in its just concluded session passed three labour code bills: the Industrial Relations Code, the Social Security Code, and the Occupational Safety, Health and Working Conditions Code. The Wage Code Bill, 2019 was passed by Parliament last year. The labour ministry had circulated the draft rules on the Wage Code Bill last year but held back its finalisation and implementation. The ministry wanted to implement all the four codes and rules under those in one go as all of them are inter-linked.
 According to the minister who talked to PTI, thereafter, these four codes would become law of land to complete game-changing labour reforms in the country. The government aims to catapult India to among the top 10 countries in World Bank's ease of doing business rankings with the comprehensive labour reforms. As per the 'Doing Business' 2020 report, India had jumped 14 places to the 63rd position in the ease of doing business rankings.
 He further stated, "These new (labour) codes are bound to make new enterprises investor friendly, increase ease of doing business and make it attractive to invite foreign entities which want to come out of China."
【News source】
Farmers playing major role in building Aatmanirbhar Bharat: PM Modi in Mann ki Baat
Foundation of Atmanirbhar Bharat will remain strong if farmers are strong: PM Modi
Statsguru: A look at the good and bad of APMCs as new farm laws kick in
Youth Congress torches tractor at India Gate in protest against farm laws
Narendra Singh Tomar: Treading between farmer protest, bypoll preparation
Govt looks to implement all 4 labour codes in one go by December: Gangwar
Government looks to implement all 4 labour codes by December: Gangwar
○One world:The aim of SEAnews
Your Comments / Unsubscribe



width="200" border="0">


SEAnews Messenger
SEAnewsFacebook
SEAnews eBookstore
SEAnews world circulation