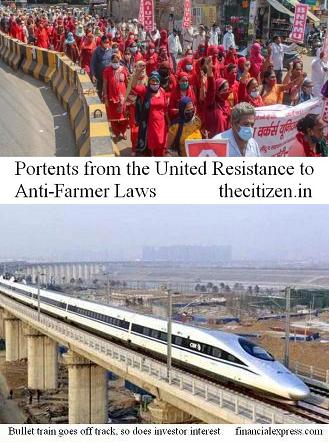 【New Delhi】Prime Minister Narendra Modi's Rs 1.08-trillion bullet train project between Ahmedabad and Mumbai is likely to see a political storm in the coming months, with more than 25 social and political organisations, under the banner of the Bhumi Adhikar Andolan (Movement for Earth Rights), have decided to protest against it. Brains behind the farmer long march will lead the dissent.
 The organisations are trying to rope in the ruling Shiv Sena, which was vocal against the project, with its supreme leader and Maharashtra Chief Minister Uddhav Thackeray calling it a "white elephant" early this year.
○Online conference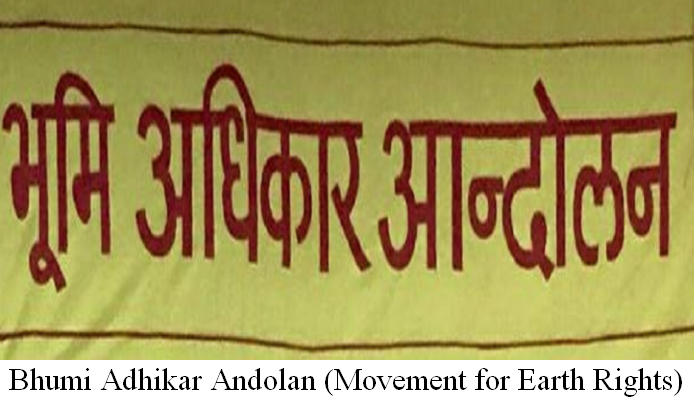 Bhumi Adhikar Andolan organized a national level online conference on 12th July with about 150 representatives of people's movement groups.
 In the 4 sessions, discussions were done on the changes in labour laws, challenges faced by migrant workers on their lives and livelihoods, commercialization of coal mining, negative impacts on agriculture, changes introduced to dilute environment conservation efforts through the introduction of EIA Notification 2020 and the virtual decimation of the processes of social impact assessment and taking consent for land acquisition. And the following ten resolutions were adopted unanimously.
 1. On 9th August, 2020, a nationwide day of protest would be organized and demonstration would be organized across the country where the slogan 'India Is Not For Sale' will be adopted to reach out to the masses.
[…]
3. A campaign for land reforms would be launched which would independently evolve as a peoples movement in the future.
[…]
The following is omitted.
Released by Bhumi Adhikar Andolan
○Portents from the United Resistance to Anti-Farmer Laws
 In the 25 years of my involvement with the student and peasant movements, last week's Pratirodh Diwas or Resistance Day against the Union government's three Anti-Farmer Acts has been by far the farmers' most widespread agitation.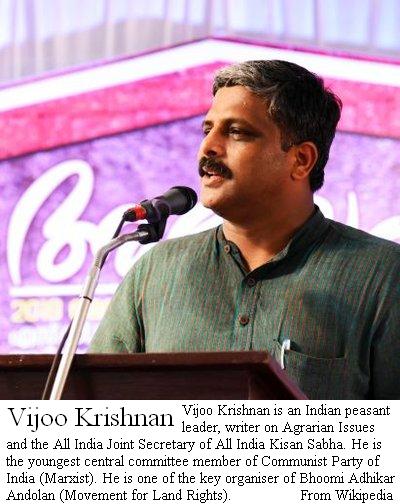 A call by the All India Kisan Sangharsh Coordination Committee (AIKSCC) saw trades unions and many mass organisations and civil society groups extend active solidarity to farmers. It has been a historic resistance, with people coming out in lakhs across India. Farmers were supported actively by the Central Trade Unions, organisations of Workers, Students, Women, Youth, Dalits and Adivasis across the country, in a unique show of solidarity with farmers which is not an everyday happening. Despite the corona pandemic, restrictions, repression and rain in many states people's participation in the protest action was overwhelming. Why?
 This massive show of anger and disapproval against the Narendra Modi led BJP government is no spontaneous outburst against a perceived injustice. It is rather one result of meticulous efforts to build broad, issue-based unity among farmers over the last six years. [The following is omitted.]
 Vijoo Krishnan is a peasant leader, writer on Agrarian Issues, and the All India Joint Secretary of All India Kisan Sabha
【News source】
Protests likely to derail PM Modi's Rs 1.08 trn bullet train project
'India is not for Sale': Bhumi Adhikar Andolan calls in unison against anti-people policies and demand action
Portents from the United Resistance to Anti-Farmer Laws
○One world:The aim of SEAnews
Your Comments / Unsubscribe



width="200" border="0">


SEAnews Messenger
SEAnewsFacebook
SEAnews eBookstore
SEAnews world circulation