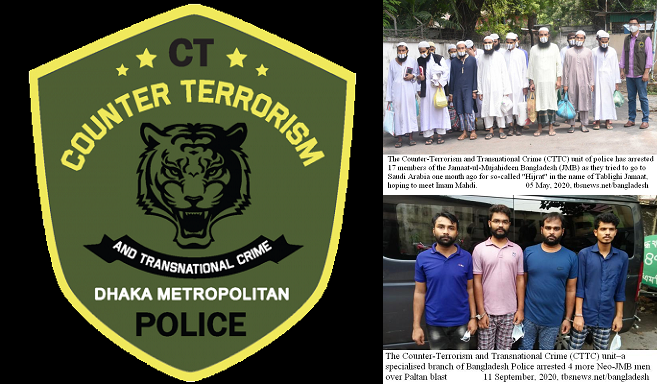 【Dhaka】"Neo JMB," a branch of the Jamaat-ul-Mujahidin-Bangladesh (JMB) has declared its new chief and brought changes in the top leadership as the IS-inspired terror group is trying to get back on its feet by reorganising its structure.
 The organisational name of the new chief is Abul Abbas Al-Bangali Hafizullah, who is of Bangladeshi origin and now staying abroad, according to highly placed sources. The declaration, made in encrypted channels in the first week of September, however, has caused the outfit to split. Members of one faction, who were the followers of previous chief Abu Mohammad, have stopped showing activities in their secret channels, the sources said.
 The "Neo JMB" lost much of its strength following the killings of its chief coordinator Tamim Ahmed Chowdhury and many other key leaders in anti-militancy drives in the aftermath of the Holey Artisan Bakery attack in 2016.
 Just before the Eid-ul Azha this July, the Police Headquarters issued alert about possible attacks by "Neo JMB" as officials said there was intelligence that the so-called IS decided to announce formation of a new wing called "Bengal Ulayat". Officials say the outfit planned to carry out its first attack in recent times at Shahjalal shrine on July 23 but that was foiled. The next day, they left an improvised explosive device (IED) in the capital's Paltan area. It later exploded but no casualty or injury was reported. On July 31, the cell members blasted a small crude bomb at a temple in Naogaon but no one got hurt. The outfit also claimed to have "killed a practitioner of witchcraft" in Gazipur on July 31. Police said they never found a body but the matter was being probed.
 According to a recent research by Counter Terrorism and Transnational Crime (CTTC) of Dhaka Metropolitan Police, the number of terrorist incidents has come down significantly but radicalisation is on the rise. The deputy commissioner of CTTC unit, Saiful Islam, said the outfit does not have much strength to conduct any major attack; it is mostly focusing on strengthening online communication. "We have already increased our online vigilance to track them," he added.
○Neo-JMB couples held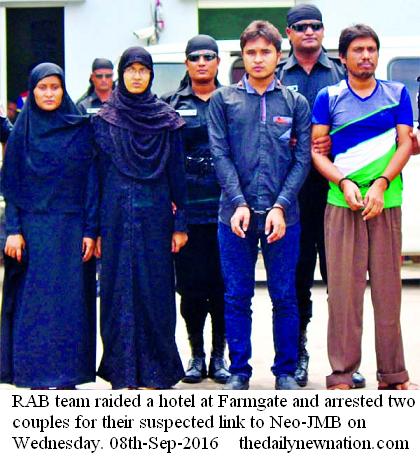 【Dhaka】Rapid Action Battalion, an elite anti-crime and anti-terrorism unit of the Bangladesh Police, in separate raids arrested two couples suspecting their involvement with the Neo-JMB (Jama'atul Mujahideen Bangladesh) from the capital and Narayanganj district on September 13 night 2016.
 The detained persons are Md Aminul Islam, 34, his wife Nahid Sultana, 30, and Shariful Islam alias Mahmud, 18, his wife Marjiya Akter Shumi, 19, RAB official said.
 RAB's Legal and Media Wing Director Mufti Mahmud Khan said, "They had plans to flee abroad. The documents that were recovered proved that they were preparing to flee to Pakistan." He also said Nahid and Aminul handled the post recruitment process of the New JMB and decided who would join which squads. The name of one Sohel was up in their investigation, but they were not sure if this was that Sohel, who was identified by the law enforcers as the bomb supplier in the Gulshan attack, the RAB official said. He said, in primary interrogation, Aminul and Mahmud disclosed that they were trained with Golam Faizullah Fahim in different parts of country. "Fahim, who was arrested on charge of attempted murder of a Hindu college teacher in Madaripur on June 15 (2016), had close relations with Aminul's family. He was killed in a "gunfight" with police on June 18," the elite force official said.
【News source】
'Neo JMB' rising again?
Neo-JMB couples held
○One world:The aim of SEAnews
Your Comments / Unsubscribe



width="200" border="0">


SEAnews Messenger
SEAnewsFacebook
SEAnews eBookstore
SEAnews world circulation