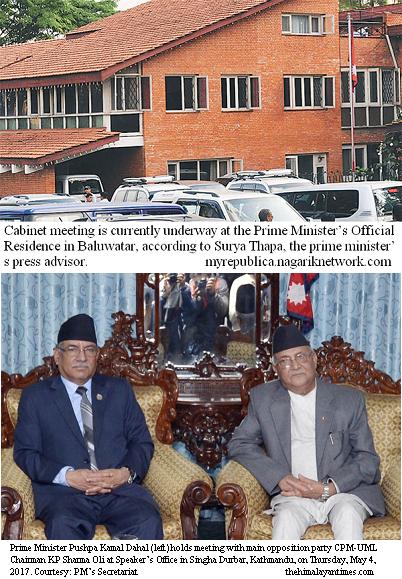 【Kathmandu】Prime Minister KP Sharma Oli has called an 'emergency' cabinet meeting on Sunday (September 27) amid reports of possible cabinet reshuffle. The meeting has been scheduled for 12:00 pm.
 According to PM Oli's press advisor Surya Thapa, there is no specific reason behind the meeting being called a day earlier. "Although no specific subjects have been decided for the meeting, it is possible that the Minister's will discuss the ordinance against acid attacks," Thapa informed. However, the meeting has been called at a time when reports are rife on the party co-chairs holding rounds of discussions over addition to the current cabinet, and even some changes in portfolios of several ministers. The changes are being mulled in a bid to address power-balance issues in the party.
 The rift between the two heads of the party had resolved to an extent recently after it was decided that PM Oli would take care of governance for his remaining tenure while Dahal would be in-charge of party affairs. Ruling party's internal proceedings had been 'held hostage' for long owing to the long-standing animosity between two warring factions in the party. At one point, the threat of a split loomed large. However, issues were put to rest after series of talks and especially after formation of a special task force to resolve internal disputes. The meetings of Council of Ministers are regularly held on Mondays and Thursdays, the PM has taken exception to which this time and called one a day in advance.
○22,000 Nepali migrant workers leave for India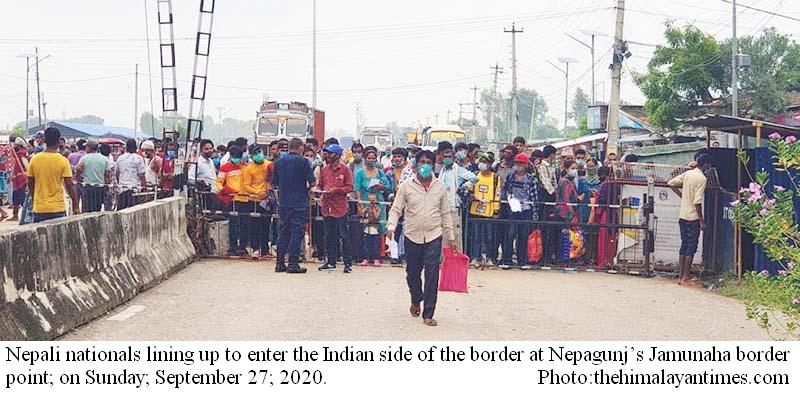 【Nepalgunj】SI Bishnu Giri at Jamunaha Area Police Office, Nepalgunj, said around 22,000 Nepalis had gone to India through Nepalgunj border point in the last four weeks.
 Nepalis left for India saying the prolonged lockdown and COVID-19 fear had made it difficult for them to sustain their livelihood. These migrant workers had returned home after the lockdown started.
 According to SI Giri, a total of 76,048 migrant workers had returned to Nepal via the Nepalgunj border point till September 15. Around 40,000 Indian nationals returned home during the same time via the border point. Giri said that Nepalis holding ration cards had started going back to India. "Nepalis having a hard time making ends meet during the lockdown have started going back to India," added Giri. "We have allowed people's movement on the Nepal-India border on the basis of recommendation letter and identity card," said Giri.
 After Indian security personnel tightened the entry of Nepalis at the Nepalgunj border point, many people without Indian identity cards started going to India via Kailali's Trinagar border point. People from Dang, Banke, Bardiya, Jajarkot, Surkhet, Dailekh, Jumla, Salyan, Rukum and Kalikot go to India for work.
【News source】
PM Oli summons cabinet meeting a day in advance
Cabinet meeting underway in Baluwatar
Oli-Dahal hold talks in Baluwatar ahead of 'emergency' cabinet meeting
22,000 Nepali migrant workers leave for India
○One world:The aim of SEAnews
Your Comments / Unsubscribe



width="200" border="0">


SEAnews Messenger
SEAnewsFacebook
SEAnews eBookstore
SEAnews world circulation