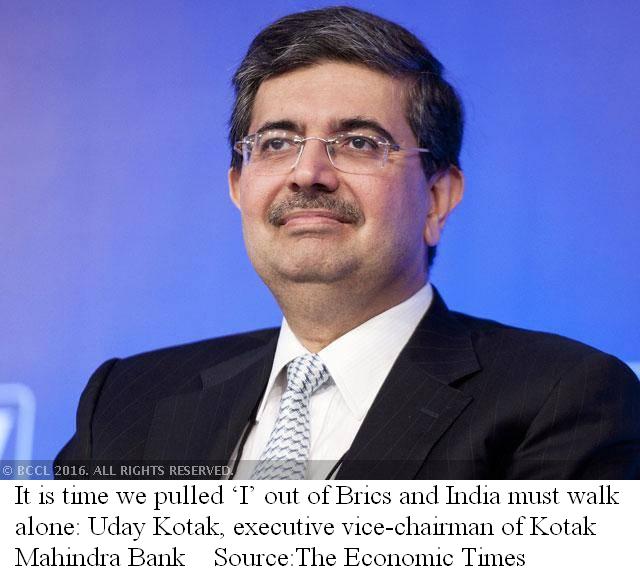 【Mumbai】Emerging markets in general may be at the receiving end of adverse global developments — from the US Federal Reserve raising interest rates to the collapse in commodity prices — but that's potentially a blessing for India which benefits immensely from some of these trends, said Uday Kotak, executive vice-chairman of Kotak Mahindra Bank.
 The flight of capital may be threatening financial markets around the world, including India, but changing domestic macroeconomic fundamentals — notably the steep decline in inflation — is encouraging domestic financial savings which could help Indian stocks withstand a pullout by foreign funds.
 He said in an interview, "There is a pullout risk in emerging markets. It is time we pulled 'I' out of Brics. India must walk alone. If you are today clubbed with Brazil, Russia, even China, it is not a good company to be in. This is India's opportunity."
○India Inc in record overseas fund-raising drive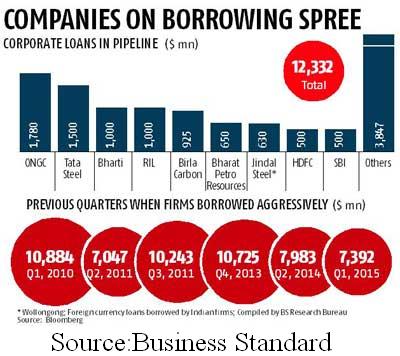 【Mumbai】Indian companies have hired banks to raise close to $12.33 billion in the next three months mainly to refinance their old loans and fund expansion. India Inc had raised $10.9 billion in the first quarter of 2010, which was the record high in fund-raising till now.
 Among the 26 companies that are raising funds the biggest loan is by ONGC, which has mandated Bank of Tokyo Mitsubishi, Citi Bank, Mizuho and Sumitomo Mitsui to raise $1.78 billion. ONGC is planning to expand the capacity of its MRPL refinery apart from investing in new oil and gas blocks in India and abroad.
 ONGC is followed by Tata Steel, which is raising $1.5 billion to refinance old loans taken to acquire Corus in 2007. Reliance Industries with a $1 billion fund-raising plan and Birla Carbon are are also tapping the market this quarter. The fund-raising by Indian companies in the March quarter is also the highest in the Asian region.
○Engineering exports in doldrums: EEPC chief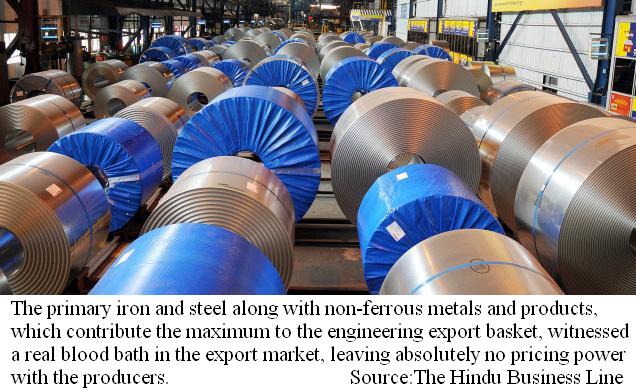 【Mumbai】Hit by the global economic slowdown and sharp depreciation of currency in competing countries, engineering exports from India has suffered its worst phase in recent years.
 Out of India's top 25 engineering export destinations, shipments to 20 countries have fallen in the first eight months of this fiscal. Incidentally, these top 25 countries accounted for 73 per cent of total exports between April and November. Exports to top destinations including the US, the UAE, the UK, China, Germany, South Africa and Singapore have slipped due to economic slowdown in these countries. Shipments to 221 countries have fallen 14 per cent to $40 billion ($47 billion) in eight months of this fiscal, despite eight per cent depreciation in rupee against dollar. TS Bhasin, Chairman, EEPC (Engineering Export Promotion Council) India, said given the current pace of exports it is unlikely that engineering exports will reach the last year's level of $70 billion. "At best we may end up this fiscal with shipments about $60-62 billion with a hope that things will change for the better in the next financial year," he said.
【News source】
It is time we pulled 'I' out of Brics and India must walk alone: Uday Kotak
India Inc in record overseas fund-raising drive
Engineering exports in doldrums: EEPC chief
○One world:
AD-SEAnews
◆Recruitment of Ad-SEAnews Canvassers
Your Comments / Unsubscribe
SEAnews Messenger
SEAnewsFacebook
SEAnewsGoogle
SEAnews eBookstore
SEAnews eBookstore(GoogleJ)
SEAnews world circulation