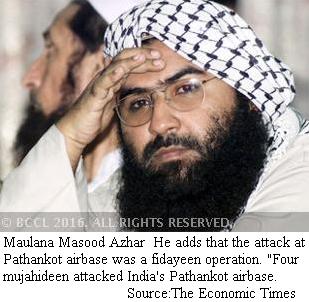 【Pathankot】Pakistan-based terror outfit Jaish-e-Mohammad, headed by Maulana Masood Azhar, has uploaded an audio clip on a website making startling disclosures about how terrorists attacked the Pathankot airbase on January 2. The clip has been uploaded on the website www.alqalamionline.com.
 The 13-minute address has also been transcribed in a local Urdu magazine in Azhar's hometown Bahawalpur. At several places the clip talks about how the men "fired at Indian tanks, military cars and helicopters." The speaker warns the Pakistan government not to accept Indian evidence. "Pakistan ke ilaam India ke ilzaam ke saamne kyon jhukte hein? Kyon sharmate hein? (Why do Pakistan's leaders bow before India's allegations? Why do they shame us?)," he asks.
○PM chairs high-level meeting on Pathankot terror attack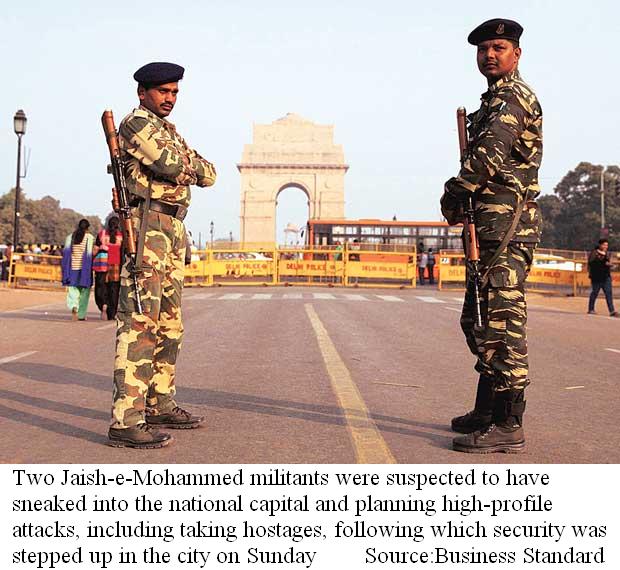 【New Delhi 】Prime Minister Narendra Modi on Sunday (03-01-16) night presided over a high-level meeting to discuss the ongoing operation at Pathankot air base to flush out holed up terrorists and the attack on Indian consulate in Afghanistan.
 National Security Adviser Ajit Doval and Foreign Secretary S Jaishankar were part of the meeting held by Modi soon after returning from a two-day visit to Karnataka. Finance Minister Arun Jaitley and Defence Minister Manohar Parrikar, both members of the Cabinet Committee on Security, were also present at the meeting.
○All five terrorists killed after a fierce gunfight of nearly 15 hours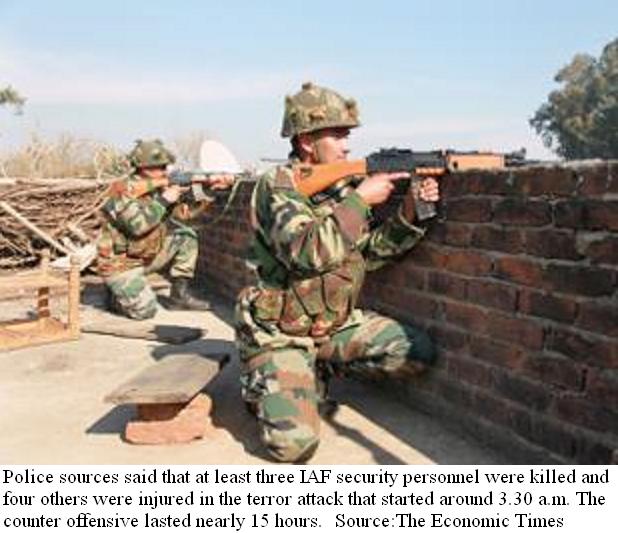 【Pathankot】Heavily-armed Pakistani terrorists today (3 Jan, 2016) attempted to storm the Air Force base here, triggering a day-long gunbattle in which three securitymen and the five infiltrators were killed, days after Prime Minister Narendra Modi's surprise stopover in Lahore, according to the Economic Times.
 However, according to the Business Standard, on Sunday, India lost an officer of the National Security Guard (NSG) in a grenade blast, taking the total casualties to seven. The IAF said it had shot down four infiltrators, but two more militants were feared to be holed up inside the IAF base. "The area cannot be declared fully sanitised," Air Marshal Anil Khosla said at a news briefing in New Delhi on Sunday.
○Heavy fighting on in Mazar-i-Sharif, Indian mission staff safe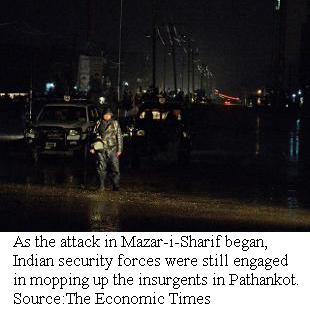 【Kabul】Heavy fighting was on today (Jan 4, 2016) hours after four armed terrorists attempted to storm the Indian diplomatic mission in the Afghan city of Mazar-i-Sharif as the special forces of Afghanistan police carried out clearing operations with India's Ambassador here saying all were safe in the consulate.
 DG ITBP Krishna Chowdhury told The Hindu: The commandos of the Indo-Tibetan Border Police (ITBP) force, which guards the consulate building, were the first to engage with the terrorists for almost an hour and were able to thwart the attack. The Afghan National Police had reached the consulate building by then and took over after that.
【News source】
Jaish-e-Mohammad mocks Indian defence agencies, says they could not tackle six jihadis
PM chairs high-level meeting on Pathankot terror attack
PM presides over high-level meeting to discuss Pathankot op
Modi chairs high level meeting
Operation Pathankot: All five terrorists killed after a fierce gunfight of nearly 15 hours
Attack on Indian consulate in Afghanistan foiled
Indian consulate in Mazar-i-Sharif attacked
Heavy fighting on in Mazar-i-Sharif, Indian mission staff safe
○One world:
AD-SEAnews
◆Recruitment of Ad-SEAnews Canvassers
Your Comments / Unsubscribe
SEAnews Messenger
SEAnewsFacebook
SEAnewsGoogle
SEAnews eBookstore
SEAnews eBookstore(GoogleJ)
SEAnews world circulation