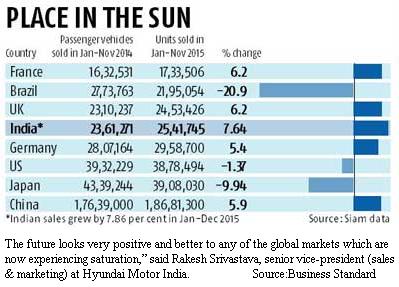 【New Delhi】The domestic passenger vehicle (PV) industry is in a sweeter spot compared to other leading economies.
 Its growth, though on a smaller base compared to in China, the US or Japan, is significant and helping multinational automobile makers with an Indian operation to cushion the decline in other markets.
 According to Society of Indian Automobile Manufacturers, the domestic PV market (cars, vans and utility vehicles) grew 7.6 per cent in January-November of 2015, helped by new launches, declining fuel prices and lower interest rate. This growth rate is higher than in France, Britain, Germany and China, too. Those in Japan, the US and Brazil are on a decline.
○Maruti Vitara Brezza teased; global debut at Auto Expo 2016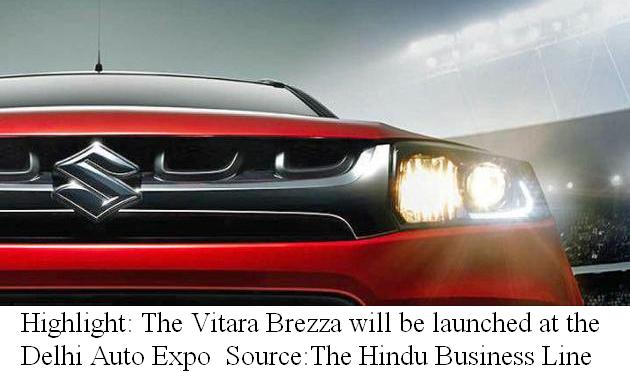 【New Delhi】After the first official sketch released earlier this month, Maruti Suzuki India (MSI) has now teased the front fascia of the all-new Vitara Brezza compact SUV.
 The Maruti Vitara Brezza will have its world premiere at the upcoming Auto Expo in February, followed by its launch a few weeks later. The teaser image reveals the front grille, headlights and signature 'Suzuki' badge of the vehicle. This sub-compact SUV is the first product designed and developed solely by Maruti's Indian team. It will also be the company's first-ever sub-compact SUV in India.
 It was in 2012 when Maruti Suzuki was given the mandate of designing and developing a compact SUV for India. As part of this effort, the top priority was to reach out to prospective customers and find out what they wanted. As CV Raman, Executive Director, Engineering, recalls, it was also a big step forward in terms of changing customer perspective about Maruti in the SUV space.
○Tata-JLR becomes UK's top automaker in 2015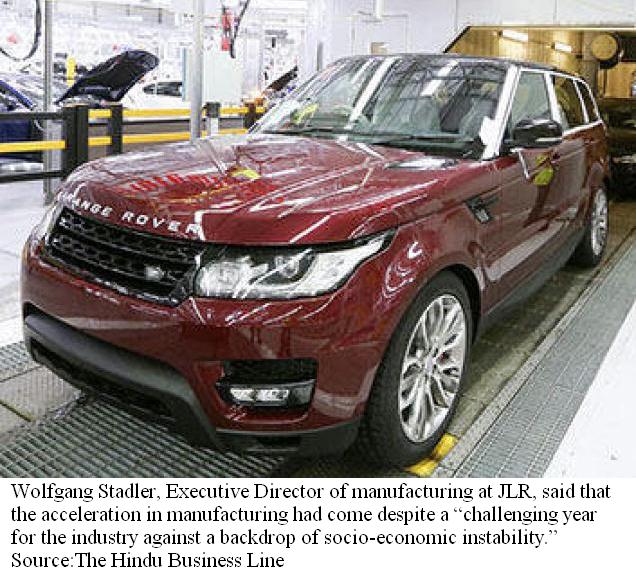 【London】Tata Motors-owned Jaguar Land Rover has now become Britain's largest automotive manufacturer, overtaking Japanese carmaker Nissan, as figures showed that British car manufacturing reached its highest level in a decade.
 Jaguar Land Rover produced 489,923 cars in 2015 at its three British manufacturing plants at Solihull, Birmingham and Liverpool, 9 per cent more than in the year before. JLR's rise came as manufacturing at Nissan's UK operations fell by nearly 5 per cent to 476,589 cars. Nissan and JLR each produce more than the country's third- and fourth-largest car manufacturers put together — MINI and Toyota together produce less than 400,000 cars. The company is expected to reach its target of over half a million cars this year, driven by a rollout of the XE, XF and Discovery Sport (launched in 2015) and the launch of the F-PACE
【News source】
India shines on global passenger vehicle map
Maruti Vitara Brezza teased; global debut at Auto Expo 2016
How Maruti got down to making Vitara Brezza a reality
Tata-JLR becomes UK's top automaker in 2015
○One world:
The aim of SEAnews
◆Recruitment of Ad-SEAnews Canvassers
Your Comments / Unsubscribe
SEAnews Messenger
SEAnewsFacebook
SEAnewsGoogle
SEAnews eBookstore
SEAnews eBookstore(GoogleJ)
SEAnews world circulation