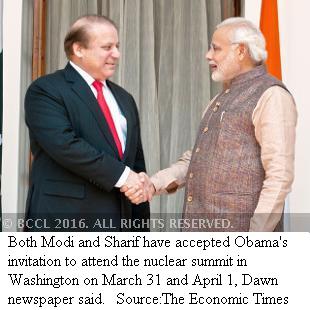 【Islamabad】Prime Minister Narendra Modi and his Pakistani counterpart Nawaz Sharif may meet next month in the US on the sidelines of a nuclear summit being hosted by President Barack Obama, a media report said on the 19th of February.
 Both Modi and Sharif have accepted Obama's invitation to attend the nuclear summit in Washington on March 31 and April 1, Dawn newspaper said. "The chances are strong, very strong," said a senior official who did not want to be identified. "But you know the history of India-Pakistan talks. You cannot be certain about an event until it has happened," the official added.
 It will be the first time that both Indian and Pakistani premiers will be attending the nuclear security summit, which President Obama initiated in 2010.
 The summit, which is aimed at preventing terrorists from acquiring nuclear weapons, brings leaders from across the world to discuss various proposals for attaining this goal.
○U.S. and India consider joint patrols in South China Sea - U.S. official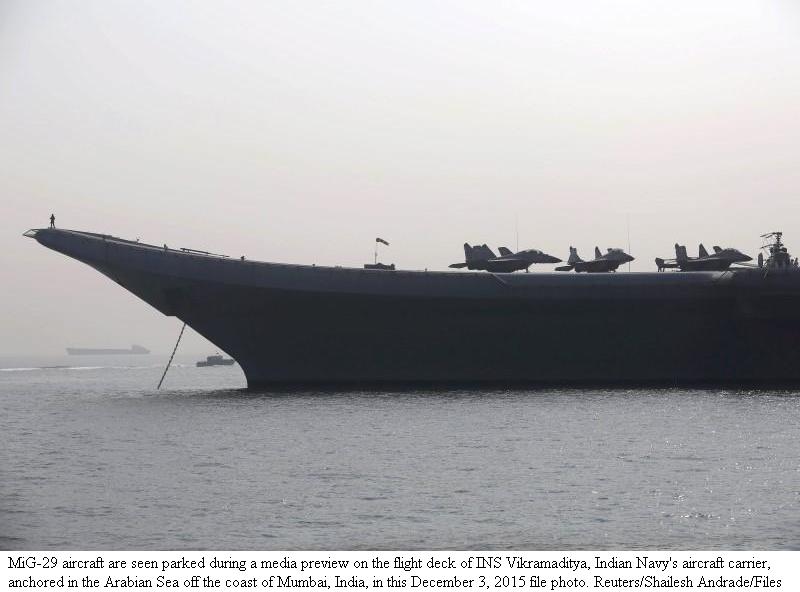 【New Delhi】The United States and India have held talks about conducting joint naval patrols that a U.S. defence official said could include the disputed South China Sea, a move that would likely anger Beijing, which claims most of the waterway.
 Washington wants its regional allies and other Asian nations to take a more united stance against China over the South China Sea, where tensions have spiked in the wake of Beijing's construction of seven man-made islands in the Spratly archipelago.
 India and the United States have ramped up military ties in recent years, holding naval exercises in the Indian Ocean that last year involved the Japanese navy.
 But the Indian navy has never carried out joint patrols with another country and a naval spokesman told Reuters there was no change in the government's policy of only joining an international military effort under the United Nations flag.
○Ready to 'pay any price' for CPEC security: Pak army chief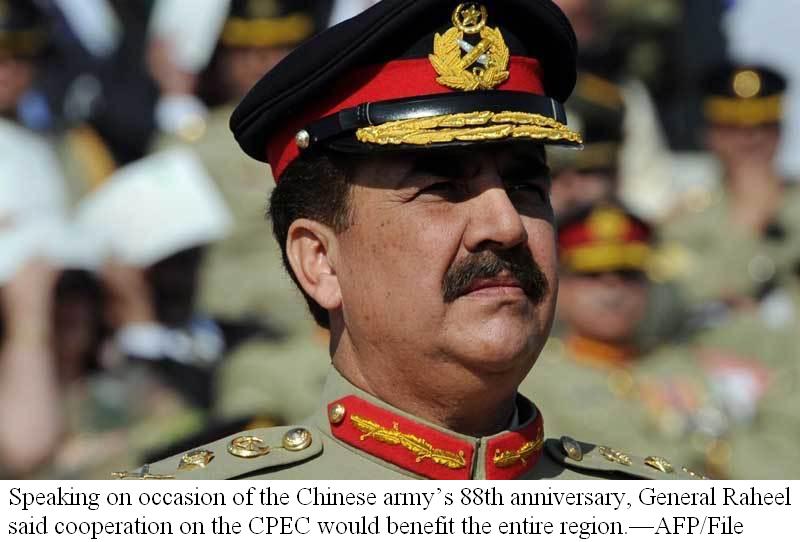 【Islamabad】Pakistan's army chief General Raheel Sharif on the 19th of February said the armed forces are aware of "all campaigns" against multi-billion dollar China-Pakistan Economic Corridor (CPEC) that passes through PoK and vowed to "pay any" price to turn this dream into a reality.
 The USD 46-billion corridor to connect Western China to Pakistan's Gwadar deep seaport on the Arabian Sea in the south was announced last year.
○Japanese planes to be acquired for navy under 'buy global' clause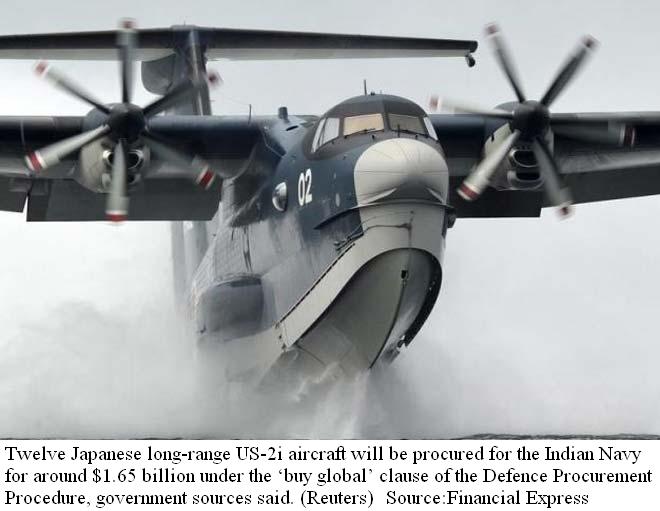 【New Delhi】Twelve Japanese long-range US-2i aircraft will be procured for the Indian Navy for around $1.65 billion under the 'buy global' clause of the Defence Procurement Procedure, government sources said.
 Though the Narendra Modi-led government has been pushing for 'Make In India', the deal, which is going to be government-to-government, was changed from 'buy and make global' to 'buy global' after amendments were made to two chapters of the DPP, and subsequent rounds of discussions with the industry association.
 Both New Delhi and Tokyo have been discussing and attempting to iron out all issues related to the purchase of ShinMaywa Industries' US-2i amphibious aircraft and have had discussions with the Japanese government too.
【News source】
Narendra Modi & Nawaz Sharif may meet in US next month: Report
U.S. and India consider joint patrols in South China Sea - U.S. official
Ready to 'pay any price' for CPEC security: Pak army chief
Japanese planes to be acquired for navy under 'buy global' clause
○One world:
The aim of SEAnews
◆Recruitment of Ad-SEAnews Canvassers
Your Comments / Unsubscribe
SEAnews Messenger
SEAnewsFacebook
SEAnewsGoogle
SEAnews eBookstore
SEAnews eBookstore(GoogleJ)
SEAnews world circulation