◆Minimum import price will protect steel industry; no relief for aluminium makers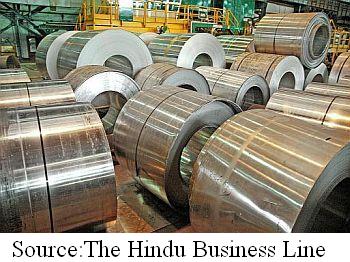 【New Delhi】By imposing a minimum import price ranging from $341 to $752 a tonne on 173 steel products, the Centre has provided relief to domestic steel manufacturers who were hit by cheap imports and the global slowdown in commodity prices.
 But, the global slowdown has left the aluminium industry in the lurch with thin margins and low production. Addressing banks' exposure to the steel industry has been given priority over a potential drop in investments in aluminium, a senior Government official told BusinessLine.
 Steel, a part of the eight core sectors, saw its first dip in production in five years, according to the core sector data, the index of industrial production (IIP), for April-December 2015. Core sector growth for the period stood at 1.9 per cent. Apart from steel production, which was 1.9 per cent lower according to the data, the sluggish core sector growth also reflected the fall in production of crude oil and natural gas.
○Govt should take measures to curb Chinese aluminium imports: Hindalco MD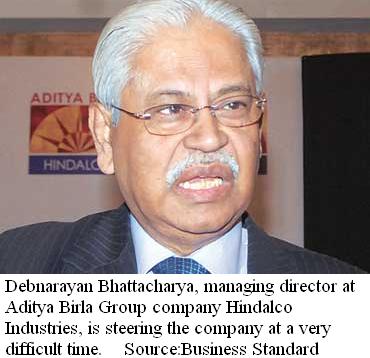 【Mumbai】Debnarayan Bhattacharya, managing director at Aditya Birla Group company Hindalco Industries, is steering the company at a very difficult time.
 The company's stock is down 52 per cent in the past year due to falling aluminium prices. In an interview, Bhattacharya tells about Hindalco's measures to ramp up productions at its new plants to curtail cost of production.
 There are almost 750,000 people who are directly or indirectly engaged in the aluminium industry in the domestic market. So, it is important that the government takes some measures to curb Chinese imports in the national interest. The Aluminium Association of India has, therefore, made representation to the government asking them to raise import duty on the metal to 15 per cent from five per cent at present. Currently, of the total domestic demand, about 50 per cent is being met by cheap imports from China, which is hurting domestic producers.
○Auto, FMCG majors feel the heat of slower African market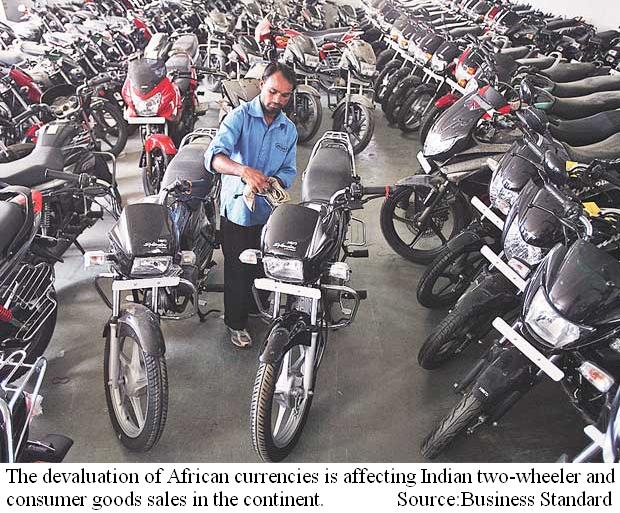 【New Delhi】The devaluation of African currencies is affecting Indian two-wheeler and consumer goods sales in the continent.
 Bajaj Auto Ltd (BAL) and TVS Motor Company Ltd (TVSMC) have started seeing sales slowing, and Godrej said profitability was under pressure due to the African crisis.
 Africa's economy mainly depends on crude oil and other commodities. As crude oil prices have fallen drastically, the trade balance of many African countries has been affected.
 Bajaj had lowered its export guidance for the year by 10 per cent to 1.83 million two-wheelers from 2 million, mainly because of the slowdown in Africa. According to Bharat Gianani, analyst at Angel Broking, Africa accounts for nearly 45-50 per cent of Bajaj's export volume.
【News source】
Minimum import price will protect steel industry; no relief for aluminium makers
Govt should take measures to curb Chinese aluminium imports: Debnarayan Bhattacharya
Auto, FMCG majors feel the heat of slower African market
○One world:
The aim of SEAnews
◆Recruitment of Ad-SEAnews Canvassers
Your Comments / Unsubscribe
SEAnews Messenger
SEAnewsFacebook
SEAnewsGoogle
SEAnews eBookstore
SEAnews eBookstore(GoogleJ)
SEAnews world circulation