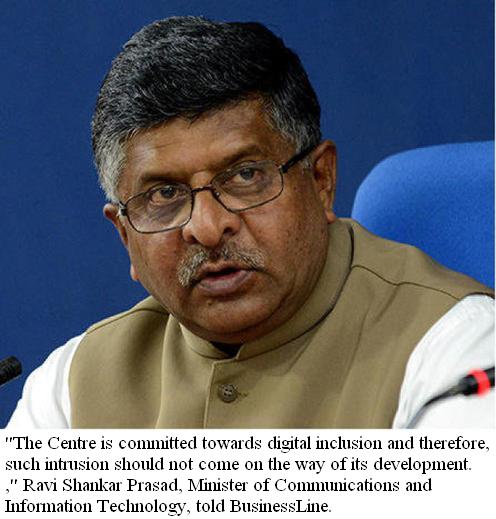 【New Delhi】The Centre on the 9th February made it clear that it will not allow services of Facebook's 'Free Basics' in the country following the Telecom Regulatory Authority of India's (TRAI) recommendation on banning discriminatory (differential) pricing for data services by various stakeholders.
 "The very concept of differential pricing on data – whether it is Facebook's Free Basics or any other model – is plainly not acceptable. I have communicated this in Parliament and at various public forums that the government led by Prime Minister Narendra Modi, fully respects the freedom of expression, and discourse of social media and Internet," Ravi Shankar Prasad, Minister of Communications and Information Technology, told BusinessLine.
He said the Centre is committed towards digital inclusion and therefore, such intrusion should not come on the way of its development. "When we are expanding digital India across the country and taking extraordinary steps to empower the people through technology to create a knowledge economy, such model is not acceptable," he said.
○Facebook's India stumble could embolden other regulators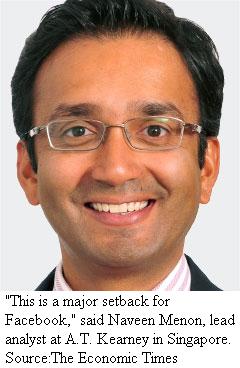 【Singapore/Mumbai】The government's decision to effectively ban Facebook's pared-back free Internet service is a major blow to the social network's plans, and may prompt other regulators to demand equal online access for their users.
 Facebook will have to reconsider its approach in the light of India's new rules preventing Internet service providers from having different pricing policies for accessing different parts of the Web, analysts said. "This is a major setback for Facebook," said Naveen Menon, lead analyst at A.T. Kearney in Singapore. "Not only because India was expected to be such a critical piece of the overall Internet.org success story, but more so because it has potential dangerous knock-on effects for the universal access initiative in other markets."
【News source】
Free Basics model not acceptable: Prasad
Facebook's India stumble could embolden other regulators
Differential pricing for data services not acceptable: Prasad
Net Neutrality: Trai order gives start-ups premium relief
Net Neutrality: Will not give up on connecting India, says Mark Zuckerberg
Focus now on key concerns at core of net neutrality debate, says Trai chairman RS Sharma
Adopt open source for connectivity: TRAI
Trai asks operators to adopt open standards
Net Neutrality establishes India's maturity, says Prasad
Telcos rejig tariff plans to comply with TRAI order
○One world:
AD-SEAnews
◆Recruitment of Ad-SEAnews Canvassers
Your Comments / Unsubscribe
SEAnews Messenger
SEAnewsFacebook
SEAnewsGoogle
SEAnews eBookstore
SEAnews eBookstore(GoogleJ)
SEAnews world circulation