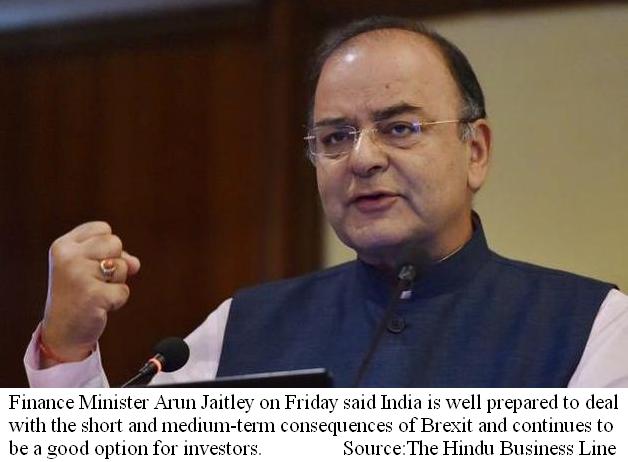 【New Delhi】Finance Minister Arun Jaitley on the 24th of June said India is well prepared to deal with the short and medium-term consequences of Brexit and continues to be a good option for investors. Jaitley, who is on an official tour of China, stepped in to soothe domestic investors and talk up markets that are registering significant volatility after the UK referendum showed that a majority wanted to leave the European
○How Brexit may have birthed a windfall for India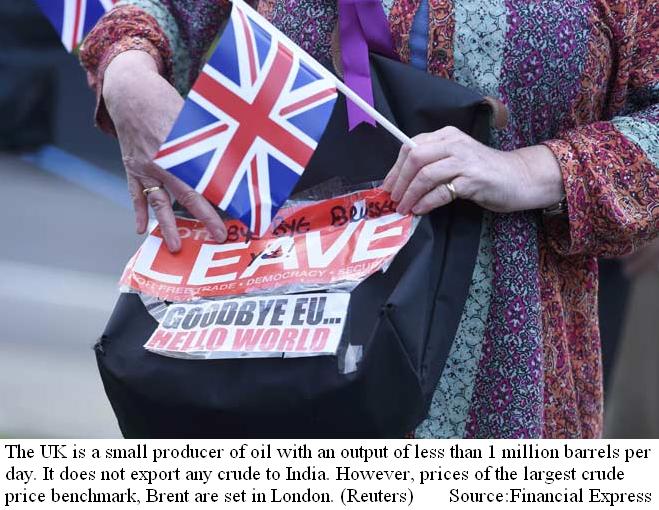 【New Delhi】The oil price fall on the 24th of June after the UK's vote to leave the European Union could be beneficial to India if sustained for a longer duration.
 Though there are fears that rupee could depreciate further against the dollar, which could partly neutralise the gains from oil price decline, the net impact should still be positive for the Indian refining and marketing companies. This could also mean reduction in auto fuel prices that have seen a surge since April.
 Crude oil prices dropped by more than 6% on Friday morning, while Brent crude was hovering about 4.85% or $2.47 down at $48.44 a barrel in the evening. Currently in the national capital, petrol costs Rs 65.65/litre, which is 6.1% higher against Rs 61.87 a litre on April 5.
○So, who is virtually immune from Brexit carnage in India? Here's who and why ?
【Hyderabad】The domestic pharmaceutical industry is largely of the view that it will not feel the Brexit pinch even while some companies see a short-term limited impact in terms of currency fluctuations.
 Considering that Europe does not contribute more than 10% to 15% of the overall sales revenues, even big players like Dr Reddy's, Biocon, Aurobindo Pharma,Wockhardt, feel that the impact is going to be minimal.
○Brexit may bring new opportunities for Indians in UK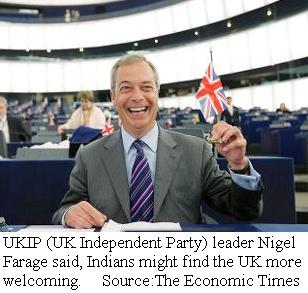 【New Delhi】Can Brexit open up new areas of opportunity for India and the UK? While it might still be too early to predict how things will pan out between India and the United Kingdom, they don't look as bleak for India as they do for the EU.
 In fact, if UKIP (UK Independent Party) leader Nigel Farage is anyone to go by, Indians might find the UK more welcoming.
 In a recent interview he was quoted as saying, "I have to confess I do have a slight preference. I do think, naturally, that people from India and Australia are in some ways more likely to speak English, understand common law and have a connection with this country than some people that come perhaps from countries that haven't fully recovered from being behind the Iron Curtain."
○Dream home in U.K. may turn reality for uber rich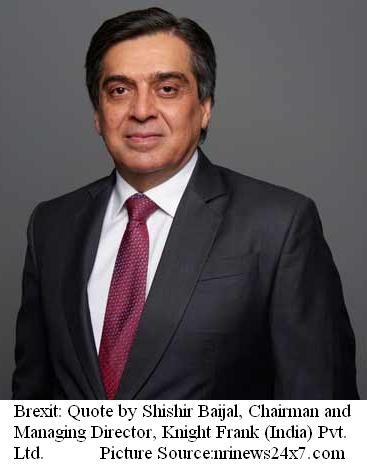 【Mumbai】Buying a property in the U.K. could soon become a dream come true for India's rich, courtesy Brexit helped by a weaker pound, and an expected fall in property prices, according to analysts.
 Under the Liberalised Scheme (LRS) of the RBI, an individual can remit $2,50,000 per family member (including minors) in a financial year overseas.
"The combination of lower prices and devaluation of the pound should draw in Indian investors looking to acquire assets in the U.K. London has always been a favourite destination for Indian property buyers", said Shishir Baijal, Chairman and Managing Director, Knight Frank (India) Pvt. Ltd.
【News source】
India well prepared to deal with Brexit impact: Jaitley
How Brexit may have birthed a windfall for India
So, who is virtually immune from Brexit carnage in India? Here's who and why ?
Brexit may bring new opportunities for Indians in UK
Dream home in U.K. may turn reality for uber rich
○One world:
The aim of SEAnews
◆Recruitment of Ad-SEAnews Canvassers
Your Comments / Unsubscribe
SEAnews Messenger
SEAnewsFacebook
SEAnewsGoogle
SEAnews eBookstore
SEAnews eBookstore(GoogleJ)
SEAnews world circulation