◆India's NSG membership bid calls for in-depth discussion, says Beijing envoy to India Liu Jinsong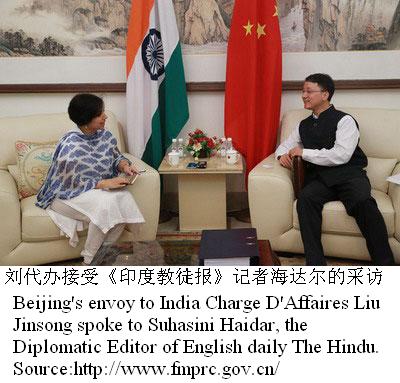 【New Delhi】"China wants to see more discussions on India's membership at the NSG, but hasn't opposed it, as many believe" Beijing's envoy to India Charge D'Affaires Liu Jinsong spoke to Suhasini Haidar, the Diplomatic Editor of English daily The Hindu, about some of the major issues challenging the India-China relationship at present, including the UN ban on Masood Azhar, and their divergence on the South China Sea Verdict.
 Q: The tribunal ruling on the South China Sea that just came out. China appears to be challenging the International order. There is a sense that China is isolated, and many countries are asking China to adhere by the tribunal despite all the statements we have seen from Beijing.
 A: First of all, we don't feel isolated. Let me give you some numbers. By now there are about 60 to 70 countries which have explicitly supported China's position, and there are more than 230 political parties around the world which have announced their support to the Chinese position. In April this year, during the Russia-India-China consultation, the foreign ministers of the 3 countries have jointly released a statement. I have with me this paper here, and there's a paragraph which stated the common position of the three countries. Actually, it's also in support of China's position, and we don't feel isolated at all, and as for the so called challenging of the International Legal order, we need to clarify who is challenging the order. In China's view, and many of our friend's perspective, the constitution of the tribunal is illegal. So, its constitution, the award it passed, and the effect it has is actually challenging the international order and in effect is destabilising the regional peace. -omit-
 Q: The truth is, you consider India as one of the country's which has backed China's stand. We have seen the Indian statement as well, which doesn't seem to differentiate between the Hague, between the UNCLOS as well. Besides this, Indian officials have pointed out, that whether it came to Bangladesh for the maritime dispute, or whether it is the case of the Italian marines, India didn't want to but it did submit itself to International Arbitration. Why is China insisting that India's statement released two days ago, is actually supportive of China's stand?
 A: I don't think there's a major difference between your position and our position. Right now, if you watch the statement two days ago and the statement in April, I think you need to combine them and look at it. What I want to say is that from the two statements, one raised two days ago, and the other one, I don't see any proof that the Indian government is supporting the position of this award as quoted by some journalists. And now there are only three to four countries in the world which believes the award is legally binding and which have asked China to accept it. So, we feel that we have a lot in common with our Indian friends and we believe that we need to understand and abide by the UNCLOS in a comprehensive way. However, some countries do not respect the rights of our two countries as coastal states. For example, in India, there is an Indian law requiring foreign warships to notify the Indian government when they pass through the territorial waters and in China, we have a law which demands approval, but this certain country turned a blind eye to our domestic law.
 Q:Okay, since you referred to a certain country, a senior US official came to Delhi a few weeks ago, who said China's policy in the South China Sea was aimed at the Indian Ocean and that India should realise that. How do you respond to that? -omit-
○India, Japan ask Beijing to refrain from using strong-arm tactics in South China Sea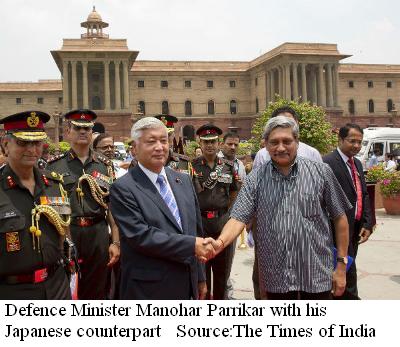 【New Delhi】In a clear message to China to desist from using strong-arm tactics in the South China Sea, India and Japan on the 14th July asked "all parties" to show "utmost respect" for the UN Convention on the Law of the Sea (UNCLOS) of 1982.
 Taking note of the recent ruling of the international tribunal that rejected Beijing's "historical claims" over the South China Sea, the India-Japan joint statement held: "(There should be) peaceful settlement of the disputes without any threat or use of force, and of ensuring freedom and safety of navigation and over-flight as well as unimpeded lawful commerce in international waters."
 This becomes relevant in light of China rubbishing the tribunal's verdict and threatening to impose an ADIZ (air defence identification zone) over the South China Sea, where it is locked in territorial disputes with countries like Philippines, Taiwan, Vietnam and Malaysia.
 The India-Japan statement came after an extensive meeting between defence minister Manohar Parrikar and his Japanese counterpart General Nakatani, who also called on Prime Narendra Modi, on Thursday morning.
【News source】
India's NSG membership bid calls for in-depth discussion, says Beijing envoy Liu Jinsong
India with us on verdict, says China
India, Japan ask Beijing to refrain from using strong-arm tactics in South China Sea
China gives guarded reaction to India's South China Sea statement
驻印度使馆临时代办刘劲松就南海仲裁案接受印度主流媒体采访
○One world:
The aim of SEAnews
◆Recruitment of Ad-SEAnews Canvassers
Your Comments / Unsubscribe
SEAnews Messenger
SEAnewsFacebook
SEAnewsGoogle
SEAnews eBookstore
SEAnews eBookstore(GoogleJ)
SEAnews world circulation