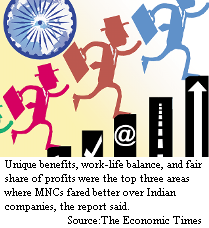 【New Delhi】Adobe Systems India, Google India, and Microsoft India are among the 50 Best IT & ITeS workplaces in the country, according to a survey.
 The 'Great Place To Work Institute' on the 15th of September released the second annual list of India's Best Companies to work for in IT & ITeS segment. The list was based on an assessment of employee perceptions gauged using the engagement survey and an audit of company practices.
 Some of the other companies on the list include, Aegis, Global Analytics India, Happiest Minds Technologies, Hitachi Data Systems India, Kronos Incorporated, NetApp India, Pitney Bowes Software India and Shriram Value Services.
 Multi National Companies (MNCs) dominated the list. Around 47 per cent of MNCs featured among the Best in IT & ITeS companies compared to just 20 per cent of non-MNCs making to the list.
○IITs change placement course after Flipkart fiasco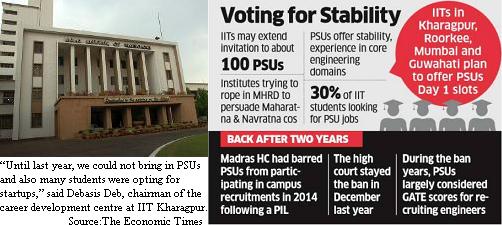 【New Delhi】India's top engineering schools are set to forego startup sparkle for state-owned stolidity when it comes to this year's campus recruitments after many high profile enterprises reneged on or delayed job offers last year.
 The Indian Institutes of Technology (IITs) are keen to give public sector undertakings (PSUs) early placement slots this year, even Day 1, said people aware of the matter. That's despite such firms offering much less by way of pay or stock options than private companies. Some schools plan to invite about 100 PSUs each with directors and faculty members reaching out to them to ensure they attend.
 Several companies including Peppertap, Zomato, Roadrunnr, Stayzilla and Flipkart had either deferred or withdrawn offers made to students during the last IIT placement season.
○Double intake in PG diplomas, IIMs told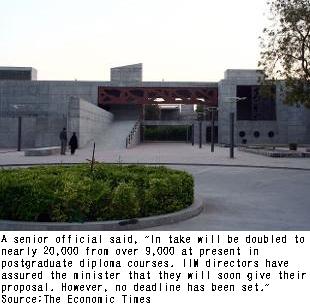 【New Delhi】IIMs have been told to double their intake capacity and explore the possibility of increasing the number of doctoral students.
 This was decided at a meeting held by Union HRD minister Prakash Javadekar with IIM directors in Shillong on the 20th of September. There was no discussion on doing away with reservation in faculty appointments though a passing mention was made that social equity principles enshrined in the Constitution be followed.
 A senior official said, "In take will be doubled to nearly 20,000 from over 9,000 at present in postgraduate diploma courses."
 It was also decided that IIMs will participate in a new initiative of the government to make 20 world class universitiesinstitutes. Of these 20 world class institutes that the government wishes to build, half will be in the government sector and the rest in private sector.
【News source】
MNCs dominate, startups shine among India's best IT & ITeS companies
IITs change placement course after Flipkart fiasco
Double intake in PG diplomas, IIMs told
○One world:
The aim of SEAnews
◆Recruitment of Ad-SEAnews Canvassers
Your Comments / Unsubscribe
SEAnews Messenger
SEAnewsFacebook
SEAnewsGoogle
SEAnews eBookstore
SEAnews eBookstore(GoogleJ)
SEAnews world circulation