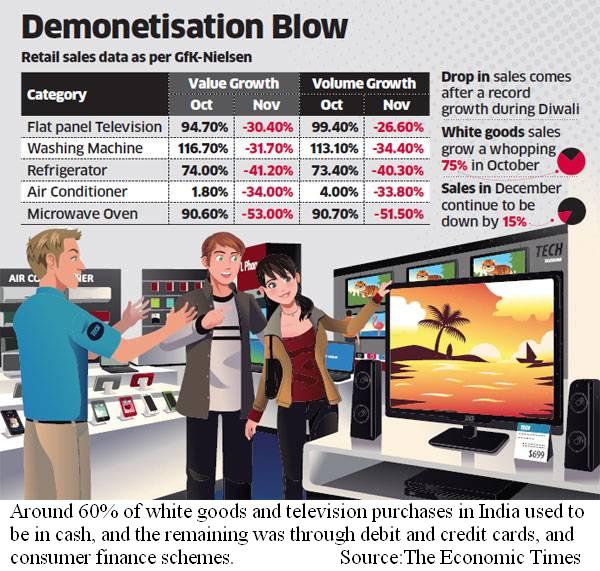 【kolkata】It is official. Demonestisation has dealt a big blow to the consumer goods sector.
 Sales of televisions, refrigerators, washing machines and microwave ovens declined 38% in November compared with the same month last year, wiping out the record growth rate posted by the Rs45,000-crore industry during Diwali. Experts say the industry was poised to report one of the best October-December quarters after six years, but demonetisation played spoilsport.
○No demonetisation impact on FCI, rice procurement soars 17%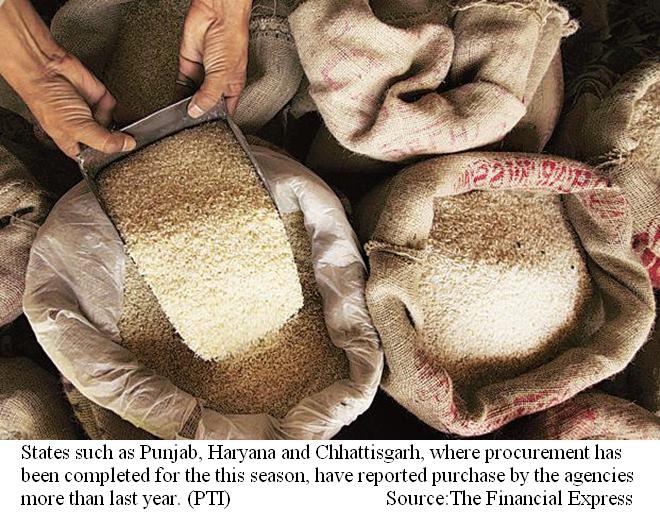 【New Delhi】Demonetisation has not adversely impacted the rice procurement drive by the Food Corporation of India (FCI) and affiliated state government agencies so far.
 The rice equivalent of paddy procurement from farmers, which began officially for the 2016-17 marketing season on October 1, has crossed 22 million tonne (mt) till Wednesday, which is 17% more than the purchase during same period last year.
 States such as Punjab, Haryana and Chhattisgarh, where procurement has been completed for the this season, have reported purchase by the agencies more than last year. This is mainly because of normal monsoon rains and direct transfer of the minimum support price (MSP) to farmers' bank accounts.
○This crisis is not temporary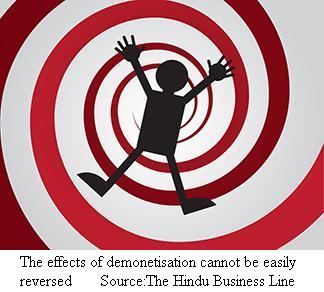 【New Delhi】The view that growth will only suffer a temporary blip this year because of demonetisation can be questioned. Demonetisation advocates assume that once the cash shortage is sorted out, investment and consumption will be up and running. This amounts to taking a static view of the economy.
 The withdrawal of currency, with cashless transactions not in a position to fill the gap, reduces employment, and hence investment and consumption in the future. But when the currency is eventually restored, the process may not work in reverse because the ability or inclination to invest or consume may have changed over time.
 So, when the finance minister says that banks, flush with funds, will be able to reduce lending rates, he forgets that today's borrowers may disappear a few months later.
 A downward spiral of consumption and investment dragging each down in an amplified sequence — in economic jargon, the multiplier and accelerator acting in reverse — can set in. (A Srinivas)
【News source】
Sales of TVs, refrigerators, washing machines and ovens fall 38% in November
No demonetisation impact on FCI, rice procurement soars 17%
This crisis is not temporary
○One world:
AD-SEAnews
◆Recruitment of Ad-SEAnews Canvassers
Your Comments / Unsubscribe
SEAnews Messenger
SEAnewsFacebook
SEAnewsGoogle
SEAnews eBookstore
SEAnews eBookstore(GoogleJ)
SEAnews world circulation