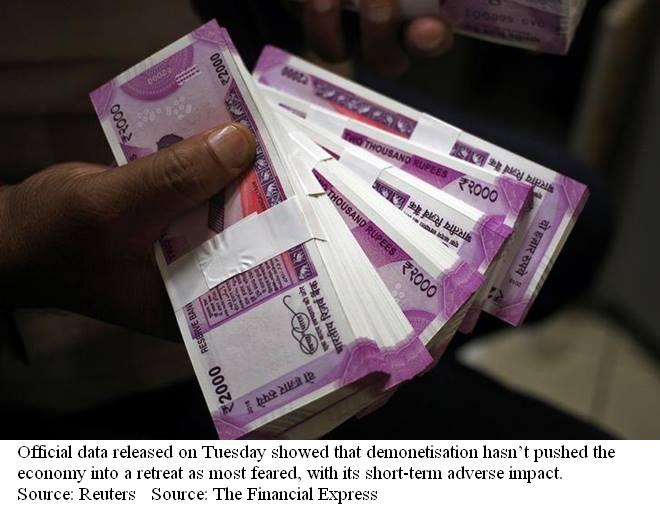 【New Delhi】Official data released on Tuesday(28-02-17) showed that demonetisation hasn't pushed the economy into a retreat as most feared, with its short-term adverse impact to a large extent restricted to construction and financial services.
 Real GDP growth in the December quarter, in the midst of which the note ban came into effect, came in at a respectable 7% (though lower than 7.4% in the previous quarter) and the gross value added (GVA) was 6.6%, with the difference explained by robust indirect taxes and reining in of subsidies.
 Upward revision of GVA estimates for 2015-16 led to downward corrections in GVA for Q1 and Q2 of the current fiscal but despite this, there were marginal upward revisions in the rates of GDP expansion in these quarters, thanks to a surge in indirect taxes.
 Solid performance by the "agriculture and allied sectors", pump-priming by the government on the consumption side, better-than-expected performance by mining and manufacturing sectors and a seasonal — though larger-than-usual — pick-up in private consumption masked whatever negative effect the note swap exercise had on the economy, going by the Central Statistics Office's data.
 However, as the GDP was slowing even before demonetisation and the note swap has indeed had an incremental adverse effect on it, both GDP and GVA growth for 2016-17 have been projected to be much lower than in the previous year.
○Mumbai richest Indian city with total wealth of $820 bn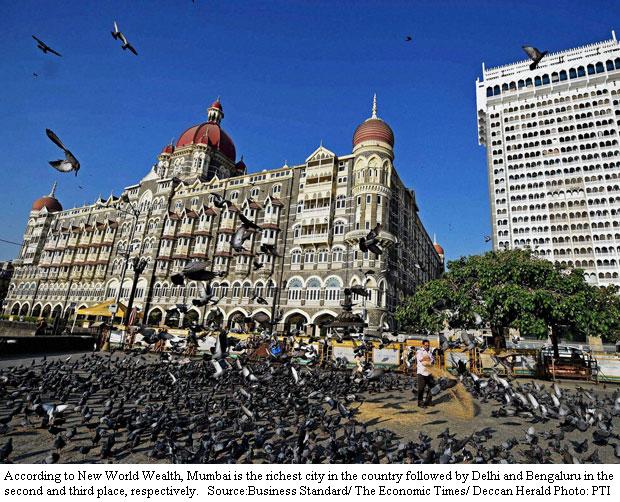 【New Delhi】India's financial capital Mumbai, which is home to 46,000 millionaires and 28 billionaires, is the richest Indian city with a total wealth of $820 billion, says a report.
 According to New World Wealth, Mumbai is the richest city in the country followed by Delhi and Bengaluru in the second and third place, respectively.
 Delhi is home to 23,000 millionaires and 18 billionaires with a total wealth of $450 billion, while Bengaluru with a total wealth of $320 billion houses 7,700 millionaires and eight billionaires.
 The list also includes Hyderabad with a total wealth of $310 billion. Hyderabad is home to 9,000 millionaires and six billionaires.
【News source】
Despite demonetisation, India's GDP growth stays 7 per cent: Govt data
India's GDP grew 7% despite demonetisation, CSO data shows
GDP growth rate plays down note ban worry, 7% growth recorded in Q3
OECD cuts GDP growth forecast to 7% in 2016-17
OECD cuts FY 17 GDP growth rate to 7%
Positive sentiment augurs well for Indian economy given GDP growth of 7.0 percent: Dr. Niranjan Hiranandani
India's GDP growth appears solid, says noted US economist Steve H Hanke
Mumbai is India's richest city with $820 bn; home to 46,000 millionaires
Mumbai richest Indian city with total wealth of $820 bn
Mumbai richest Indian city with total wealth of USD 820 bn
○One world:
AD-SEAnews
◆Recruitment of Ad-SEAnews Canvassers
Your Comments / Unsubscribe
SEAnews Messenger
SEAnewsFacebook
SEAnewsGoogle
SEAnews eBookstore
SEAnews eBookstore(GoogleJ)
SEAnews world circulation