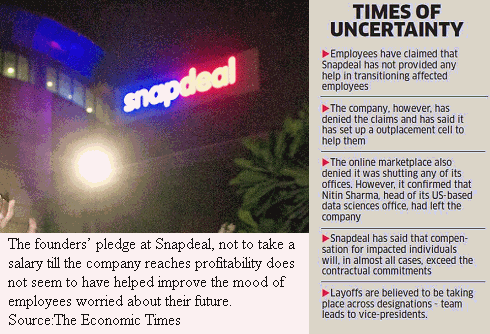 【Mumbai】A pall of gloom lay over the shiny office complex in Gurgaon that houses the corporate office of online marketplace Snapdeal, as employees struggled to deal with the news of layoffs and cost cuts announced this week by the SoftBank-backed company.
 After Snapdeal, its mobile wallet company Freecharge too has started firing employees, it is learnt. After Govind Rajan, CEO, FreeCharge, put in his papers, people are being asked to leave. FreeCharge, which has around 200 employees, wants to reduce the staff strength to half in a few weeks, sources said.
○Paytm throws lifeline to Snapdeal, Stayzilla ex-staff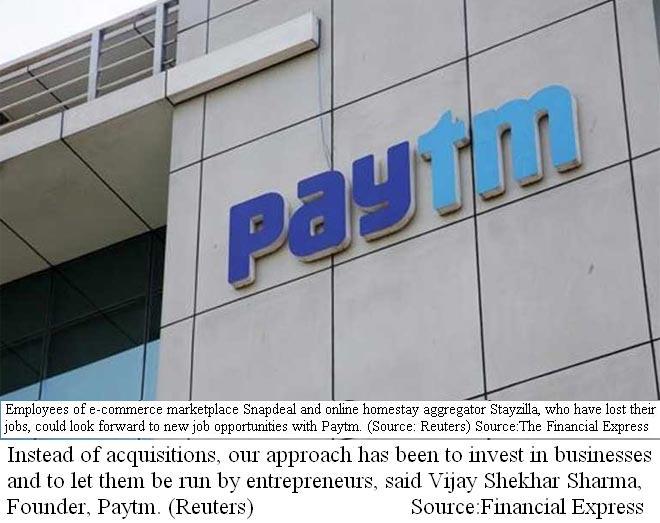 【New Delhi】Employees of e-commerce marketplace Snapdeal and online homestay aggregator Stayzilla, who have lost their jobs, could look forward to new job opportunities with Vijay Shekhar Sharma, founder of mobile wallet firm Paytm, inviting them to join his company.
 Sharma tweeted, "Hello, Tech/Product people in Delhi NCR, feeling heat of business restructuring? We welcome you @Paytm and @Paytm-Mall with open arms."
○LIC booked profit in SBI, GAIL, DRL, when you were lining up at ATMs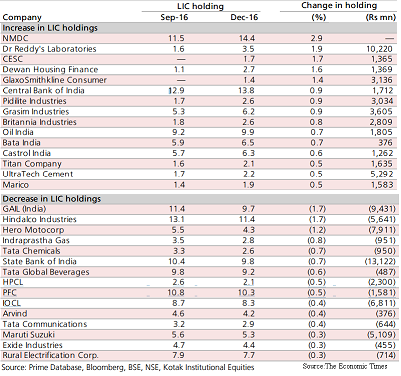 【New Delhi】Life Insurance Corporation of India (LIC), which holds roughly 5 per cent stake worth $66 billion in the BSE200 companies, was seen booking profits in state-run GAILBSE -0.12 %, SBI, HPCLBSE -4.70 %, IOCBSE -1.52 % and Indraprastha GasBSE 0.68 %, among others, all through December quarter, when the government's demonetisation drive squeezed demand and slowed down industry, halting economic growth on the tracks.
 On the flip side, the insurance behemoth was seen buying select private sector names such as Dr Reddy's Laboratories, GlaxoSmithKline ConsumerBSE 0.17 % Products, Pidilite IndustriesBSE 1.86 % and Grasim IndustriesBSE 1.16 %, among others.
 The quarter was marked by profound weakness in the stock market – with LIC itself offloading $3 billion worth of BSE200 stocks.
【News source】
SoftBank-backed Snapdeal's tale snaps; hands out pink slips
Townhall meetings: How start-ups use jazzy jargon to say 'you are sacked'
After Snapdeal, Stayzilla sack staff, Vijay Shekhar Sharma's Paytm sends them job invite on Twitter
Paytm sniffs deal in laid-off talent from Snapdeal and Stayzilla
Paytm throws lifeline to Snapdeal, Stayzilla ex-staffers
Paytm throws lifeline to Snapdeal, Stayzilla ex-staff
LIC booked profit in SBI, GAIL, bought DRL & others, when you were lining up at ATMs
○One world:
AD-SEAnews
◆Recruitment of Ad-SEAnews Canvassers
Your Comments / Unsubscribe
SEAnews Messenger
SEAnewsFacebook
SEAnewsGoogle
SEAnews eBookstore
SEAnews eBookstore(GoogleJ)
SEAnews world circulation