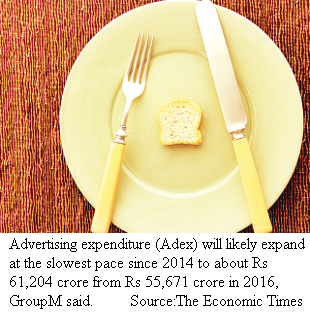 【Mumbai】India's biggest media-buying agency GroupM expects 2017 advertising spend to expand 10% — the slowest pace in three years — as the impact of demonetisation extends from the last quarter to the present, marking a tepid start to the business in the new year
 "Demonetisation shaved off about 2% from advertising expenditure last year. If not, growth could have been 13-13.5%," said CVL Srinivas, CEO, GroupM South Asia. "This year, we are expecting a negative impact of about 1.5% on overall growth. The first quarter will give a slow start to the year, with the market picking up from March-April, fueled by a stable recovery process post demonetisation."
○Direct selling industry growth slips to 4.4%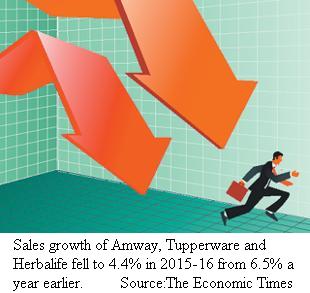 【New Delhi】Growth of direct sellers such as Amway, Tupperware and Herbalife slowed down to 4.4% in 2015-16, compared to 6.5% in the previous financial year, with consumers either scaling back spends or downtrading on consumption.
 These companies, which sell personal care, cosmetics, grooming, foods and household care products directly to consumers, grossed consolidated sales of Rs 8,308 crore in 2015-16, industry association Indian Direct Selling Association (IDSA) said in its annual survey report for the year. Lifestyle, wellness and healthcare products contributed to 43% of gross sales followed by beauty, cosmetics and personal care products.
【News source】
Advertising expenditure growth pace to hit 3-year low: GroupM
Direct selling industry growth slips to 4.4%
SEAnews eBookstore
Readers' Voice
Your Comments / Unsubscribe
Please do not directly reply to the e-mail address which is used for delivering the newsletter.
SEAnewsFacebook
SEAnewsGoogle
SEAnews world circulation