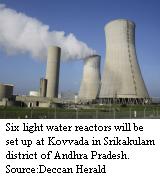 【New Delhi】The crisis in Toshiba Corporation's Westinghouse Electric Company (WEC) has cast a shadow over the nuclear power plant, which was proposed to be set up in Andhra Pradesh.
 New Delhi is concerned over the fate of the negotiation, which the Nuclear Power Corporation of India Limited (NPCIL) commenced with the WEC for setting up six light water reactors at Kovvada in Srikakulam district of Andhra Pradesh, sources told DH.
 India and the US had in August 2016 agreed that NPCIL and WEC would finalise the contractual arrangements by June 2017 for setting up six reactors of 1,208 MWe capacity each at the proposed plant. The WEC then submitted a techno-commercial offer to the NPCIL and commenced negotiation. The Export-Import Bank of the US and India also started discussion on a finance package to support the project. Sources in New Delhi told DH that given the financial crisis that the WEC has landed in, it might be difficult to conclude the techno-commercial negotiations by June 2017.
○Farakka barrage is a curse for Bihar: Experts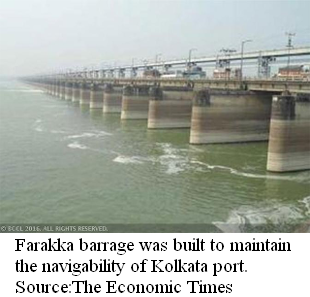 【Patna】Echoing Bihar Chief Minister Nitish Kumar's concern for receding water flow in the Ganga and increasing silt deposit due to Farakka barrage causing floods in Bihar every year, experts today advocated "urgent review" and comprehensive study of the barrage to make the river rejuvenated.
 Magsaysay award winner Rajendra Singh, also known as Waterman, advocated removal of Farakka barrage and said that "On the basis of what we have discussed so far, we can easily say that Farakka is inauspicious (Ashubh) for Bihar. It is a curse (Abhishap) which needs to be removed. Because unless and untill we remove it, we cannot move forward."
 Singh was addressing an international seminar, organised by Bihar's Water Resources Department, on "Incessant Ganga" on the second day.
【News source】
Toshiba crisis dampens AP nuke plant prospects
Farakka barrage is a curse for Bihar: Experts
○One world:
AD-SEAnews
◆Recruitment of Ad-SEAnews Canvassers
Your Comments / Unsubscribe
SEAnews Messenger
SEAnewsFacebook
SEAnewsGoogle
SEAnews eBookstore
SEAnews eBookstore(GoogleJ)
SEAnews world circulation