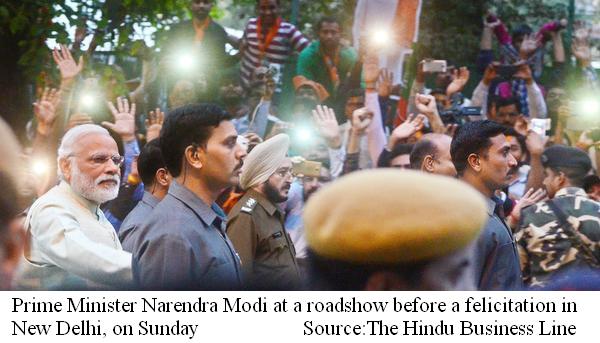 【New Delhi】Prime Minister Narendra Modi on the 12th of March turned his party's stupendous success in the Uttar Pradesh and Uttarakhand elections into a victory march, looking beyond the 2019 general elections at 2022, the 75th year of the country's Independence, with a fresh theme: 'New India'.
 The PM's framing of the BJP's "New India" slogan was replete with references to the poor and their upward social mobility, reflecting a change in political idiom from Achche Din to Antyodaya and Garib Kalyan (welfare of the poor).
 The PM articulated the political message and transformed the celebrations of the latest poll results practically into the launch of the BJP's campaign for the 2019 elections.
 The party has simultaneously worked towards the formation of its governments in Goa and Manipur, which delivered a hung verdict.
○80% of new U.P. MLAs are crorepatis
【New Delhi】As the BJP got a sweeping mandate with 312 seats in the recently concluded Uttar Pradesh Assembly elections, data analysis by election watchdog Association for Democratic Reforms shows that 80% of MLAs in the new Assembly are crorepatis.
 The MLAs with the most assets are the BSP's Shah Alam Urf Guddu Jamali, from Mubarakpur, with over Rs. 118 crore; Vinayshankar from the Chillupar constituency with over Rs. 67 crore; and Rani Pakshalika Singh of the BJP with over Rs. 58 crore.
 While the earlier Assembly saw 271 MLAs or 67% crorepatis, this time there has been a jump of 13 percentage points.
 Seventy-nine % of newly elected BJP MLAs are crorepatis, while other parties have a higher percentage of crorepatis — the SP has 85%, the BSP 95%, and the Congress 91%.
【News source】
Modi sees 'New India' for the poor
80% of new U.P. MLAs are crorepatis
○One world:
AD-SEAnews
◆Recruitment of Ad-SEAnews Canvassers
Your Comments / Unsubscribe
SEAnews Messenger
SEAnewsFacebook
SEAnewsGoogle
SEAnews eBookstore
SEAnews eBookstore(GoogleJ)
SEAnews world circulation