◆UP poll result has made a mockery of the criticism that demonetisation got: Chris Wood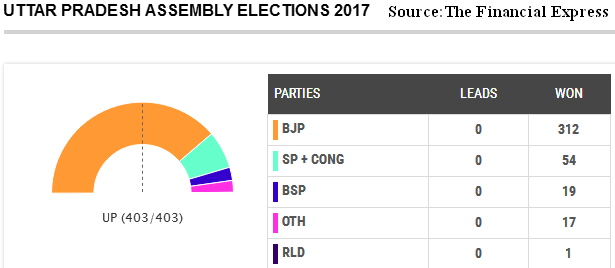 【New Delhi】"The outcome of the elections, especially in Uttar Pradesh (UP), is a big positive and has made a mockery of the criticism that demonetisation got."
 "It confirms that the Prime Minister should have a second term in government and investors should stay put in the Indian equity markets, " Christopher Wood, managing director and equity strategist at CLSA told Puneet Wadhwa, a reporter of local English daily, the Business Standard, who had asked him "What are the implications of the assembly poll outcome for the markets and the government's reform agenda?"
○State election results to facilitate reforms: Moody's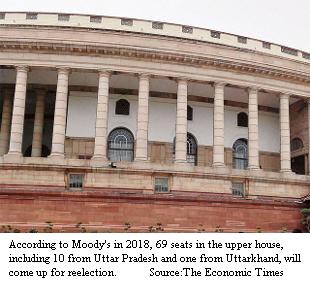 【Chennai】Global credit rating agency Moody's Investor's Service on the 15th of March said the recent state election results will facilitate reforms by the BJP led Indian government.
 In a statement Moody's said the 2017 state election results demonstrate broad-based popular support for the Indian government's policy agenda and will facilitate the implementation of further reforms, a credit positive for the sovereign.
○India's bad-debt mountain hangs over politically recharged Narendra Modi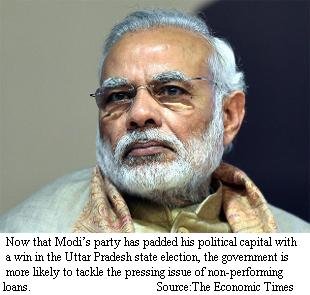 【New Delhi】With a resounding domestic political victory behind him, Indian Prime Minister Narendra Modi turns attention back to policies this week.
 One area key to watch for investors: progress on resolving a mountain of bad debt that's restraining the private economy.
 Modi, who swept to power in federal elections in 2014 and this weekend notched a decisive win in India's largest state, has championed reforms for businesses yet overseen an expansion that's been propelled by the public sector. Key to that shortfall has been a decline in credit exacerbated by the lack of a national plan to clean out non-performing loans.
 "Loan growth has been falling and remains anemic by historical standards as a result of the banks' asset-quality challenges," said Swee-Ching Lim, a portfolio manager at Western Asset Management in Singapore who's been analyzing credit markets for almost two decades. "This lack of credit growth will likely continue to be a headwind for India's economy," he said.
【News source】
UP poll result has made a mockery of the criticism that demonetisation got: Chris Wood
State election results to facilitate reforms: Moody's
India's bad-debt mountain hangs over politically recharged Narendra Modi
○One world:
AD-SEAnews
◆Recruitment of Ad-SEAnews Canvassers
Your Comments / Unsubscribe
SEAnews Messenger
SEAnewsFacebook
SEAnewsGoogle
SEAnews eBookstore
SEAnews eBookstore(GoogleJ)
SEAnews world circulation